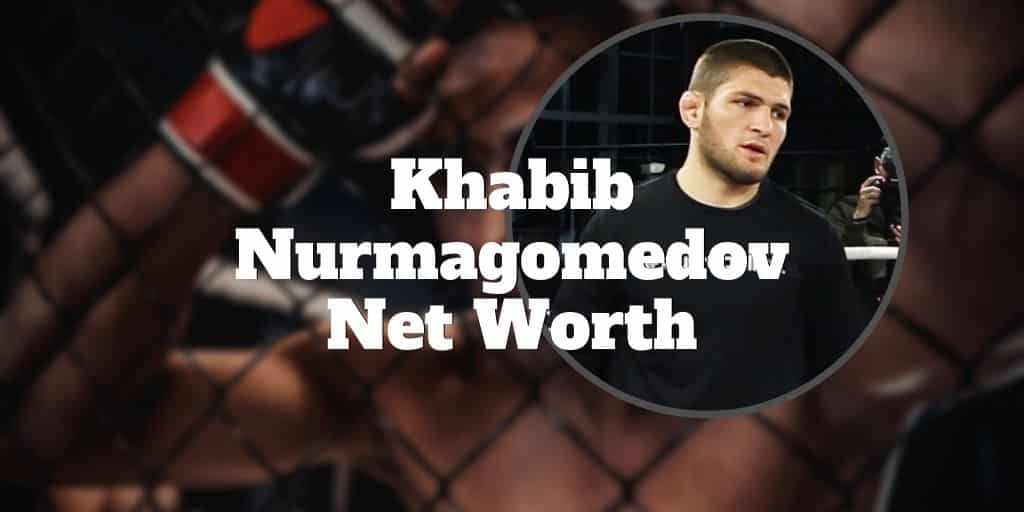 Inset Photo Credit: BattleBeetle [CC BY 3.0]
Mixed martial arts (MMA) have been popular since Greco-Roman times, but it wasn't until fairly recently that MMA fighters have begun making serious bank. Ultimate Fighting Championship (UFC) lightweight champion Khabib Nurmagomedov has been one of the few able to accumulate a fortune worth an estimated $10,000,000.
Khabib, as he's known by the media, earned the bulk of this fortune by participating in one highly publicized fight in October 2018 against mixed martial artist and boxer Conor McGregor.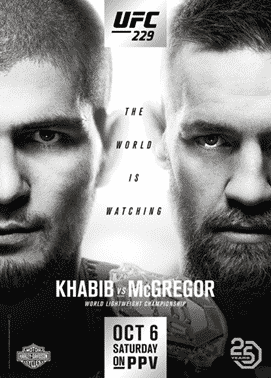 Widely considered the stand-up underdog and wrestling favorite in that battle, Khabib was promised a flat $2 million no-win bonus while McGregor was promised a $3 million no-win bonus. Those sums didn't take into account the amounts Khabib and Conor were poised to rake in through pay-per-view points nor lucrative post-fight sponsorships.
The Khabib Nurmagomedov/Conor McGregor fight was the largest live gate in Las Vegas history, and 2.4 million Americans paid to watch it on pay-per-view TV.
In Russia, Khabib's home country where he enjoys superstar status, more than 4 million fans tuned in (some streaming illegally!).
Now that the fight is over, Khabib is estimated to be wealthier to the tune of millions of dollars with an estimated net worth of $10 million. And since he's in his fighting prime with a championship belt to his name, he'll probably keep growing wealthier and wealthier.
Khabib Nurmagomedov
Fighting Bears
To understand how Khabib Nurmagomedov became such a force to contend with in the cage, you have to go back to an event that took place when he was just three days shy of his 9th birthday.
Khabib's father, Abdulmanap Nurmagomedov, was a veteran and a wrestler. He thought he saw the seeds of greatness in his second-born son, but he wanted to make sure. So, on that fateful day, he led Khabib out to a clearing in a nearby forest where a bear was chained to a tree.
He turned on his video camera and commanded his son to wrestle with the bear.
Khabib obeyed his father.
When this video first surfaced in the U.S. in 2012, viewers could hardly believe their eyes. Had this video been doctored? The young Khabib could be viewed performing single-leg takedowns, deep double-leg takedowns, and high crotch rolls — on a bear.
In subsequent interviews, Abdulmanap Nurmagomedov explained that fighting a bear was more of a test of character for the young Khabib than a contest of physical strength. Abdulmanap wanted to see if his son had the perseverance to go all the way.
Incidents like this one reassured Khabib's father about his son's immense potential. Abdulmanap began training the child for serious competition.
>> Get Low Cost Health Insurance
How Khabib Mastered
Combat Sambo
The ground floor of the family's two-story home was converted into a gym. Khabib had begun wrestling at the age of 8; he started training in judo at the age of 12. However, he found it difficult to become accustomed to the white gi uniforms that martial artists wear.
At 17, Khabib Nurmagomedov began learning combat sambo from his father. Sambo is a quintessentially Russian martial art; its name is an acronym that stands for "samozashchita bez oruzhiya," or "self-defense without weapons."
It was developed during the 1920s as a means of improving the hand-to-hand combat abilities of soldiers in the Red Army. Sambo borrows techniques from Japanese judo and jujutsu.
Abdulmanap Nurmagomedov learned sambo while serving in the Soviet army. He proved to be such a successful sambo coach that he now trains the Republic of Dagestan's national combat sambo team. This team has produced a lot of star fighters who now compete in the UFC.
>> Use Artificial Intelligence To Get Fit
Khabib The Dagestani Eagle
Khabib Abdulmanapovich Nurmagomedov was born on September 20, 1988, in the Republic of Dagestan, which is an autonomous region of Russia that lies on the northern slopes of the Caucasus Mountains.
Dagestan was one of the republics that made up the Soviet Union, but upon the dissolution of the Soviet Union three years after Khabib's birth, Dagestan chose to remain a part of Russia.
The region is infamous for its lawlessness and violence. It is a perfect environment to mold a super-fighter like Khabib, and many other famous martial artists have come from this country, too, including Mansur Isaev, who won a gold medal in judo at the 2012 Olympics, and Abdulrashid Sadulaev, who won a gold medal in freestyle wrestling at the 2016 Olympics.
The eagle is Dagestan's symbol, and Khabib adopted it as a nickname to honor the country he loves: Khabib "The Eagle" Nurmagomedov.
>> Physically Active? Save On Life Insurance
---
➤ Free Guide: 5 Ways To Automate Your Retirement
---
Khabib Religion Sunni Muslim
The largest ethnic group living in the Republic of Dagestan is the Avars, and Khabib is an Avar.
Islam is their prevailing religion, and Khabib is the first Sunni Muslim to win a UFC title. Khabib is extremely proud of his faith. "I have more than one billion Muslim fans," Khabib told The Guardian newspaper in a 2017 interview. "This gives me very good energy."
Khabib is phenomenally popular in his home country, where he has superstar status.
He has nearly 2 million Instagram followers in the U.S., in Russia, and in Islamic countries around the world.
When Khabib returns to Dagestan's capital, Makhachkala, between fights, thousands of fans mob the airport.
Nevertheless, he describes himself as a modest man, who is not interested in the trappings of celebrity.
Simple pleasures like training, practicing his religion, and enjoying the company of his family are enough for Khabib.
His Early Fighting Career
Khabib fought his first mixed martial arts fight in Russia at the age of 20. Within a month, he'd won four fights.
That same year, he became the very first winner of the Atrium Cup by beating Shamil Abdulkerimov.
In 2011, he tussled in his first fight on the M-1 Global competition circuit against fellow Dagestani Shahbulat Shamhalaev; Khabib won.
M-1 is a Russian-based competition where up-and-coming martial artists are given the opportunity to show their stuff while the world looks on.
The M-1 organization has a relationship with the UFC, and it is probably through this relationship that Khabib first came to the UFC's attention.
While fighting in Russia and Ukraine, Khabib competed in 16 professional mixed martial arts fights and never lost a single one. To date, he has a 27-0 MMA record.
The average MMA fighter only makes $68,500 a year, though, so you can be pretty certain that Khabib Nurmagomedov didn't get rich participating in mixed martial arts.
He earned his estimated $10,000,000 fortune primarily when he went up against Conor McGregor.
>> Get Marijuana Delivered with Eaze
Khabib Nurmagomedov:
UFC Fighter
In 2011, the UFC signed the 23-year-old Khabib to a six-fight deal. The 155-pound sambo champion would be fighting as a lightweight.
Over the next five years, Khabib went up against an impressive string of opponents, including Pat Healy, Abel Trujillo, Rafael dos Anjos, and Edson Barboza, and he never lost to one of them.
In between fights, Khabib trained with Javier Mendez and a collection of top-notch fighters at the American Kickboxing Academy in San Jose, California. The gym boasts pound-for-pound greatest fighters like Daniel Cormier among its elite groupings.
Khabib really wanted to test his strength against reigning UFC Lightweight Champion Eddie Alvarez, but the UFC preferred to pit the champ against Conor McGregor.
After a series of injuries and weight-cutting eliminations narrowed the field of contenders, Khabib finally faced Al Iaquinta for the UFC Lightweight Championship on April 7, 2018. Khabib won the fight handily – he didn't lose a single round – becoming the new lightweight champ.
>> What Is The Most Expensive Bottled Water?
Khabib Nurmagomedov
vs. Conor McGregor
On October 6, 2018, Khabib faced his most famous opponent Conor McGregor in the UFC 229 championship bout that has come to define Khabib's career.
McGregor had also been the UFC lightweight champion at one point (as well as the featherweight champion). He lost that title without ever defending it in the ring, however, as a result of various injuries and his boxing match against Floyd Mayweather, Jr.
The Khabib vs Conor McGregor matchup seemed personal from the start.
Six months before the fight took place, McGregor and his crew actually attacked a bus Khabib was riding in just as the van was departing from Barclays Center in Brooklyn following a media meet and greet.
Khabib won UFC 229 handily by grabbing McGregor in the fourth round and administering a chokehold, which forced the Irishman to submit.
According to onlookers at the scene, Khabib continued trash-talking his opponent and actually rushed McGregor's corner of the ring after the fight was over.
As Khabib explained afterwards, McGregor's outspoken ethnic and religious sneers had finally gotten under his skin. Khabib is an extremely devout Muslim, and he'd finally reached a breaking point. McGregor and Khabib's cousin Abubakar also got into a fight, and punches were exchanged.
Khabib vs Conor Post-Fight Skirmish
The UFC organization received a lot of criticism for letting the tension between the two fighters build without taking any steps to defuse it.
Many onlookers felt that McGregor should have been forbidden to use Islamophobic taunts and that the organization was actually capitalizing on bigotry and racism simply to promote a fight.
At the post-fight interview, Khabib made a public apology to the Nevada State Athletic Commission (NSAC), noting he'd been triggered by McGregor's insults.
However, the NSAC decided to withhold Khabib's $2 million purse pending an investigation into the post-fight melee.
The NSAC also filed formal complaints against both Khabib Nurmagomedov and Conor McGregor that resulted in an immediate 10-day suspension.
Later in October, the NSAC voted to release half of Khabib's $2 million payout. One million dollars is a long way from $10 million, however, so it is likely that the bulk of Khabib's fortune comes from his points in the televised pay-per-view of the Conor McGregor fight and subsequent endorsements, particularly in Russia and Islamic countries where he is wildly popular.
In January 2019, the NSAC announced it was suspending Khabib for nine months and fining him $500,000. The suspension was retroactive to the time of the fight, which means that Khabib will be eligible to fight again from July 2019.
Khabib vs Dustin Poirier
Khabib Nurmagomedov will be facing interim UFC lightweight champion Dustin Poirier at UFC 242, which is scheduled to take place on September 7, 2019, at the du Arena in Abu Dhabi.
While Khabib and Poirier have vowed to be relentless with one another in the ring, it's obvious that the two fighters respect one another, so a repeat of the disastrous post-fight brawl with McGregor is unlikely.
Khabib Wife and Kids
Khabib Nurmagomedov is married and has two children: a daughter born on June 1, 2015, and a son born on December 30, 2017.
He has never released the name of his wife publicly, however, and he has been careful to shield his wife and family from all publicity.
By all accounts, he, his wife and kids continues to live modestly with his parents in Dagestan. In spite of Khabib's net worth estimated at $10 million, he has not splurged on fast cars and big houses nor has he changed his lifestyle much at all.
>> How Comedy Made Ron White Super Rich
How To Build A Net Worth
Like Khabib
Getting to the top of the UFC roster as a champion like Khabib is an arduous journey. After all, Khabib's journey began by fighting a bear!
If you want to build a "Khabib net worth" without stepping into the ring, you've got less life-threatening options!
One of the most lucrative is to simply squirrel away a fixed amount each and every month. Even better still, you don't have to lift a finger in the process as you would have in the past.
Thanks to top robo-advisors like Betterment, Ellevest, and Personal Capital, the process of building wealth can be automated. If you want to build wealth but are not sure how to begin, check them out and start building your own fortune.