As one of the largest private companies in the United States, you might think that buying stock in agricultural production company Cargill is a shrewd investment. It might surprise you to know, then, that it's impossible to buy Cargill stock. At least, not at the moment.
What gives?
In short, Cargill is a family-owned company. This means you can't find it on the open market, and you can't invest in it. There are similar companies out there, however, that could prove lucrative.
So if you're wondering how to buy stock Cargill stock and looking to generate a significant stream of income, you're about to discover the roadblocks and an alternate route to possible profits.
Cargill Is An Agricultural Giant
Cargill is a Minnesota-based company that specializes in agricultural products. The company purchases and distributes agricultural commodities like grain and palm oil; produces feed for livestock; trades in energy and steel; and makes food products like starch and vegetable oil.
You probably have already heard of Cargill, even if you have had no financial interest in this company until now. This is because Cargill is the largest privately-held company in the entire United States in terms of revenue. It is also one of the oldest companies in the U.S., dating back to 1865.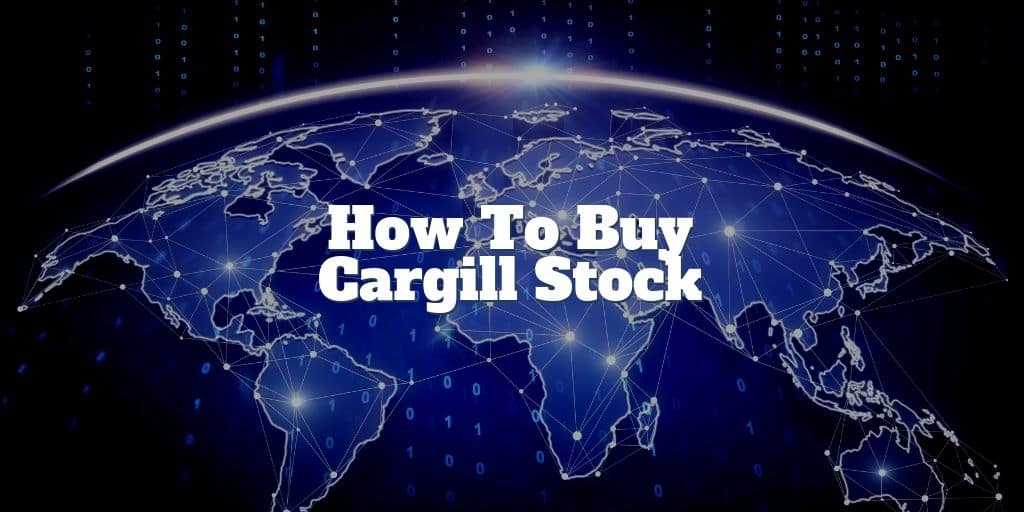 As the largest privately-held corporation in the country, Cargill is not a public company. As a result, it doesn't appear on the Fortune 500, and you can't purchase stock.
If it were a public company, it would make the top 20 on the Fortune 500. By any measure, Cargill is a huge company with many offices across the U.S. and around the world. Thousands of employees work for the organization in 66 countries.
Cargill also dominates the agricultural products market. This organization is responsible for a quarter of all grain exports in the U.S. and supplies around 22 percent of the American domestic meat market.
Its dominant market position means it generates around $120 billion in revenue every single year, making it one of the most successful corporations in the world.
Why Can't You Purchase Cargill Stock?
Cargill is a family-owned business. It's always been this way. In fact, the original founder of the company still owns more than 90 percent of the organization. As a result, you can't purchase stocks in Cargill.
There have been attempts over the years to make Cargill stocks "public." However, this has yet to happen.
"There have been several times when owners of Cargill stock have pushed for an initial public offering (IPO). Due to its massive size and huge assets, Cargill has been able to avert IPO pressure," says Investopedia.
"In 1993, it started an employee stock plan that allowed owners of stock to cash in on parts of their shares. This kept the pressure of an IPO at bay, and 85% of the company remained in the hands of the many family shareholders."
The huge size of the company has also prevented it from going "public."
>> What Are The Best Stocks To Buy Now?

---
➤ Free Guide: 5 Ways To Automate Your Retirement
---
Cargill Stock Alternatives
Interested in agricultural and food stocks? Unfortunately, you won't be able to invest in Cargill. However, there are a number of other companies that are listed on the open market.
These companies could possibly help you generate more income from dividends. However, like all stocks, there are no share price guarantees, and you will need to know what you are doing.
Even dividends can be changed over time, but for some of the companies below that have demonstrated a strong track record of stable dividends over decades, it's unlikely that they'll be reduced any time soon.
That allow investors to more confidently buy shares with a view to earning a passive income stream.
>> What Are The Best Penny Stocks To Buy?
The Archer Daniels Midland Company
Global food processing and commodities trading corporation Archer Daniels Midland Company could be a good investment. This company has experienced 43 consecutive years of dividend increases.
The Illinois-based company handles everything from salad oils and sweeteners to alcohol and emulsifiers. Whether customers want margarine or specialty feed for animals, Archer Daniels Midland is a one-stop solution.
The dividend north of 3% is nothing to sneeze at these days with Federal Reserve interest rates so low, meaning bank account savings rates are minimal.
If you're looking to buy Archer Daniels Midland, check out top tier broker tastyworks that features surprisingly low commissions.
Bunge Limited
You might also want to consider Bunge Limited, who increased its dividend by 8.7 percent earlier this year. This was the 17th consecutive year the company has raised its annual payout to its shareholders.
Bunge was founded in 1818 in White Plains, New York, so it's fair to say the company has seen economic cycles galore and survived them all. It knows how to make money in good economies and bad thanks to a worldwide distribution network that includes five business segments:
Agribusiness,
Edible Oil Products,
Milling Products,
Sugar and Bioenergy, and
Fertilizer.
Like Archer Daniel Midland, the dividend on offer is north of 3% and the wide breadth of its products means investors can be confident its revenue streams are highly diversified and buffered from the winds of economic change.
>> What Are The Best Penny Stock Brokers?
Tyson Foods
Recent events have caused significant supply chain disruption and nobody has been as affected as much as Tyson Foods.
Prior to the COVID outbreak, Tyson Foods had a pretty good run in share price but within the first half of 2020 the stock had crashed by as much as 50%.
Still there are reasons to be optimistic. The company has diversified into the lucrative plant-based protein market, and if the successes of Impossible Foods and Beyond Meat are anything to go the prospects are positive.
Up until that strategic initiative, Tyson was best known for operating worldwide in four major areas: Chicken, Pork, Beef, and Prepared Foods.
Tyson Foods operates under lots of brand names you probably know well, including:
Jimmy Dean,
Hillshire Farm,
Ball Park, Wright,
Aidells,
Gallo Salame, and
Golden Island.
You'll find Tyson's products in grocery stores, warehouse clubs like Costco, industrial food processors, and wholesalers, as well as hospitals, cafeterias, and convenience stores.
When Should You Invest in Agricultural Stocks?
Investing in agricultural stocks is not for everyone. These type of stocks can fluctuate over time, and factors like weather conditions, market conditions, supply and demand, and political decisions can influence these trades. Here are some things to bear in mind before you invest in agricultural stocks:
Understand the Market
The agricultural sector faces many challenges. Keep up to date with the latest agricultural news and trends, which should influence your financial decisions.
As a general rule of thumb, cold weather spells hurt crops and cause farmers to suffer when it comes to crop yield, which in turn may hurt ag companies who must pay higher prices due to limited crop supply.
Political turmoil can lead to volatility in share prices too. When trade sanctions or war breaks out, distribution can be negatively impacted, and lead to lower sales.
Check Out the Competition
Once you have invested in an agricultural or food company, always keep an eye on the competition. This will make it easier to predict these types of stocks.
Some competitors are snapping up organic food manufacturers and lately the trend towards meat substitutes has been on the rise. Impossible Foods and Beyond Meat are prime examples.
How To Buy Cargill Stock: The Bottom Line
Despite being one of the largest and most successful companies in the U.S., you can't purchase stocks in Cargill. The company is a family-owned business, and you won't find it on the open market.
You can, however, buy stocks from other similar companies like the Archer Daniels Midland Company, Tyson Foods and Bunge Limited.
As trade deals, export prices, supply and demand, and weather conditions often change, it can be difficult to predict these kinds of stocks. However, do it right, and a handsome passive income stream may be on offer.
Not sure where to get started? tastyworks is a top trading platform renowned for world class customer support, cutting-edge trading tools, fast and accurate order execution, and low commissions.