The aptly named Impossible Foods is, in fact, doing something once thought impossible. It is making plant-based protein alternatives with a taste and texture that is comparable to animal-based products.
Historically, consumers have been unwilling to eliminate meat from their diets in a significant way, because the vegetarian choices were unpalatable. Now that Impossible Foods has expanded meatless options, a transition away from meat looks far more achievable.
The question for investors is how to get in on the action. In other words, how to buy impossible foods stock?
The Impossible Foods Story 101
Impossible describes its journey towards a new way of eating this way:
We started with a simple question: "What makes meat taste like meat?" Then we took everything we know and love about meat, and made it even better – using plants.
The company's goal was to create a substitute for meat that was nearly indistinguishable from the real thing. This was accomplished by putting scientists on the task of discovering the underlying source of the textures and flavors most closely associated with animal products.
What they discovered was that the molecule that gives meat its flavor, known as heme, can be recreated from plant-based sources. Impossible Foods' heme is derived from fermentation of a proprietary yeast that has passed in-depth food safety studies.
Some detractors have expressed concerns about the use of genetically-modified ingredients in Impossible Foods products. When asked about this issue during the January 2019 launch of Impossible Burger 2.0 at the Consumer Electronics Show in Las Vegas, Founder and CEO Patrick Brown said this:
The fact that heme is produced by genetic engineering is a complete non-issue from a consumer safety standpoint. It's a way safer way to produce it than isolating it from soybean roots, and a vastly safer way to produce it than covering the entire planet with cows, which is the way we're doing it now.
Impossible products are designed to deliver the same amount of protein as animal-based alternatives, as well as important nutrients like iron, calcium, and fiber – but because they are plant-based, there is no cholesterol.
Better still, Impossible products don't contain the hormones and antibiotics often found in meat from large-scale producers.
The company's goal is to offer meat-free solutions that have all of the nutritional benefits of animal products without the drawbacks. The company's management makes a bold claim, "We're not just a technology company. We are, right now, the most important technology company on earth."
>> How To Buy Enterprise Stock
The Benefits of Impossible Foods
Impossible Foods products have entered the mainstream, most notably making their way onto the Burger King menu via The Impossible Burger and into grocery store cases. The company takes deep pride in the many benefits that come with the move away from eating meat – particularly the impact on environmental health.
Based on studies that compare Impossible Foods burgers with ground beef, it was determined that pound for pound, production of Impossible Foods burgers requires 87 percent less water and 96 percent less land.
Impossible Foods burgers also create 92 percent less dead-zone creating nutrient pollution and  89 percent fewer GHG emissions that standard ground beef.
The company has a stated goal of completely eliminating the current factory farming system and reliance on meat by 2035.
Progress towards that goal has earned the company recognition from some of the world's most prestigious organizations. For example, the United Nations presented Impossible Foods with the Environment Planetary Health Champion of the Earth Award in 2018.
Though the goal of eliminating meat from most diets by 2035 seems, well, impossible, the progress that Impossible Foods has already made is unprecedented. Many industry analysts believe that if it can be done, Impossible Foods may very well be the company that leads the way.
Why You Can't Buy
Impossible Foods Stock
The bad news for fans of Impossible Foods is that it's not possible to invest in its shares right now.
The company is privately held by a few investors, and shares are not for sale on any exchange. 
From time to time, Impossible Foods has been in a position where it needed to raise capital, but opportunities to invest were by invitation only.
Examples of some of the current investors include Google Ventures, UBS, Bill Gates, Khosla Ventures, Horizons Ventures, and Viking Global Investors.
As of March 16, 2020, Impossible Foods has attracted approximately $1.3 billion total funding since it launched in 2011.
>> Find Out How To Buy HEB Grocery Stock
---
➤ Free Guide: 5 Ways To Automate Your Retirement
---
Will Impossible Foods IPO Soon?
Management has not announced any plans for an initial public offering (IPO), which has frustrated investors. After all, it is clear that the meat substitutes market is growing rapidly, and there are certainly profits to be made.
In 2018, the industry generated $4.2 billion in revenues, and that figure is expected to reach $6.1 billion – at least – by 2023.
For the moment, Impossible Foods' revenues appear to be around $90 million per year, and the company is not profitable – yet.
However, all signs point to a profitable future, which leaves investors hoping for an IPO soon.
Alternatives to Investing in
Impossible Foods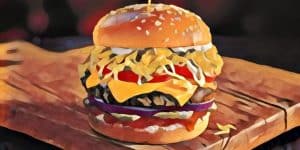 For those that want to ensure they are part of this industry's future by adding shares to their portfolios today, there are options. While Impossible Foods stock isn't available for purchase, a number of companies in the same space are publicly traded. Examples include:
Beyond Meat – Similar to Impossible Foods, Beyond Meat has created new plant-based products that offer more palatable alternatives to animal-based foods.
From a sales perspective, Beyond meat is number one, and as of February 2020, it grew 248 percent year-over-year.
Conagra Brands via Gardein – In January 2020, Conagra Brands launched its own meatless alternative through its Gardein Brand. While it hasn't yet caught up to the better-established Beyond Meat and Impossible Foods, it is well on its way.
You may also wish to consider companies that distribute Impossible Foods products. Burger King Parent Restaurant Brands International.
How to Buy Impossible Foods:
The Bottom Line
Though Impossible Foods stock isn't available to investors just yet, there are options for getting into the meat-free space.
Competing companies are currently traded on public exchanges, and investors can also buy shares of companies that are profiting from partnerships with Impossible Foods.
If you aren't already set up to buy and sell stock, the process is simple. The days of paying high commissions and fees for in-person brokerage services are long gone.
Today, it's a simple matter of opening an online brokerage account from one of the services that offers low-fee or no-fee trades.
You will be asked for basic identification information, such as your name, address, date of birth, and social security number.
You will also have to connect your new brokerage account to an existing account for the purposes of funding.
Initiate an electronic transfer from your current financial institution to your brokerage account – once the funds are made available, you are ready to trade.
Enter the number of shares you wish to purchase, as well as your terms.
A "market order" is executed as soon as possible at the current price, while a "limit order" allows you to specify the maximum price you will pay. If share prices increase beyond that threshold before the trade is executed, the order is cancelled.
In short, keep an eye out for announcements related to an Impossible Foods IPO, which is sure to come sooner or later.
In the meantime, build your portfolio with brands that have similar prospects for success, so you don't miss out on the industry's growth.
Keep in mind that there are risks in any stock purchases, and shares may lose value that eats into your principal investment.