Chalk and cheese might be the best way to compare Robinhood vs E-Trade.
Robinhood is a no-frills investment app that allows you to buy and sell shares of stocks and ETFs at no cost. It also offers crypto trading.
E-Trade, on the other hand, is the proverbial powerhouse with cutting-edge technology, albeit with standard commissions charges to enter and exit portfolio positions.
Is Robinhood or E-Trade better? It very much depends on your goals. As you'll discover, each has its merits but most likely one will jump out at you as a perfect fit. You'll pay more at E-Trade but you'll also get more bang for your buck.
Let's compare these two brokers to find out which stands out when examining costs, tools, features, platforms, account types, investment minimums and more.
E*TRADE vs Robinhood Features
Robinhood is much more of a bare-bones operation when compared with E-Trade.
On Robinhood, which notably has no fees and no minimum account balance, you can trade as you wish. You can do that from your computer or with a mobile app, so with the push of a button, you can be a player in the stock market.
E-Trade has 3 trading platforms. Each of these platforms have charts and tools you can use to plan your strategy and analyze your past returns.
You can browse through all of their educational materials to learn more about investing in general as well as the specifics of certain types of securities. It has a fully staffed customer service department, and it maintains 30 brick-and-mortar locations.
| | | |
| --- | --- | --- |
| | Robinhood | E-Trade |
| Stock Commissions | $0 | $6.95 |
| Options Commissions | $0 | $6.95 + $0.75 per contract |
| Investment Minimum | $0 | $500 |
| Cryptocurrency Trading | YES | NO |
| Bonds | NO | YES |
| Mutual Funds | NO | YES |
| Futures | NO | YES |
>> Compare M1 Finance vs Robinhood
Fee Comparison
When it comes down to trading, no one likes forking over money every time they buy or sell. While transaction fees are usually minimal, they could add up if you're an active trader.
You would also want to think about the volume at which you're trading because a small trading fee could mean a lot more if you're only trading $100 worth of stock versus $1,000.
Robinhood Commissions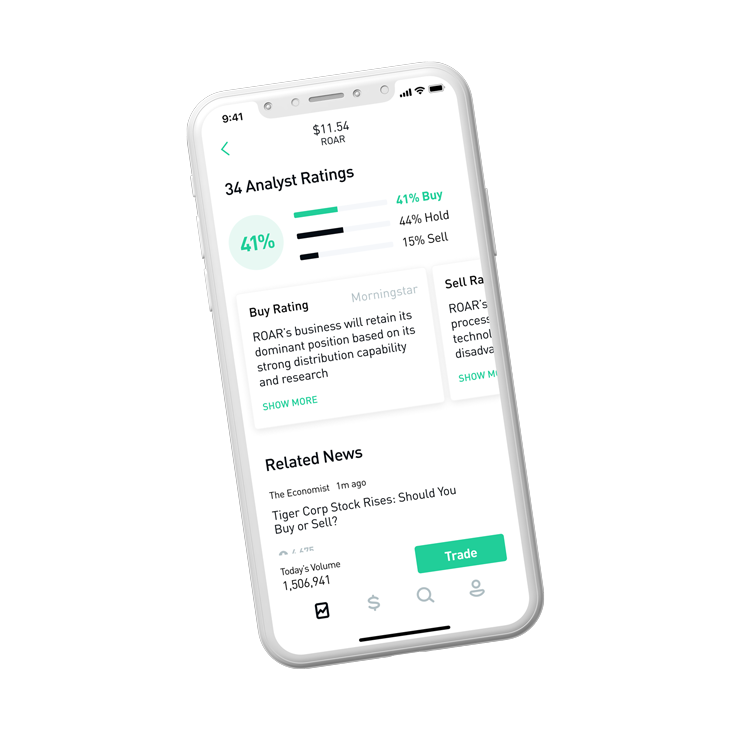 You can't get lower than Robinhood's zero commissions for transactions. This applies to both stocks and options. It costs $10 to make broker-assisted trades.
Additionally, there are no annual, activity, or ACH transfer fees. To make an ACAT outgoing transfer, you'll be charged $75.
If you want to take part in margin trading, you can upgrade to Robinhood Gold for a few bucks a week. 
The monthly fee is typically between $10 and $15, depending on your situation. For that fee, you get to make instant deposits and start trading 30 minutes before the market opens.
It also gives you the option to keep trading for two hours past closing.
ROBINHOOD

InvestorMint Rating

4 out of 5 stars

Stock, ETF, Crypto Commissions: $0
Account Minimum: $0
Robinhood Gold: Tiered monthly fees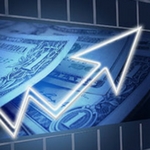 We could be facing one of the harshest economic challenges ever experienced thanks to an incompetent government and severe global unrest. If you aren't proactive, you could see yourself and your family become another financial casualty. But, the Inflation Survival Plan has you covered. Learn insider tips and tricks, IRS loopholes and more that will help your finances soar.

Take 15 Seconds to get the FREE Inflation Survival Plan and ensure your family's financial security.
E*TRADE Fees
You'll have to pay $6.95 for each stock trade, and for options, you'll pay $6.95 plus $0.75 per contract.
There are volume discounts available for both types; this drops the fee to $4.95. 
You won't be charged anything for no-transaction-fee funds, but you will be charged $19.99 for those that come with a transaction fee.
Broker-assisted trades cost $25 plus commission.
There are no annual or inactivity fees here, either. To make a full transfer of your account, you'll be charged $75. For a partial transfer, the fee is $25.
Advertisement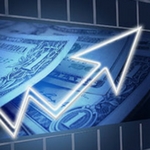 Biden's not holding back... He's warned you that he plans to raise: Income taxes, death taxes, capital gains taxes & corporate taxes. Some or all of which WILL affect you or your family in one way or another... But it's not too late... yet.

Thousands of Americans are getting their FREE IRS LOOPHOLE KIT to discover the secret to protecting your retirement savings from Biden, and inflation...

CLICK HERE to request a FREE Copy of the Guide To IRS Loopholes For Your IRA/401(k)
Trading Platform Comparisons
Robinhood provides a streamlined process for accessing an account. Its system consists of a web platform that you can access from your computer or mobile device.
It favors simplicity over bells and whistles. If you only need some basic information before proceeding with your trades, this could be just fine.
In contrast, E-Trade has three platforms:
It offers real-time quotes to look through and interactive charts that you can use to gauge future opportunities.
E-Trade Pro is an advanced desktop platform that you can access if you make at least 30 trades per quarter or have a minimum of $250,000 in your account.
With this platform, you can customize your own watch lists, further explore risks and opportunities through charts and screeners, and have the opportunity to get an early start with trading hours that begin at 7 a.m. EST.
>> Best Online Brokers For Free Stock Trading
---
➤ Free Guide: 5 Ways To Automate Your Retirement
---
Investment Securities Comparison
| | | |
| --- | --- | --- |
| | Robinhood | E-Trade |
| Stocks | ✅ | ✅ |
| Exchange-traded Funds | ✅ | ✅ |
| Options | ✅ | ✅ |
| Bonds | ❌ | ✅ |
| Futures | ❌ | ✅ |
| Forex | ❌ | ✅ |
| Mutual Funds | ❌ | ✅ |
| Cryptocurrencies | ✅ | ❌ |
Investment Minimums
Take a closer look at E-Trade's and Robinhood's investment minimums to decide which is best for you.
E-Trade Investment Minimum
You'll need $500 to open up an account. The only exception applies to retirement accounts, which do not have any minimums.
ETRADE SPOTLIGHT

InvestorMint Rating

4.5 out of 5 stars

Promo: 60 days of commission-free trades with $10,000+ deposit
Pricing: $6.95 per trade
Easy navigation, extensive screening tools, and excellent customer support
Minimum Initial Account Balance: $500
Advertisement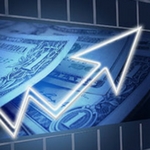 As you've no doubt seen on the news, our economy is facing uncertain times ahead. Inflation continues to skyrocket, the Fed has been failing us left and right, and the government is in shambles. As it stands, your money is not safe. But there is hope, the Inflation Survival Plan will tell you everything on how to not only survive, but actually thrive through this harsh economic change.

So don't wait until it's too late, act now and secure your future TODAY!
Robinhood Investment Minimum
There is no minimum required to open up an account. This completely takes down any financial barrier to getting started, so you could theoretically join Robinhood at any time.
Advertisement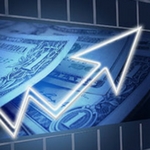 How a 300-square-mile stretch of America's Heartland could power a multi-billion-dollar tech boom… and create a new generation of American millionaires

Learn more here.
Account Types
Robinhood Account Types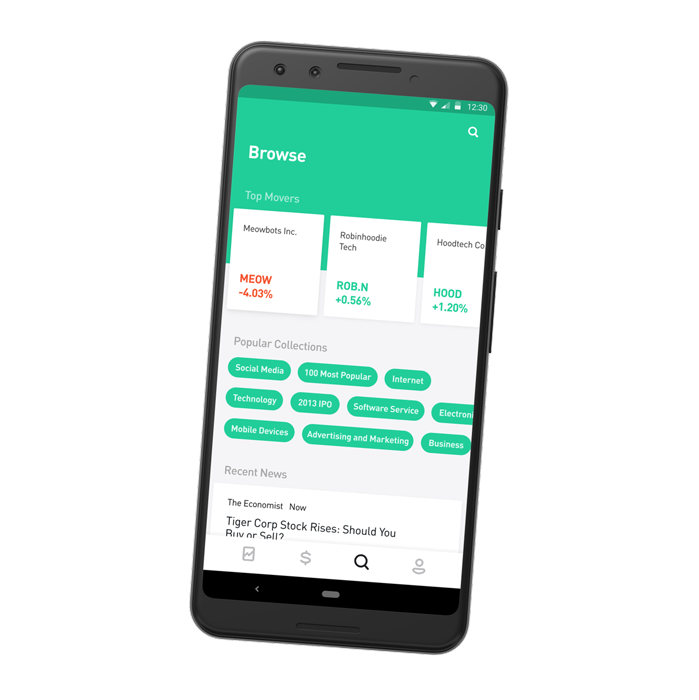 In contrast to E-TRADE, Robinhood only offers individual taxable and cryptocurrency account options.
For investors looking to squirrel away savings from a 401(k), blooom is a better option.
Or if you have an IRA or other retirement account, E-Trade will be more suitable.
E-Trade Account Types
When it comes to types of accounts, E-Trade has many more options than Robinhood.
E-Trade gives you the option to have an individual account or a joint or custodial one. You can also open up a:
Additionally, E-Trade supports trusts, solo 401(k)s, and Coverdell accounts.
You could even open up a checking account and apply for a line of credit through E-Trade. With so many options, E-Trade can serve as a supplemental account or be your main banking institution.
Tax Strategy
Robinhood Tax Strategy
There is a page on the Robinhood website dedicated to common tax questions. It has different forms that you can download and print.
In addition, Robinhood supports Intuit TurboTax, and clients can use TurboTax Premier to import their financial history.
Here's a quick primer on how to file Robinhood taxes on TurboTax.
E-Trade Tax Strategy
This company focuses on client education, and offers extensive information available on tax strategy.
Because it offers a full array of retirement accounts, experts can guide you through various decisions.
It might depend on your situation whether you open up a taxable account or another account type.
The E-Trade support team can talk you through options related to tax deferment, individual savings, and employer-sponsored savings. You can access assistance online, over the phone, or in person at a branch.
Customer Support Comparison
Robinhood
If you need help with anything on Robinhood, you can look through the FAQs to see if others had the same question.
You can also submit a help request online, and someone should get back to you with information.
There is no phone or live-chat support, but you can email them through the website for assistance.
E-Trade
E-Trade, in contrast, has a strong customer support department.
Like Robinhood, it has an FAQ section, but it also offers support via phone, email, chat, and in-person assistance.
The company runs 30 locations across the nation. In any of these branches, you can walk in and ask your questions.
These branches host seminars and educational events that are open to anyone.
If you wish to stay online to learn more, you can visit their forum where you can discuss strategies with other investors.
For more full-scale service, you can opt to open a managed portfolio overseen by a financial advisor.
Mobile App Comparison
In addition to using each of their websites, you can use an Apple Watch to keep an eye on your accounts or download the iOS or Android apps to your device.
The Robinhood app has alerts that you can customize. It also gives you the opportunity to listen to live earnings calls and provides you with a news feed that you can scroll through to stay current on market developments.
With E-Trade, the app has features that are similar to those you might find on a desktop trading platform.
You can get quotes, read financial news, review charts, and even scan bar codes to get access to information about a particular company while on the go.
Overall Winner:
Which Broker Is Best For You?
E-Trade simply offers more to its clients. Yes, there are higher fees associated with E-Trade, but as the saying goes, you get what you pay for.
In the end, it's all about what type of brokerage firm you need. These days, everyone tries to take full advantage of technology to make things accessible and efficient. We can all go online and search the same topics, learning as we go. The question is: Do you want to receive support and guidance from someone in the industry as you make investment decisions?
If you do, either because you are just starting out or simply appreciate having a knowledgeable resource, then E-Trade is the way to go. You can do so many things with E-Trade, and because you're learning along the way, you can hone your strategy and hopefully boost future performance.
If you only want a tool that lets you buy and sell at no cost, Robinhood is probably your best bet.
Aside from the inherent risks of trading, other costs are minimal. It costs nothing to open up an account and nothing to make trades, so you're free to make as many transactions as you want.
This could be beneficial for people on both ends of the investor spectrum, including those who know a lot already and want to work independently and those who don't know that much and just want to experiment a bit.
FAQ
What Is Robinhood?
As you might imagine from the name, Robinhood is a brokerage that was created to help bring stock trading to the masses. While it's not exactly a "steal from the rich" kind of institution, it does allow "less wealthy" investors to have opportunities to grow their money.
Robinhood is an online-based business that has developed a simple way for any individual to invest in the market. It doesn't matter if you only have $10 or are able to invest significantly more. The barriers to entering the world of trading that exist with other companies are just not present with Robinhood.
Robinhood was launched in 2013 by two founders, and it now boasts millions of users. Its headquarters are in Menlo Park, CA, and many younger investors find its approach appealing.
What Is E-Trade?
If Robinhood is the new kid on the block making waves with different ideas, E-Trade is the old guy who has been around for a while and seems to be able to do just about anything.
E-Trade was founded in 1982 in Palo Alto, CA. Its headquarters are now in New York City. Over the past few decades, it has greatly expanded into many different aspects of the financial industry.
E-Trade gives clients access to a wide range of services and opportunities. Through E-Trade, you can trade stocks and bonds or keep your money stashed with them in an online savings account. You can also open up lines of credit and choose from many other financial options.
Advertisement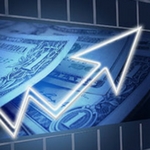 Thanks to forgotten 50-year-old legislation, often ignored by investment advisors, gold bugs, and silver hounds... You can now collect $10,000 or more in free silver.

Millions of Americans know NOTHING about this... Because it exploits a "glitch" in the IRS tax code that helps protect your retirement... While paying ZERO TAXES & PENALTIES to do it. That's why you need to see this NOW.

Click Here to get all of the details in this FREE Kit