Stand-up comedian, actor, mixed-martial arts commentator, host, and jiu jitsu black belt are just a few of the labels attributed to Joe Rogan.
From his initial acting role as Frank Valente on Hardball in the early 1990s, Joe Rogan has gone on to amass a fortune estimated to range at over $100 million.
In his latest twist of fortune, Joe Rogan landed a Spotify deal worth $100 million. As a result, Joe Rogan's net worth tally is likely to balloon to over $100 million for the first time ever.
Joe Rogan Net Worth
| | |
| --- | --- |
| Why Is Joe Rogan Famous? | MMA Commentator, TV Host, JRE Podcast |
| How Old Is Joe Rogan? | August 11, 1967 |
| Gender | Male |
| Is Joe Rogan Rich? | $100,000,000 |
| What Made Him Famous? | Spotify Deal, The Man Show, UFC |
| Nationality | American |
| Pot Farm | http://podcasts.joerogan.net/ |
| Last Updated | 2020 |
Joe Rogan Net Worth
Joe is raking in the dough thanks largely to his JRE Experience podcast, which is believed to net him approximately $40,000 per episode and as many as five episodes per week are produced. That's an astonishing $200,000 per week he would earn from producing new content alone.
Even at a rate of 4 per week all year and factoring in a couple of weeks off for vacation, he may be pocketing close to $10,000,000 annually solely from the Joe Rogan Experience podcast.
Add to that the millions of views stemming from previously published content and it's very possible Joe Rogan had been earning as much as $36,000,000 annually from his podcast alone (you'll see how we calculate that below) – that's before the Spotify licensing deal!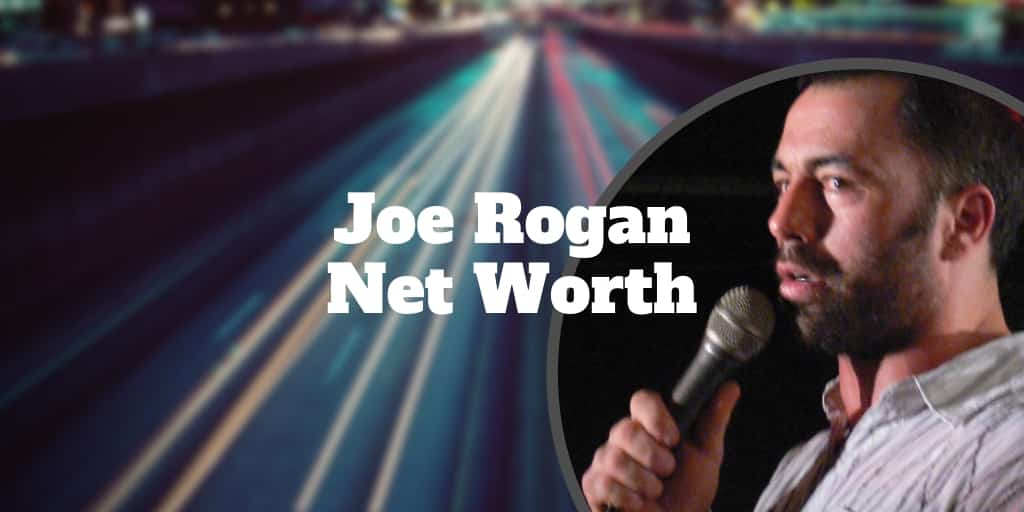 Include his salary earnings from his role as UFC commentator or his pay as a stand-up comedian where he regularly sells out to packed auditoriums and you're talking serious riches. He also has business ventures that further add to his vast fortune.
His Netflix 1-hour comedy specials have also likely netted him big chunks of change.
We estimate Joe Rogan's salary is $40,000,000+ per year which would means when combined with the Spotify deal that net worth estimates of $100 million are likely underestimating his true wealth.
Want to get in on stocks that are about to skyrocket?

Maximize your gains by getting in a trade before takeoff and riding it out before the downturn.

VantagePoint is offering a FREE live masterclass to demonstrate our advanced forecasting right in front of you.

Capitalize on potential profits now and reserve your seat today!
Joe Rogan Stand Up Comedy
Joe has featured in comedy classics like The Man Show, Chappelle's Show and Last Comic Standing.
He's also had a storied career on TV, featuring in hit shows like Silicon Valley and hosting Fear Factor.
But his longest lasting career gig may be his stand up comedy, where he sells out shows to packed theaters across the country.
Some of his best comedy specials include Joe Rogan: Talking Monkeys in Space Joe Rogan: Rocky Mountain High, and Joe Rogan Live.
The list of Joe Rogan comedy specials includes:
---
➤ Free Guide: 5 Ways To Automate Your Retirement
---
Joe Rogan Experience (JRE) Podcast
The Joe Rogan Experience is one of the most successful podcasts of all time, featuring over 8,000,000 subscribers.
Each episode typically receives hundreds of thousands and sometimes even millions of views, an astonishing feat considering new episodes are produced almost daily. It highlights what a loyal following of listeners he has attracted that they regularly tune in.
So what makes the Joe Rogan Experience podcast so good?
Each podcast is a surprise for one thing. Some days you might hear Mel Gibson discuss stem cell therapy while on other days Neil deGrasse Tyson shares his views on the Universe and life as we know it.
Generally, Joe Rogan podcast episodes feature comedians, mixed-martial artists and coaches, celebrity friends, and political commentators or personalities.
For example, comedians who regularly feature include Joey Diaz, Bill Burr, and Ron White.



Personalities in the mixed martial arts world include Eddie Bravo, Jeff Novitsky, Pat Miletich, Tyron Woodley, George St. Pierre, Brendan Schaub, and Stipe Miocic.
And in the political or current affairs domain, long-time friend and conspiracy theorist, Alex Jones, has come on from time to time as have controversial personalities like Milo Yiannopoulos, Ben Shapiro, and former Minnesota governor Jesse Ventura.
The Joe Rogan Elon Musk podcast remains the most popular of all time so far with over 32 million views and counting.
Many of the episodes feature musings about life, humanity, and the Universe. For example, you will hear Joe and his guests refer to ethnobotanist and mystic, Terence McKenna, who was famous for sharing his experiences taking psychedelic drugs.
Rogan has sometimes landed in hot water over his own discussions about cannabis and use of drugs. But he doesn't shy away from it and even describes himself as a psychedelic adventurer which stems from his past experiences with the psychoactive compound, DMT.
The range of topics, personalities and celebrities featured is one of the main attractions of the JRE podcast. Indeed, some of the best Joe Rogan podcasts even features controversial figures like Alex Jones:
How Much Does Joe Rogan Make From His Podcast?
Although Rogan has not revealed precisely how much he makes from his podcast it is possible to make an approximate guess. YouTuber Graham Stephan has approximately 20% of the subscriber numbers that Joe Rogan has and earns ballpark $300,000 per month. 
Simple math says Joe with 5x the number of subscribers should be earning at least $1,500,000 per month. But the numbers don't stop there. Because Joe Rogan doesn't have ONE YouTube channel, he has TWO!
JREClips featuring the "best of" Joe Rogan Experience podcast also has millions of subscribers, meaning that Joe essentially double dips when it comes to making money from the content he produces.
Listeners who prefer long form content will earn him ad revenue from the original podcasts while those who prefer short snippets of content also bring in advertising dollars.
And these numbers likely vastly underestimate what he's actually earning because Graham Stephan produces short videos under 20 minutes while Rogan's content lasts up to 3 hours daily.
It's very possible Rogan could really be earning $3 million or more per month from YouTube alone. If so, Joe Rogan's net worth estimate of around $100 million could be off by a factor of 2x. He might well be rushing towards a net worth of $100 million.
Advertisement
Want to get in on stocks that are about to skyrocket?

Maximize your gains by getting in a trade before takeoff and riding it out before the downturn.

VantagePoint is offering a FREE live masterclass to demonstrate our advanced forecasting right in front of you.

Capitalize on potential profits now and reserve your seat today!
Joe Rogan UFC Commentator
& Jiu Jitsu Black Belt
Rogan's interest in mixed martial arts and in particular jiu jitsu was sparked when he watched the famous Brazilian martial artist, Royse Gracie, fight at UFC 2. Rogan was fascinated to see Gracie defeat much larger men by using jiu jitsu submissions.
Soon afterwards, he became a UFC (Ultimate Fighting Championship) interviewer but his deep understanding of martial arts catapulted him to the role of UFC commentator, a position he has held since 2002.
Most UFC promos feature Rogan's enthusiastic commentary but he usually only commentates on UFC PPV (pay-per-view) events.
He is no slouch when it comes to mixed martial arts himself. At 14 he took up karate and by 19 he had won a US Open Championship tournament as a lightweight.
He was a full-contact state champion for 4 consecutive years in Massachusetts and even became an instructor.
Rogan earned his black belt in jiu jitsu under Eddie Bravo, who is the founder of 10th Planet Jiu Jitsu, which has over 100 schools worldwide.
Joe Rogan Wife And Kids
In 2008, Joe met his future wife Jessica Schimmel. Together they have a daughter, and Joe is also the step-father to Jessica's daughter from a previous relationship.
You won't hear or see much about them as Joe generally keeps his family life private.
What we do know is that together they live in Bell Canyon, California in a 7,500+ square foot house that cost him approximately $2.2 million in 2003.
Frequently, Joe mentions that he runs in the mountains and has attracted some controversy as a bowhunter.
He said the reason he took up hunting was because he had to choose between becoming vegan or hunting meat himself. Due to issues he had with mass produced farming, he couldn't support the mass meat industry. He claims that he couldn't survive without meat so he decided to become a hunter.
In interviews, he has shared that he hunts for all the meat he consumes and practices with a bow and arrow every day to improve his target accuracy.
Follow news on the Joe Rogan Twitter account and updates on his Joe Rogan Instagram account.  
>> How To Get Rich The Conor McGregor Way
>> Wow! Joel Osteen: House Photos, Net Worth & Books
>> Billion Dollar Fight: Conor McGregor Vs Floyd Mayweather?
Advertisement
It doesn't require sunlight. It doesn't require wind. It doesn't require power lines connected to a coal or nuclear plant.

Find out why the billionaire lead investor behind Google and Amazon is calling it "the largest economic opportunity of the 21st century."