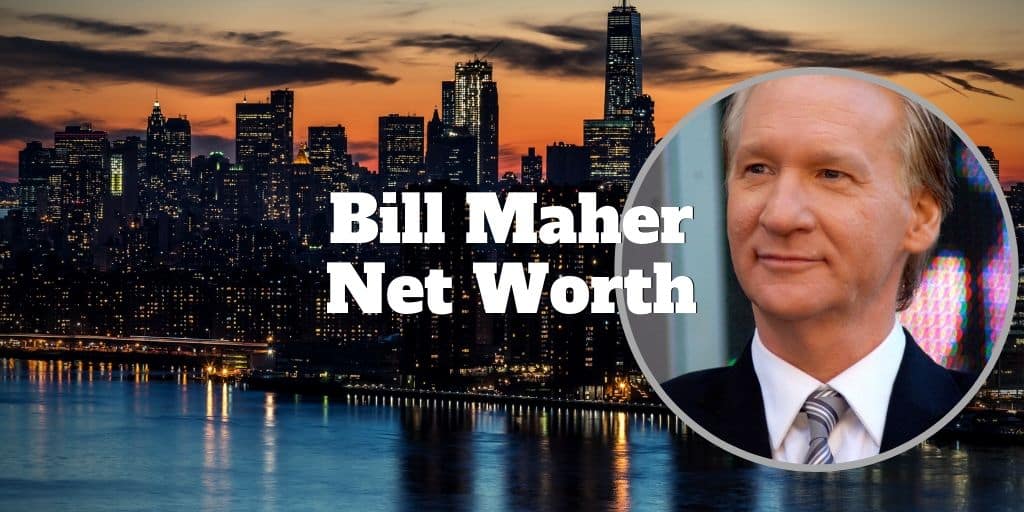 Inset Photo Credit:  Angela George
A famous comedian and television host, Bill Maher is known for his politics, his satire, and his sarcasm.
Bill Maher is popular for "Politically Incorrect," which ran on Comedy Central and later ABC from 1993 to 2002, and for "Real Time with Bill Maher," which has run on HBO from 2003 to the present.
Maher targets a number of different hot-button topics, including the media, religion, and political correctness, and he is known for his controversial views on religion and politics.
Maher has been highly successful throughout his career. But how is Bill Maher's net worth an estimated $110 million?
Bill Maher: Rise to Fame
William Maher was born on January 20, 1956, to William Aloysius Maher, Jr. and Julie Maher.
His father was a radio announcer and a network news editor, and his mother was a nurse.
He was raised in the Roman Catholic church and did not know that his mother was Jewish until he was in his early 20s.
Maher stopped attending the Catholic church at age 13 because of his father's disagreement with its position on birth control.
Maher grew up in River Vale, New Jersey, and attended Pascack Hills High School in Montvale, graduating in 1974. He then enrolled at Cornell University, where he graduated in 1978 with dual degrees in English and history.
>> Ben Affleck's Net Worth Will Surprise You
Bill Maher: Comedian
Bill claimed that he sold pot to make it through college and that he earned enough money from doing so to support himself as he got his start in stand-up comedy.
In 1979, Maher hosted the "Catch a Rising Star" show at the New York City comedy club.
His role in the New York City comedy club scene led to appearances on David Letterman's and Johnny Carson's shows starting in 1982.
He made his feature film debut in 1983 in "D.C. Cab." He also made appearances on the television program "Sara" in 1985, on "Max Headroom" in 1987, and on "Newhart" in 1988, among others.
Bill Maher: TV Host
In 1993, Bill Maher became the host of "Politically Incorrect" on Comedy Central. It ran on the network until 1997, when it moved to ABC.
The show featured Maher with four diverse guests, and the guests would interact with each other just as much as they interacted with Maher.
Bill would select the discussion topics. Jerry Seinfeld was a regular on the show and said that it reminded him of talks shows from the 1950s.
Both the show and Maher earned numerous awards.
Six days after 9/11, Maher agreed with a guest, Dinesh Souza, who said that President Bush was wrong to characterize the terrorists as cowards. Maher agreed, saying that their actions were not cowardly and that Americans were truly the cowards by sending cruise missiles from a distance of 2,000 miles.
After some backlash, Maher clarified his remarks to state that he fully supported the military.
Later during the same year, Maher compared his dogs to "retarded" children, which sparked further backlash.
The show was canceled by ABC on June 16, 2002. ABC affiliates that were owned by the Sinclair Broadcasting Group had already dropped the show months before.
Six days after the show's cancellation, Maher received an award from the Los Angeles Press Club president for being a champion of free speech.
In 2003, Bill Maher began producing and directing "Real Time with Bill Maher" on HBO.
The show's format is different from "Politically Incorrect." He begins with a comedic monologue about current events, and then he conducts an interview with a serious guest. The interview is followed by a discussion with two or three panelists, including activists, authors, politicians, journalists, and others to discuss the events of the week.
"Real Time with Bill Maher" has earned significant critical acclaim. It was renewed in 2016 to run through 2018.
In 2005, Maher noted on the program that the military had missed its recruiting goal by 42%, which prompted Alabama Congressman Spencer Bachus to send a letter to Time Warner in which he asked the company to cancel the show.
Maher famously aired a clip from his old "Politically Incorrect" show dating from 1999 on "Real Time with Bill Maher" on September 17, 2010.
The clip was of Christine O'Donnell, who was then running for the senate as a Republican in Delaware. In the clip, O'Donnell states that she has "dabbled in witchcraft." The clip became famous and led to O'Donnell being extensively covered by the media during her run for office.
Maher invited Milo Yiannopoulos to his show in February 2017. During his appearance, Yiannopoulos made some comments that sounded as if he sympathized with child sex abuse perpetrators.
Following the interview, the Conservative Political Action Conference called off Yiannopoulos's scheduled appearance, and a book deal with Simon and Schuster was canceled. He also resigned as a news editor for Breitbart News.
When he was asked about the impact of Yiannopoulos's interview and the subsequent damage to his career, Maher said that "sunlight is the best disinfectant, and you're welcome."
>> Jessica Simpson Is How Rich?
---
➤ Free Guide: 5 Ways To Automate Your Retirement
---
Bill Maher Political Views
Bill Maher does not adhere to one political label and instead says that he is practical.
He has referred to himself as a libertarian in the past, but he has also referred to himself as a progressive or a "9/11 liberal."
Maher says that his views of Islam changed after 9/11, and he disagrees with liberals about the idea that all religions are equal.
He supports legalizing cannabis, prostitution, and gambling. He sits on the board of NORML. He also wants to end federal funding for nonprofits and to end corporate welfare. Maher sits on the board of the People for the Ethical Treatment of Animals and is against environmental pollution. He is a supporter of the death penalty.
Since 9/11, Maher has been in favor of profiling people at airports. He was opposed to the war in Iraq from the start and has stated that the U.S. paid too high a price for it. Maher supported Barack Obama's candidacy for the presidency in 2008, but Maher criticized Obama after the election for not acting more forcefully about health care reform. Maher donated $1 million in 2012 to Priorities USA, the Obama SuperPAC.
Maher has stated that he favors the Israelis in their conflict with the Palestinians, although he acknowledges that the Palestinians do have some valid complaints. He wants the U.S. to stop sending money to Israel and believes that Israel should be left to manage things on its own.
In the 2016 presidential election, Maher supported Democratic candidate Bernie Sanders in the primaries. When Hillary Clinton won the nomination, he switched his support to her.
He criticized Julian Assange and Wikileaks for the theft and publication of the Democratic National Committee's emails.
Maher has appeared frequently as a political commentator on CNN, HLN, MSNBC, and Fox News. He has been a regular guest on CNN's "The Situation Room with Wolf Blitzer" and on MSNBC on "The Rachel Maddow Show," "Hardball with Chris Matthews," and "Countdown with Keith Olbermann."
>> John Krasinki's Net Worth Is Shocking
Bill Maher Religious Views
Bill Maher is very critical of religion and views it as destructive.
He has said that he does not like labels, but he has described himself in the past as an agnostic, an apatheist, and an atheist. He has stated that he doesn't know what happens after people die and that he doesn't care.
He has said that all organized religions are dangerous and stupid, but he highlights specific religions as being particularly so. For example, he has stated that Mormonism is the most ridiculous of all of the religions.
He says that Islam and Christianity are both warlike, and he believes that Islam needs to go through a period of enlightenment.
>> How Did Gary Vee Get So Wealthy?
Bill Maher Awards
Bill Maher has won many awards for his work on "Politically Incorrect" and for "Real Time with Bill Maher."
For his work on "Politically Incorrect," he garnered 10 Emmy nominations, two Writers Guild nominations, and two TV Guide nominations.
The show won an Emmy Award for outstanding technical direction, a Genesis Award for the best television talk show, and two CableACE awards for best talk show series.
His work on "Real Time with Bill Maher" has also earned critical acclaim and numerous awards.
He has received 10 Primetime Emmy Award nominations and six nominations for Writers Guild awards.
In 2007, the Producers Guild of America awarded Maher and his co-producers the Television Producer of the Year Award. Altogether, Maher has received 22 Emmy Award nominations and holds the record for having the most nominations without winning an Emmy. In September 2010, Maher received a star on the Hollywood Walk of Fame.
>> Joe Rogan Is Seriously Rich
Bill Maher Wife and Kids
Bill Maher has never been married and has no children.
He started dating Coco Johnsen, a former Playboy Cyber Girl, in 2003. Their relationship ended in November 2004 after 17 months.
She filed a lawsuit against Maher for $9 million, claiming that he had promised to marry her, to have children with her, and to financially support her.
Maher's attorneys responded by saying that he was a confirmed bachelor and had never made any such promises.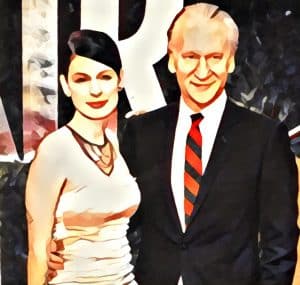 They also pointed out that Johnsen had made prior accusations of kidnapping and rape against an earlier boyfriend in 1997 for which there was no evidence.
The lawyers argued she was actively campaigning to embarrass and humiliate Maher in an effort to extort money from him. On May 2, 2005, the lawsuit was dismissed.
He dated Karrine Steffans in 2005, who was a former hip-hop model and a best-selling author. He dated Cara Santa Maria, a science educator, from 2009 until 2011. In 2014, he dated singer Anjulie Persaud.
Bill Maher has been able to amass substantial wealth over his long career. Despite some controversial views, he has managed to leverage his talent and his work as a political commentator and television host to earn a net worth of $110 million. His net worth is likely to continue increasing because he remains very popular.
>> How Bill Burr Made A Fortune
Build A Bill Maher Net Worth Tally
To amass a fortune of over 9 figures is a feat few people who have ever walked the earth can accomplish. It's a monumental achievement that speaks to the lofty heights reached by Bill Maher.
But you don't need to be a nationally renowned comedian with your own show to build your own wealth. These days it's simpler than ever to get started on the investing totem pole thanks to low cost investment offerings by the industry leaders like Betterment and Ellevest.
For a fee that beats most human advisors, Betterment will invest your money based on your risk and reward objectives, rebalance your portfolio automatically, and provide you cutting edge tools to plan better for retirement.