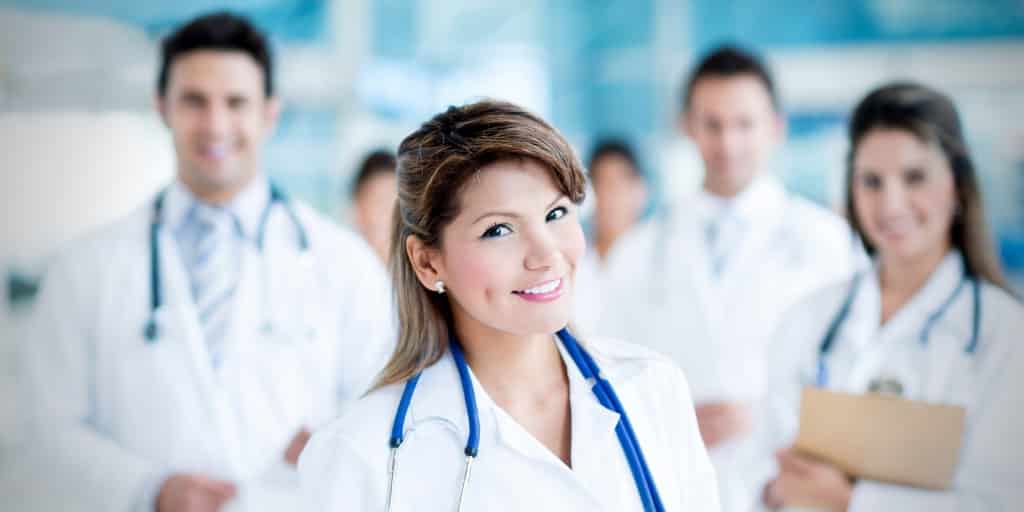 Each year, Medscape publishes the Physician Compensation Report, which is based on a survey of physicians throughout the United States.
For the 2018 report, more than 20,000 doctors across more than 30 disciplines were analyzed.
And drumroll…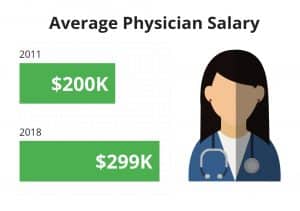 The average overall salary for physicians, including primary care providers as well as specialists, is $299,000, a modest increase over the previous year.
While becoming a physician is certainly a lucrative proposition, it is becoming even more so. The average compensation that a doctor receives has been steadily rising since 2010
In just 7 years, the figure has increased by approximately 50% from $200,000 in 2011.
Why the increase? Some say the trend is reflected in the moving price, which is the amount necessary to convince a doctor to uproot his or her life and move to a new location.
According to Medscape, the top three earning disciplines for 2018 are the same as those in 2017. These specialties are plastic surgery at an average compensation of $501,000, orthopedics at $497,000 and cardiology at $423,000.
While orthopedics and cardiology were in the top three five years ago, plastic surgery was not. In fact, average compensation for plastic surgeons has increased more than 35 percent in that time.
The top 3 earning disciplines for 2018 are plastic surgery, orthopedics, and cardiology with median incomes of $501,000, $497,000 and $423,000 respectively.
Which Doctors Make the Most?
The earning potential of doctors is a significant motivation behind why many choose this career path, but not all medical fields are equal in terms of how much you can earn over the course of your career.
Of the three disciplines that have experienced the largest increase in earnings, only plastic surgery is present among the top 3 earning and the top 3 fastest-growing fields.
In addition to plastic surgery, this list includes psychiatry as well as physical medicine and rehabilitation.
Plastic surgery continues to boom as it becomes more socially acceptable and younger "patients" embrace them more.
Increases for psychiatrists is driven by a demand for mental health services, which is explained by higher life expectancies and social issues, such as the opioid crisis.
Which Doctors Have Suffered
Lower Earnings?
In some disciplines, the average practitioner has lost income over the last 5 years.
The top three income declines according to the Medscape report are:
| | |
| --- | --- |
| General Surgery | -9% |
| Urology | -7% |
| Diabetes, endocrinology and otolaryngology | -4% |
Considering these domains, the decreases in income may reflect better early detection and preventative treatments.
Where Do Doctors Earn
Most and Least?
A physician's ability to earn is not limited simply by the specialty that he or she chooses. There are other factors as well, and perhaps chief among them is where a doctor chooses to live and practice.
The Medscape report for 2018 organizes the United States into nine regions. It then assigns an average compensation for each region across all specialties.
Compensation ranges from $275,000 to $319,000, and it is perhaps surprising at first that the top spot is held by the North Central rather than a coastal region. However, these coastal regions are the most competitive for doctors which in turn suppresses salaries.
The doctors who on average earn the least are located in the Northeast.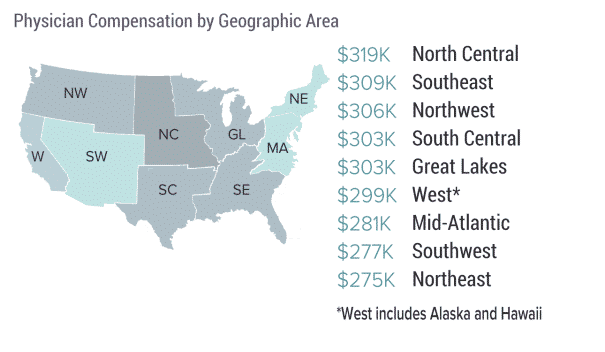 Other regions at the low end include the Southwest at $277,000 and the Mid-Atlantic at $281,000.
In addition to the North Central, the top three includes the Southeast at $309,000 and the Northwest at $306,000.
These averages account for market conditions, competition and business costs as well as Medicare payments and other factors that can vary from state to state.
---
➤ Free Guide: 5 Ways To Automate Your Retirement
---
Do Women Doctors
Make as Much as Men?
A hot topic in the conversation about modern employment, including among doctors, concerns disparities between salaries for male and female professionals.
In 2018, male doctors earned on average 18% more than their female counterparts.
In 2017, primary care physicians who were male earned on average 16 percent more than those who are female. Male specialists earn about 36% more, which can be a difference of $75,000 or more annually.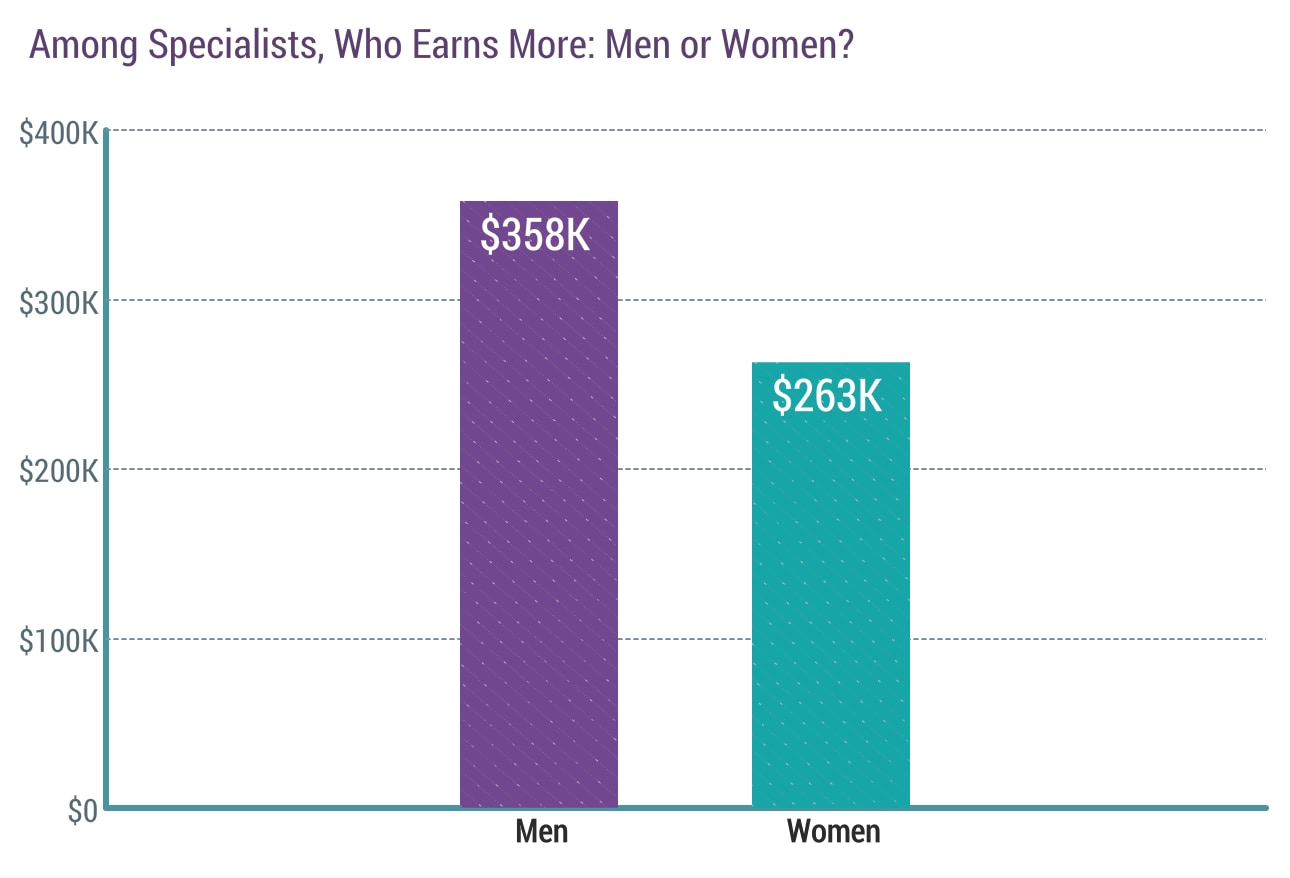 It may be worth noting that not all specialties are well-represented by women. The fields that are include family medicine, pediatrics, public health, preventative medicine and plastic surgery.
Medical fields that have a low percentage of women include cardiology, gastroenterology, orthopedics and radiology.
What Benefits Do Doctors Get?
Coveted jobs often offer an extensive benefits package in addition to a salary. Physician and other medical jobs are not unlike most professional positions in that benefits are usually included.
Like most employees, doctors usually receive health insurance, and most receive dental insurance as well.
About 66% of them receive time off, and that aligns with the percentage of employed versus self-employed physicians.
More than half of employed doctors do not, however, receive either short- or long-term disability, and if they want that kind of protection, then they have to pay for it out of pocket.
A common benefit for medical professionals that is not typical across most industries is malpractice insurance.
Medical professional liability insurance helps protect health care professionals and their employers from certain liabilities.
>> Can You Run A 9 Minute Mile? Check Out Health IQ
How Much Debt Do Doctors Have?
While many doctors will earn significant incomes over the course of their careers, they will also take on heavy debt.
There is no doubt that a high income is one of the key attractions of the medicine profession, but the long-term financial obligations that doctors face are significant.
While the average student borrower in 2016 owed $28,400 upon graduating, doctors are not the average student.
Private school students can easily owe as much as $75,000 or more, and that is just for earning a Bachelor of Science degree and before ever attending actual medical school.
The average cost annually to attend medical school in 2016 was $32,495. That does not include books, room, board, transportation and so forth.
It becomes clear why the Association of American Medical Colleges reports that the average debt for a physician upon graduation is about $200,000.
How Long Does It Take
Doctors to Pay Off Loans?
A recent study in the personal finance industry found that less than half of all surveyed doctors would choose a career in medicine if given the option to do it all over again.
Doctors work long hours, are under a great deal of pressure and have to manage their mountains of debt.
Physicians take on a great deal of financial risk not just in the debt they assume but also in the professional liabilities they may face.
Despite most doctors earning six-figure salaries, it often takes them between 11 and 14 years to pay off their loans.
In other words, the typical physician is not earning a full-time salary until at least a decade after most other college graduates.
How to Pay Off Your Medical Loans
Doctors and other medical professionals need a loan repayment strategy upon graduating.
Interest is a significant portion of the debt burden, and while there are many repayment options available, interest rates can vary greatly.
Two of the best student loan and loan refinancing options on the market are offered by CommonBond and SoFi.
CommonBond was founded by students who had suffered firsthand under the burden of high student loans.
This top tier lender specializes in private student loans and in refinancing existing student loans.
It also has a social component; each loan issued is accompanied by a promise to fund the education of a child through Pencils of Promise.
CommonBond is not just a vessel of goodwill, though. It is a streamlined financial enterprise that targets super-prime borrowers and offers highly competitive rates.
For new loans, it offers both fixed and variable rates over terms of five, 10 and 15 years.
Borrowers who want to refinance can acquire fixed, variable and hybrid loans for up to $500,000 and for up to 20 years in term length.
SoFi is a direct competitor of CommonBond, and it targets a group of people that it has coined HENRYs: high earners not rich yet.
It even has an exclusive HENRY community on Facebook to which SoFi borrowers have access. These are people who may be cash-poor now but who are likely to be rich in the future.
As with CommonBond, SoFi offers new private student loans as well as student loan refinancing, and super-prime borrowers can expect rates that are much more favorable than are generally available through traditional student borrowing options.
SoFi can also help borrowers as they grow in their professional and personal lives with mortgages, life insurance, wealth management and other services.
SoFi and CommonBond are both intriguing options for the student setting out on a path toward medicine and the medical professional who has already graduated and is striving to move forward toward financial success. Which company is better will depend on your unique situation and personal goals.
Which Lender Is Best For Your Medical Loans?
If partnering with a single financial company throughout your life is attractive to you, then SoFi is a very appealing option.
When it comes to student loans, CommonBond tends to offer more favorable rates, and it does not charge origination fees nor penalize for prepayment. SoFi, on the other hand, offers lower Parent PLUS refinancing.
CommonBond and SoFi both offer effective strategies for managing your student debt.
CommonBond likely appeals most to the average student and recent graduate for the lower costs in the near-term, but SoFi is a worthwhile option for the physician with a financial vision beyond just the repayment of his or her student loans.