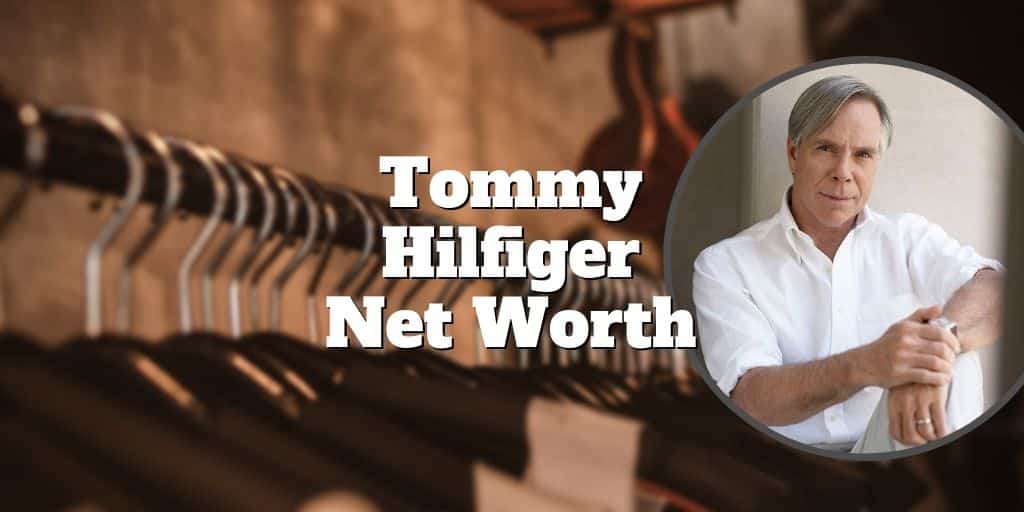 Inset Photo Credit: Tommy Hilfiger [CC BY-SA 2.0]
Legendary fashion designer Tommy Hilfiger is estimated to have a net worth just under $425 million.
He is most famous for being the founder of the eponymous Tommy Hilfiger Corporation, a lifestyle brand that made Hilfiger's name an everyday word in households across America and around the world.
Although he sold the company in 2010, Hilfiger remains the company's chief designer and the Influencer-in-Chief for its distinctive style.
The company, which has more than 16,000 retail outlets in 115 countries around the world, regularly strikes fashion deals with major celebrities like Beyonce, Snoop Dog, and Gigi Hadid.
So how did Tommy Hilfiger come to be worth a staggering sum like $425 million? While much of Hilfiger's success is due to persistence and hard work, some of it happened because he was in the right place at the right time.
How The Beatles Inspired
Tommy Hilfiger
Nobody would have predicted this degree of success for Thomas Jacob Hilfiger when he was born in 1951 in Elvira, a small city in the Finger Lakes area of upstate New York.
Like many boys growing up in the 1960s, Hilfiger was obsessed with three things: rock 'n' roll, sports, and looking cool. British bands like the Beatles, the Rolling Stones, and The Who brought about a fashion revolution, and Hilfiger wanted to be part of it.
With $150 of his own savings, Hilfiger opened up a clothing store called People's Place. He sold then-trendy items like bell-bottom jeans, Mexican peasant blouses, and leather jackets, which he bought from New York City suppliers.
When the items didn't fit his vision of fashion, he began customizing them to fit better with his own design ethos.
Hilfiger had always preferred the preppy look to the hippie look, and he began creating clothes inspired by traditional Ivy League styles but with a cooler, more brazenly modern twist. His clothing sold like hotcakes.
By 1976, he owned 10 stores in Ithaca and other campus towns across New York. Overexpansion and a local recession, however, brought this small fashion empire to a screeching crash.
In 1977, Hilfiger was forced to file for Chapter 11 bankruptcy. He was only 25.
>> Denzel Washington Is Outrageously Wealthy
How Tommy Hilfiger
Bounced Back
This kind of setback would have caused many people to give up on their dreams, but not Tommy Hilfiger.
Years later, he told one of his many interviewers that the bankruptcy had been like taking a crash MBA course. In fact, to better understand the nuts and bolts of the fashion industry, Hilfiger began taking business classes. He learned how to read a balance sheet and how to keep operating costs down.
He moved to New York City and started freelancing. Without a design degree, it was very difficult to get anyone to hire him. His first clients were denim clothing manufacturers.
In 1979, Hilfiger felt confident enough to launch another company. He called it Tommy Hill.
Because many of his clients were Indian, he traveled to India and spent time in factories there, watching the manufacture of jeans and tweaking the design of the products as they were being made if he was dissatisfied with the look.
He formed two additional companies: 20th Century Survival in 1981 and Click Point in 1982. Click Point extended his design schemes into the realm of women's clothing.
One of Hilfiger's first big customers was the jeans giant Jordache. The bigwigs at Jordache loved Hilfiger's jeans designs, but they didn't have any interest in expanding into other clothing lines.
Eventually, Hilfiger was dropped. Once again, Hilfiger found himself broke and back on the pavement. But he still had his dreams.
How The Brand
"Tommy Hilfiger" Was Born
In 1985 with the help of an Indian businessman named Mohan Murjani, Hilfiger set up a label under his own name.
Hilfiger was shrewd enough to realize that brands are as much about the name as about the items that are sold under the name.
He hired the eminent graphic designer George Lois to create a series of promotions for his fledgling company; these ads focused not upon the clothes themselves or upon the stunning models that wore those clothes but upon Hilfiger's logo.
Hilfiger had put a lot of thought into creating his logo. It was a sideways H that borrowed its red and white colors from the International Code of Signals flag "H." The H in the logo stands for Hilfiger.
This bold advertising campaign, which compared Hilfiger's logo to the logos of other fashion giants like Perry Ellis, Calvin Klein, and Ralph Lauren, was a smashing success. People started flocking to stores that carried the Hilfiger line.
In 1992, Hilfiger's fashion company became the first clothing brand to offer an IPO on the New York Stock Exchange.
Three years later, Hilfiger was named Menswear Designer of the Year by the Council of Fashion Designers of America.
In 2000, at the pinnacle of its success, the Tommy Hilfiger Corporation was reaping revenues of more than $2 billion per year.
---
➤ Free Guide: 5 Ways To Automate Your Retirement
---
How Tommy Hilfiger
Got Insanely Rich
Tommy's formula was much the same as the one he'd used back in his People's Place days. He took the styles that people already gravitated toward and gave them his own inimitable twist.
He was particularly big on sports jerseys with wild patches and logos. When his clothes caught on with the hip hop community, major players like Aaliyah, Usher, and Snoop Dog became his ambassadors.
The fashion world survives on new trends and innovation, however, and by the early 2000s, the Hilfiger brand was overexposed.
Even when items were discounted, sales were dropping.
By 2005, annual revenues had plummeted to $500 million. In 2006, Hilfiger took the company private again with the assistance of the private management company Apax.
Apax helped the company target potential markets in Europe and Asia that were not yet saturated.
In 2010, the Tommy Hilfiger Corporation was sold to the global apparel giant Phillips-Van Heusen Corporation for $3 billion. Most of the $425 million fortune Tommy Hilfiger has accumulated can be attributed to that deal.
The Tommy Hilfiger brand continues to thrive. Hilfiger's clothing lines include Hilfiger Collection for women, Tommy Hilfiger Tailored for men, and sportswear for adults and children.
The brand also licenses the Tommy Hilfiger name to perfumes, jewelry, watches, sunglasses, sheets, and other lifestyle items.
Who Wears Tommy?
Over the years, the Tommy Hilfiger brand has benefited from numerous high-profile celebrities who've either chosen to or who've been paid to wear it.
In 1994, Snoop Dog fell in love with a Tommy Hilfiger jersey he'd been given when he hosted an episode of "Saturday Night Live," and he was photographed everywhere wearing it.
In 1995, a photo of Michael Jackson in a colorful Hilfiger sweater was the main graphic in a piece about Jackson's life and career that appeared in the trendy music magazine "Vibe."
At the height of their popularity, Justin Timberlake and other members of the American boy band NSYNC reportedly lived in their Hilfiger cargo jeans and windbreakers.
The Tommy Hilfiger Corporation was one of the first fashion companies to sponsor music tours. The familiar Hilfiger logo appeared as a backdrop in stadium performances featuring Britney Spears, the Rolling Stones, Sheryl Crow, Jewel, and Lenny Kravitz.
Candid shots of Spears in Hilfiger overalls appeared regularly in the entertainment press.
Hilfiger clothes continue to play a prominent role in the social media feeds of contemporary music icons like Zendaya, Rihanna, Bruno Mars, Drake, and Nicki Minaj.
Hilfiger's most recent high-fashion avatar is supermodel Gigi Hadid with whom Hilfiger collaborated on a nautically themed collection.
After Gigi launched the collection via live streaming on her Instagram account, the collection was immediately made available at 300 Hilfiger stores as well as on Tommy.com.
Tommy.com traffic increased by 900%, and sales of the items went through the roof. While deals like this are lucrative, it takes the sale of a highly valued asset like a corporation to put together a $425 million fortune.
>> Is Bill Gates' Daughter A Billionaire?
Tommy Hilfiger Philanthropy
Tommy Hilfiger has always believed in giving back to the community.
In 1995, he founded the Tommy Hilfiger Corporate Foundation, which helped fund health, education, and cultural programs for America's at-risk youth.
In 2012, the foundation's philanthropic activities were branded under the name TommyCares and transferred to the oversight of the Phillips-Van Heusen Corporation.
TommyCares supports the efforts of wide-reaching global initiatives like Save the Children, the World Wildlife Fund, War Child, and Millennium Promise.
After his daughter Kathleen and his stepson Alex were diagnosed with autism spectrum disorders, Hilfiger became an advocate for autism education and awareness through organizations like Autism Speaks.
In 2013, Tommy Hilfiger helped launch the Tommy Hilfiger-P.S. ARTS Education Program in California, which includes funding for year-round arts education curriculums in several Los Angeles-area public elementary schools.
>> How Rachael Ray Made Cooking Profitable
Tommy Hilfiger Books and Memoir
Tommy Hilfiger has written seven books himself and with collaborators:
He has also contributed forewords to two books: "Grace Kelly: A Life In Pictures" and "Fashion Etcetera: Tommy Hilfiger Special Edition."
Hilfiger's most recent publication, "American Dreamer," is a memoir that describes his decades of struggle and ultimate triumph in candid detail.
He can be detached and straightforward when he describes his mistakes but delightfully schmoozy when he talks about his encounters with A-list celebrities.
The book is more than just an escapist read; it's a bona fide case study on how to build a mega-successful brand.
>> How Peter Schiff Became Super Rich
Tommy Hilfiger Wife and Kids
Tommy Hilfiger has been married twice. He met his first wife, Susie Cirona, when she worked for him at one of his People's Place stores.
The couple married in 1980 and divorced in 2000. Tommy and Susie have three daughters and one son: Ally, Elizabeth, Kathleen, and Richard.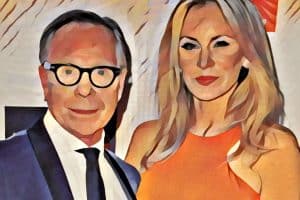 Ally Hilfiger was starring in the MTV show "Rich Girls" when she began feeling the disorienting effects of what was subsequently diagnosed as Lyme disease.
Today, Ally has dedicated her life to educating the public about Lyme disease and is the author of a well-received memoir titled "Bite Me: How Lyme Disease Stole My Childhood, Made Me Crazy, and Almost Killed Me."
Elizabeth Hilfiger has launched her own successful fashion brand called Foo and Foo, and Richard Hilfiger is a hip hop musician.
In 2009, when Tommy Hilfiger married fashion designer Dee Ocleppo, he became stepfather to her two sons, Julian and Alex. The couple also has a son together named Sebastian.
How To Build A
Tommy Hilfiger Net Worth
Tommy Hilfiger amassed an enormous level of wealth during his career which stemmed mostly from the sale of his company. But he was no overnight success. It took bankruptcy and a string of failures before his brand and company became successful.
Tommy was successful, fortunate, and persistent. And his level of wealth is out of reach of most people, even those who save and invest responsibly. But that doesn't mean you can't build a richer future for yourself.
It simply takes some smart financial decisions. These days, you can invest your money with a robo-advisor, like Betterment, as opposed to a human advisor and save as much as 75% or more on fees!
And you can choose to refinance student loans with companies like SoFi and CommonBond to get better rates if you are creditworthy.
If you're not sure where to begin, download a free mobile app from Personal Capital and track your income and expenses, as well as your own net worth. The more you pay attention to your finances, the better your chances of living a richer life later on.