Inset Photo Credit: Justin Higuchi from Los Angeles, CA, USA [CC BY 2.0 (https://creativecommons.org/licenses/by/2.0)]
Corey Feldman was a popular American child actor and singer who has an estimated net worth somewhere in the neighborhood of $2.5 million.
It may not seem plausible that a child actor could amass such a large fortune. Yet, the film industry in Hollywood can create enormous wealth for superstars, and so it's no surprise that Feldman has grabbed a share of the pie.
Born in Los Angeles in 1971, Feldman had a natural talent for acting. He made his first favorable impression on television viewers via a special Christmas commercial for McDonald's. Viewing audiences enjoyed watching the charming 3-year-old boy.
Later, he continued his rise to fame as a child actor in roles in several popular movies. Feldman starred in "The Goonies," "Stand by Me," and "The Lost Boys" and became extremely popular during the 1980s.
Although his popularity has declined over the years, he has continued to work, appearing in movies and television roles and pursuing ambitions as a musician.
Still, you may be wondering, how is it possible that Corey Feldman's net worth is estimated at $2.5 million?
Corey Feldman's Rise To Fame
After his initial McDonald's commercial, Corey continued to act in a few hundred commercials for various companies.
In addition, the child actor appeared in several television shows, including "Eight Is Enough," "Cheers," and "Mork & Mindy."
He also appeared in the NBC musical comedy "How to Eat Like a Child."
His first movie role as an actor was in the film "Time After Time." Additionally, he voiced a character in Disney's "The Fox and the Hound."
Corey Feldman Movie Star
Feldman's rise to fame and wealth really sped up during his teen years in the mid-1980s.
In 1984, he appeared in "Friday the 13th: The Final Chapter" and "Gremlins."
One of his most memorable roles came in the movie "The Goonies." It was released in 1985 and went on to become a cult classic.
The plot centers on a group of children who go on an adventure to locate a pirate's treasure. They need money to pay the mortgages on their foreclosed homes.
Feldman played a character named Mouth, a role that helped lead him to future success and a high net worth.
Although he was only paid $40,000 for the part, the movie helped him attain status as a top celebrity.
Later, after acting together in "The Lost Boys," Corey Feldman and Corey Haim appeared as a team in several films. Their popularity gained them the nickname "The Two Coreys."
Together, the pair acted in several films, including "License to Drive" and "Dream a Little Dream."
As an adult, Corey Feldman continued to snag roles in several films. His later film credits include:
Corey Feldman TV Star
In addition to his film acting, Feldman has appeared on the small screen in several shows.
His early acting included roles on "Cheers," "Mork & Mindy," and "Eight Is Enough."
In his adult years, he starred in the CBS series "Dweebs" and had roles on other TV series such as "Sliders" and "The Crow: Stairway to Heaven."
Feldman has also starred and appeared in several reality TV shows. They include "The Surreal Life," "Dancing on Ice," "Celebrity Wife Swap," and "The Two Coreys," an A&E Network series he starred in alongside Corey Haim.
---
➤ Free Guide: 5 Ways To Automate Your Retirement
---
Corey Feldman's Friendship
With Michael Jackson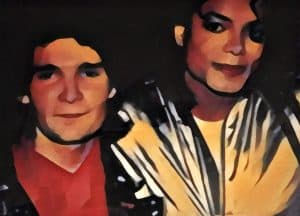 As a child and as a teen, Feldman had a close friendship with Michael Jackson.
During Jackson's child molestation trial, Feldman was a key witness. He testified under oath that the singer had eventually abandoned their friendship.
Although the thought of their friendship may raise some eyebrows, Feldman has stated that he and Jackson grew quite close when Feldman was a teenager. He mentioned more than once that he was never sexually abused by Jackson.
Up until his death on June 25, 2009, Jackson never admitted that he was guilty of child molestation.
After a documentary called "Leaving Neverland" aired on HBO in January of 2019, Feldman defended his former friend via tweets on Twitter. However, he eventually stated that he could no longer defend Michael Jackson because of the many horrific accusations that were made against the celebrity.
In another interview granted to Rolling Stone magazine, Feldman mentioned that he was going to produce a documentary about Hollywood and pedophilia.
When asked about his feedback on "Leaving Neverland," Feldman stated that Michael Jackson did not touch him inappropriately. However, he said that the film made him think about things in a different light.
Feldman added that he will never know if Jackson was simply buying him expensive gifts as preparation for child molestation or if the Thriller singer was innocent of any bad intentions.
He added that Jackson did seem to have a preference for young boys with blond hair. Feldman said that he definitely matched this description when he was younger but emphasized the fact that Jackson never touched him in an unacceptable way.
Feldman stated that he and Jackson never even spoke about sex other than to mention that it was dangerous. However, Feldman had previously stated that Jackson showed him inappropriate sexual photographs when Feldman was 13 years old.
Corey Feldman's Singing Career
In the midst of his career as an actor, Corey pursued his passion for music. He has released four albums, but most people never recognized his musical talents until the present time.
During a recent interview, Feldman admitted that social media has been a tremendous help in boosting his career as a musician.
He mentioned that social media platforms enable celebrities to communicate with their fans in direct ways and that signing a contract with a major record label is no longer a requirement for paving the way toward success as a musician.
His performance on the "Today" show with his band Corey's Angels went viral due to their eccentric performance.
Feldman added that he thinks of his music as a message representing love and light.
He wants his audiences to have positive thoughts after watching and listening to him perform. He said that he wants fans to know that they can attain their highest goals and live the lives they envision in their dreams.
Along with performing music himself, Feldman has appeared in several music videos.
He portrayed Officer Corey Feldman in a New Found Glory music video called "Hit or Miss." He has also been in music videos for Neon Trees, Katy Perry, Mac Miller, and Thirty Seconds to Mars.
Corey Feldman's Personal Life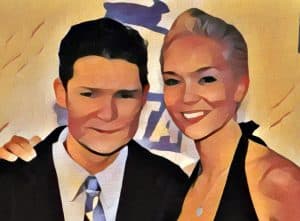 Over the years, Feldman has gone through personal difficulties that included some divorces.
He was married to Vanessa Marcil in 1989. The couple was divorced in 1993.
Feldman was married to Susie Sprague in 2002 by a Jewish rabbi as well as rapper MC Hammer, an ordained Christian minister.
Feldman and Sprague filed for divorce in 2009. The divorce was not finalized until 2014 due to a lengthy child custody case. Sprague won custody of their child, Zen.
After divorcing Sprague, Feldman married Courtney Anne Mitchell on November 22, 2016.
The wedding ceremony took place in Las Vegas at John's Fizz Champagne Lounge in Caesars Palace. Feldman continues to play an active role in the life of his son, Zen Scott Feldman, who was born in 2004.
From Drugs to Triumph
Similar to many celebrities driven by sudden fame and fortune, Feldman had to fight against a drug addiction problem. He did not keep his struggle a secret from his fans.
After starring in the movie "The 'Burbs" in 1989, Feldman's struggle with drug addiction became public, but he battled his own problems by helping young people with their own addictions.
From Environmental Concerns to
Protecting Animal Rights
Feldman is an ardent environmentalist and animal activist who speaks as an official spokesperson on behalf of People for the Ethical Treatment of Animals (PETA).
Feldman is also a spokesperson for the Amie Karen Cancer Fund and Global Green, an environmental charity.
The Paws of Fame Award was awarded to Feldman in 2009 for his noteworthy passion in supporting the rights of innocent animals.
Corey Feldman Today and
His Message to Faithful Fans
Feldman has mentioned that he will continue to pursue his music career regardless of those who have criticisms about his work.
He has mentioned that he plans to tour the United States extensively. Plus, he is producing a Lifetime movie based on his autobiography.
Feldman also wants to revisit the vampire theme from his film "The Lost Boys." His movie "Corbin Nash" is about a vampire, and Feldman stars in the lead role. He mentions that the vampire's character is the complete opposite of his own personality, which made playing the role a challenging experience.
Currently performing as a musician, Corey Feldman also owns a business called Corey's Angels. His business helps women who find themselves living in desperate conditions.
Corey Feldman Net Worth
Corey Feldman has approximately 60 films and a wide array of television shows on his resume.
Plus, he has recorded several albums and gone on tour with his band. Considering all of this activity, his net worth of $2.5 million may seem somewhat low.
However, this may have something to do with those periods when he wasn't working and was out of the public eye.
Even so, $2.5 million is still a lot of money for someone whose fame primarily came from roles he played while as a child.
Can You Build A
Corey Feldman Net Worth?
Unlike some pro sports players who have contracts stretching into the tens of millions of dollars, Corey Feldman has a net worth that is within reach of many hard-working Americans, provided they save and invest properly.
If you are not sure how to get started saving for a rainy day and building up a retirement fund that will provide you with the same lifestyle you enjoy today, consider some of the best robo-advisors in the industry, like Betterment and Ellevest.
For a low annual fee, they will manage your money using Nobel prize winning academic theories as their foundation for diversifying your investments, and at a price that most human financial advisors cannot match.
>> Is Dr Phil's Net Worth $500 Million?
>> How Did Mike Tyson Lose $700 Million?