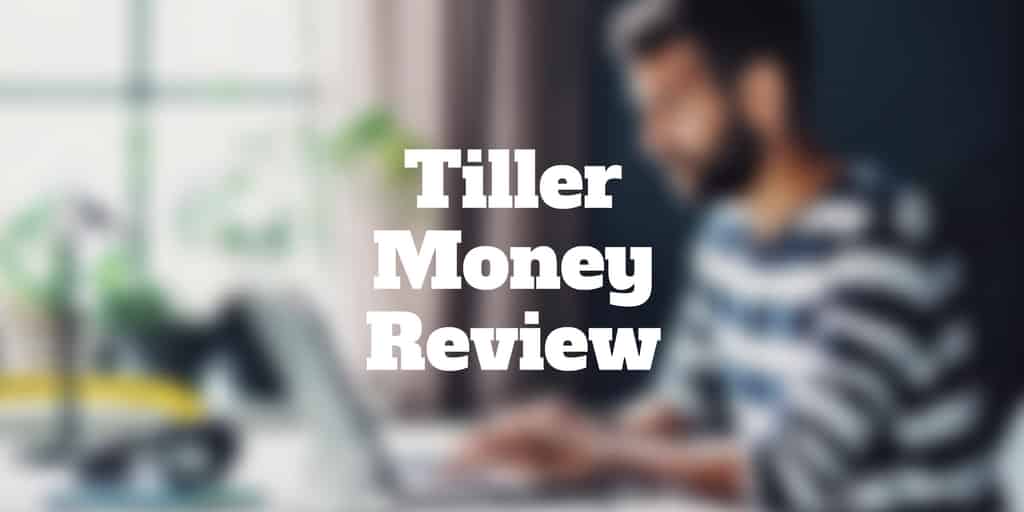 Tiller Money (TillerHQ) is a budgeting tool designed to help you keep better track of your personal finances.
It's the first budgeting app to automatically connect your financial information to Google Spreadsheets.
Whether you are looking to track your net worth, debt levels, or spending, Tiller Money is a one-stop solution provided that you have a Gmail account (to which Tiller is linked).
When you are catching up on unread messages in your inbox, it's easy to quickly switch over to your Drive folder, view your Tiller-created Spreadsheets, and get a bird's eye view of your finances without needing to log into a separate budgeting app.
Plus, it won't set you back more than the cost of a fews cups of coffee per month to stay better informed about your financial situation.
But these days you have lots of choices when it comes to budgeting tools so what else do you need to know before getting started?
Tiller Money Spotlight
TILLER MONEY SPOTLIGHT

InvestorMint Rating

4 out of 5 stars

Pricing: $5 monthly
Promo: 30-day Free Trial
Requirements: GMail Account

via Tiller Money secure site
Is Tiller Money Right For You?
When it comes to choosing a budgeting app, Tiller Money deserves your attention.
The team at Tiller Money figured out that a "one-size fits all" solution doesn't apply to financial budgeting, which is unique to each person.
Some users will lean towards frugal spending while others will have a financial goal to pay down debt.
Still others will hone in on growing their net worth while their neighbors may be concentrated on tracking day-to-day expenses.
No matter which category you fall into, Tiller Money has got you covered, especially if you want more control to customize your dashboard view.
But you will need to have access to Google Spreadsheets.
With a Gmail account you can instantly click the Drive button after login and view your budgeting Spreadsheets.
If you don't like the idea of importing your finances to Google Spreadsheets then Personal Capital or YNAB may be a better fit.
But before you consider other options, it's worth looking under the hood so-to-speak to see what else Tiller Money offers you.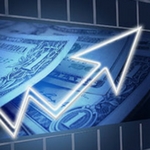 During and after the Great Financial Crisis of 2008, 485 U.S. banks went under. Here at Weiss Ratings, we warned about 484 — an accuracy rate of 99.8%. Now, we have a new warning. But this time, it's not just about a few hundred banks … it's about nearly every single bank in America …

Get all the details here
How Tiller Money Works:
Lauren Greutman Budget Planner
TillerHQ has partnered with many leading financial professionals and websites to bring you a selection of budget planning templates.
For example, the Lauren Greutman Budget Planner spreadsheet template is designed for the frugal family who keeps an eagle-eye on expenses.
After you sign up to Tiller and connect your checking and savings bank accounts and credit cards, as well other financial accounts related to mortgages and car loans, your financial transactions are pulled in each day to a template spreadsheet.
The spreadsheet is interactive so it's easy to get started with the built-in template. If you wish, you can build upon the existing reports and transaction data.
Some of the functionality available to you at your fingertips includes:
Establishing income and spending categories
Building your current month's budget
Categorizing transactions
Tracking your progress in a dashboard
Building alternate scenarios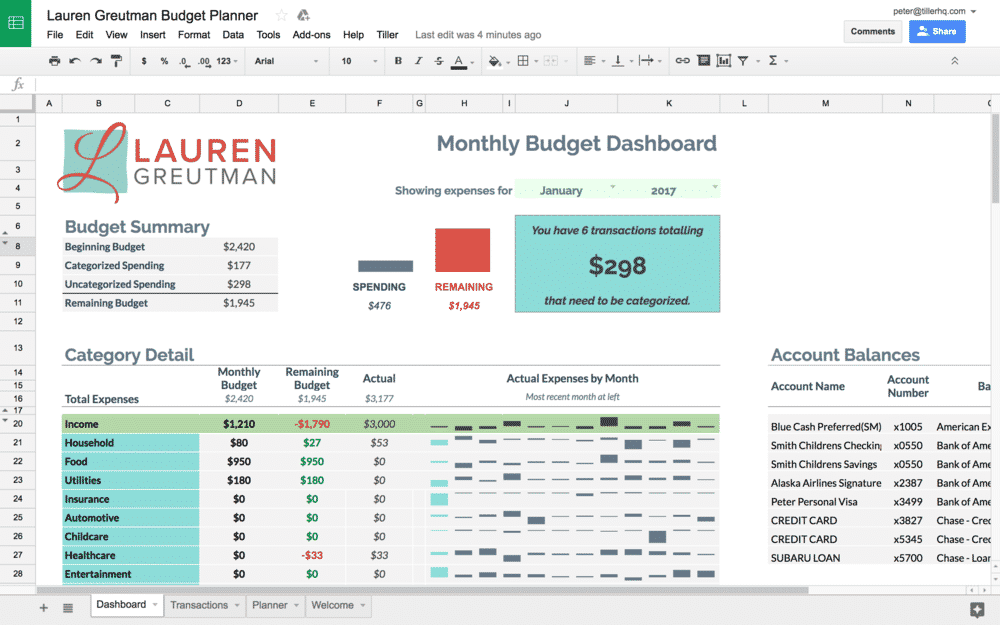 Tiller intentionally leaves it to you to specify categories because it believes the simple act of choosing buckets creates greater financial awareness.
For hands-on users, the high degree of customization and manual control is a big win over some other apps. However, if you like all the work done for you then Mint or Personal Capital may be more to your liking.
We especially like the dashboard which keeps track of your progress throughout the month so you can easily spot when your spending is going off course.
---
➤ Free Guide: 5 Ways To Automate Your Retirement
---
Google Spreadsheet Templates:
Debt Snowball Method
If you are struggling to pay off debt, the Debt Snowball method created by Dave Ramsey is a popular debt reduction process.
In a nutshell, the way it works is:
List your debts from smallest to largest
Make minimum payments on all your debts except the smallest one
Pay as much of your smallest debt off as you can afford
Repeat the process until all your debts have been paid off
Seems simple enough right? But it gets easier when you use the Debt Snowball Method spreadsheet template that Tiller Money provides.
The Debt Snowball Spreadsheet template is designed to help you track your debt and pay it off systematically.
Whether you are looking to pay off student loans, credit card balances, a mortgage, or medical bills, you can quickly and easily configure the template to keep track of your progress and reach debt freedom!
Google Sheets Budget Template:
Net Worth Tracker
Businesses tally up their assets, liabilities, and cash flow to track their net worth so why shouldn't you?
As part of your monthly subscription to Tiller, you receive access to the Net Worth Tracker, which is a Google Sheets budget template.
Tiller Money will keep track of assets and liabilities in linked financial accounts each day. And you can also manually enter assets and liabilities not connected to Tiller if you wish.
Like the other spreadsheets, you can easily customize the template to suit your own preferences and financial situation.
Advertisement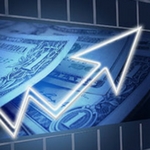 Rising interest rates...Skyrocketing inflation...Exploding debt...A looming recession...It's no wonder Americans are becoming more and more concerned about their savings and investments. That's why I wrote my newest report…This FREE REPORT shows YOU how you could protect your retirement savings before it's too late. Request your free report today and learn how you could protect everything you've worked for!

Request Your FREE Ben Stein Report Today!
Best Budget Software:
Raw Data Template
One of the reasons Tiller Money is a contender for the prize of best budget software is the high degree of control it provides to users. And nowhere is this more apparent than in the Raw Data template, which strips out formulas for maximum customization.
You can build and experiment in the Raw Data template.
Let's say, for example, that you want to build your own template and create your own reports, you can quickly set up your own categories, pull in your latest balances, and create a custom financial worksheet.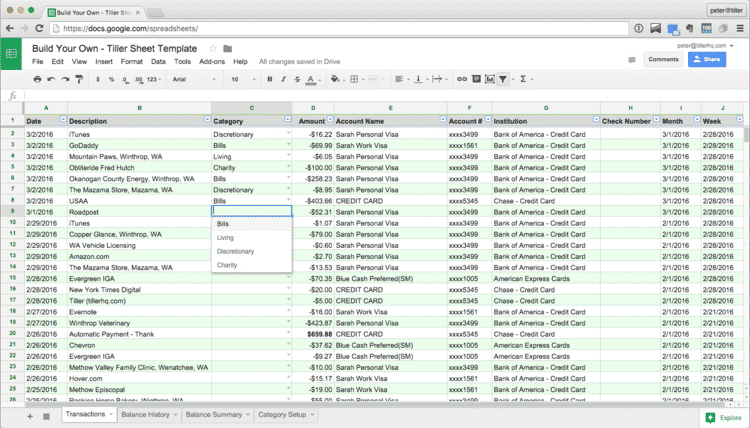 Budget Templates:
Values-Driven Budgeting
Tiller has partnered with Carl Richards who pioneered values-driven budgeting, which means asking yourself the question:
"Does my spending align with my values?"
The idea is that each dollar you spend is a vote, and each vote should align with your values.
The Values Driven Budgeting Template is designed to help you better align your spending with your core values.
In some ways it's similar to robo-advisors like Betterment and Personal Capital creating socially responsible investing portfolios to align investments with values.
To get most use out of the spreadsheet, Carl suggests that you first write out your values.
Then you can mark each expense with a simple yes or no to determine whether it aligns with your values.
If values driven budgeting resonates with you then Carl's New York Times bestselling book: The One Page Financial Plan is well worth reading.
Easy Budget Template:
How Do I Budget
Derek Olson from How Do I Money partnered with Tiller to create the How Do I Budget template, which features:
Monthly budget sheet
Debt snowball calculator
Goal tracker
The idea is to help you both pay off your debt and save for big purchases.
And like other easy budget templates from Tiller, you get an automatic daily feed of your bank information into your Transactions sheet.
Basic Budget Template:
Stacking Benjamins Save 50
Another partnership Tiller has made is with Stacking Benjamins, who offer an online self-paced course to help you keep track of your spending and set the financial goal to save half of your income this year.
Stacking Benjamins offers other financial classes like:
How to (legally) cheat on your taxes
The millionaire's money management system
How to save half your income
And with Tiller, you get to put the education into practice using the Stacking Benjamins Save 50 spreadsheet template:
Tiller Money Review:
Pros and Cons
| | |
| --- | --- |
| Tiller Money Pros | Tiller Money Cons |
| ✅ Low Cost Budgeting Tool: Tiller Money is ad-free but will set you back $5 per month. | ❌ Investment Accounts: If you want to keep track of your investment accounts, Personal Capital may be a better fit. |
| ✅ Numerous Budget Templates: From expense tracking to net worth monitoring, Tiller has a vast array of budget templates to meet the needs of most users. | ❌ Online Bill Pay: Mint or YNAB may be better options for online bill pay functionality. |
| ✅ Highly Customizable: You can manually create and modify categories to best suit your own financial situation. | ❌ User Experience: The user experience is good but it's not Apple-like in its simplicity so while spreadsheet gurus will love Tiller, newbies may find themselves stuck from time to time. |
| ✅ Goal Tracking: Many spreadsheets support goal tracking to help you pay off debt, lower expenses, or save for large purchases. | ❌ Google Compatible Only: If you don't have Gmail or don't like spreadsheets, Tiller is probably not the best budgeting app for you. |
| ✅Dashboard View: It's easy to monitor your financial progress over the course of the month using the Dashboard view. | |
| ✅ Free Trial: Each user gets a 30-day free trial before the monthly subscription price kicks in. | |
| ✅ Extensive Network: Tiller uses Yodlee, which is connected to over 10,000 financial institutions, to support almost any bank or financial company you may use. | |
| ✅ Automatic Daily Updates: Tiller automatically pulls in your bank data daily to save you the hassle of manual imports. | |
| ✅ Security Protocols: Bank-level encryption protocols are used to keep your personal information safe. | |
| ✅ Top Tier Advisors: Tiller is supported by top tier advisors, including Michael Horvath, co-founder of Strava, a fitness app used by millions of runners and cyclists. | |
| ✅ Customer Support: Live chat and email customer support is provided. | |
Tiller Money Review Summary
When choosing among budgeting apps, you can select free tools that are supported by ads or paid tools that don't come much cheaper than Tiller. At just $5 per month, it even beats YNAB, which offers highly competitive pricing.
You will need to be fairly comfortable with spreadsheets to get full value from Tiller but, once you get up and running, the highly customizable budget templates can be tailored easily to your personal financial situation.
Whether your goal is to boost your net worth, save more money, or keep track of daily expenses, Tiller Money has a financial spreadsheet to meet your needs.
We found the tool checks a lot of key boxes like industry-grade security protocols and encryption, daily automatic updates, top notch customer support, and easy financial goal tracking.
Plus, you get to test drive the software risk-free for 30 days during the free trial period. As budgeting apps go, Tiller ranks among the best.
Advertisement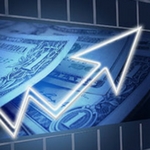 The next 10 minutes could change your life. We've recorded a special sit-down interview with a reclusive millionaire who details how he's closed out winning trade after winning trade throughout the volatility of 2022. In fact, he hasn't closed a single losing trade since 2016. Sounds impossible? It's not - and he'll prove it to you.

Click to see this exclusive sit-down interview