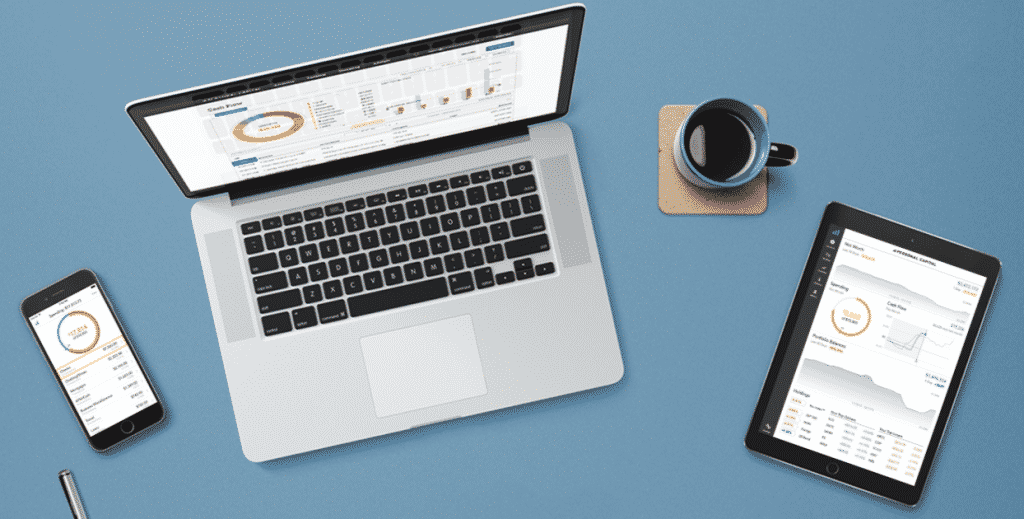 InvestorMint provides personal finance tools and insights to better inform your financial decisions. Our research is comprehensive, independent and well researched so you can have greater confidence in your financial choices.
Personal Capital pairs clients who enroll in its robo-advisory service with dedicated financial advisors. This human element distinguishes Personal Capital from most other robo-advisors (Betterment has added a premium tier to its offering that includes dedicated financial advisors too) as the first to add the personal touch however the higher quality service comes at a cost of higher fees (0.49% – 0.89%) relative to other robo-advisors, though they are still substantially lower than those charged by most individual financial advisors.
Beyond its advisory service, Personal Capital has a superb mobile app that allows anybody, not just advisory clients, connect bank accounts, investment accounts and credit cards to view spending habits, budgeting and net worth. Email updates are available to measure financial progress and allow users to better keep track of income and spending.
Personal Capital Spotlight
PERSONAL CAPITAL SPOTLIGHT

InvestorMint Rating

4.5 out of 5 stars

Management Fee: 0.49% - 0.89%
Account Minimum: $100,000
Brownie Points: Free tools to track spending; human advisors paired with clients

via Personal Capital secure site
Personal Capital Customers
Personal Capital distinguishes itself from other robo-advisors by connecting clients with human financial advisors. With a $100,000 minimum account balance, Personal Capital has a clear focus on higher net worth individuals who prefer a higher touch-point financial management experience. However, any user, even non-advisory clients, can download the Personal Capital mobile app, which links financial accounts and freely aggregates and analyzes spending, net worth and more.
Personal Capital offers perhaps the best hybrid of a robo-advisory service and standard personal financial advisory service by pairing clients to actual human advisors. With a $100,000 account balance minimum, Personal Capital clearly targets higher net worth individuals, and rewards those investing over $200,000 with access to two financial advisors by email as well as by phone and even video chat
Hands-off investors with a long-term focus on their retirement nest-eggs who wish to keep a pulse on day-to-day spending habits will find Personal Capital an ideal choice. The Personal Capital app will segment spending into categories: Travel, Entertainment, Taxes, Loans, Personal Care, Groceries, Clothing, and so forth while the robo-advisory service automatically invests funds and optimizes for tax considerations like tax-loss harvesting.
Personal Capital is best for:
Wealthier investors
Investors focused on the long-term
Hands-off investors
Anyone wishing to track daily budgeting and net worth with free financial tools
Personal Capital Management Fees
Personal Capital fees are tiered based on invested capital:
0.89% of assets under management up to $1,000,000
0.79% of assets under management for first $3,000,000
0.69% of assets under management for next $2,000,000
0.59% of assets under management for next $5,000,000
0.49% of assets under management for amounts over $10,000,000
Investment Method
Personal Capital leverages the expertise of Nobel Prize Winner in Economics, Harry Markowitz, and behavioral finance expert, Shlomo Benartzi, to construct an asset allocation formula, called Smart Indexing, designed to increase returns and reduce risk relative to the S&P 500.
Personal Capital invests the funds of clients with over $200,000 via a process called Smart Indexing, known elsewhere as Smart Beta. The investment method allocates equally to all sectors, as opposed to mirroring the S&P 500, with a view to increasing returns and lowering risk. Personal Capital claims that back-tested studies show a 1.5% annual outperformance using this method with reduced volatility than investing in the S&P 500 alone.
The weighted average expense ratio of a portfolio of exchange-traded funds in which assets are invested is a very reasonable 0.09%.
Mobile App & Tools
Personal Capital provides an easy-to-use, visually delightful mobile app complete with free tools to analyze personal finances and recommends ways to improve upon asset allocation.
Personal Capital provides a free, excellent mobile app for any user, not just advisory clients. Similar to Mint.com, Personal Capital connects bank accounts, credit cards and brokerage accounts, aggregates and analyzes the data and shows:
a breakdown of expenses by category, such as entertainment, groceries, loans, taxes, clothing, restaurants so spending habits can be improved upon;
how much to increase or reduce each asset class to match recommended targets; and
retirement forecasts to evaluate what needs to be done to meet retirement income needs.
Education Planner
Personal Capital Education Planner estimates how likely it is that you will meet your goals to finance the college tuition of a child.
If you have kids and are planning to finance their college tuition, the Personal Capital Education Planner is a must-view tool.
Simply enter the length of time you expect your child or beneficiary to attend college, and specify how much you would like to spend.
Personal Capital algorithms will then get to work and project how likely it is that you will meet your financial goals.
Personal Capital Pros and Cons
Personal Capital sets itself apart from other robo-advisors by connecting clients enrolled in its advisory service to human financial advisors. It also provides free personal finance tools that connect, aggregate and analyze bank and brokerage accounts as well as credit cards in an easy-to-use mobile app. The drawback is Personal Capital has a high minimum of $100,000 for advisory clients though anyone can download and benefit from its mobile app.
Personal Capital Pros
Personal Capital Cons
✅ Human Financial Advisors: Personal Capital complements its robo-advisory service by pairing each client with a real, human financial advisor who is accessible by email, phone and even video chat. This sets Personal Capital apart from most competitors (though Betterment has followed by adding dedicated financial advisors too), though it comes at the cost of higher fees relative to other robo-advisors but still lower fees than traditional financial advisors.
❌ High Account Minimums: $100,000 is a high hurdle to open an account but higher net worth clients who choose Personal Capital will receive a superior customer service experience with more touch points than other robo-advisors.
✅ Management Fee: Clients with under $1,000,000 in assets under management pay 0.89% which is higher than Personal Capital's peers in the robo-advisory business but substantially lower than traditional advisors who typically charge north of 1%.
❌ Upsells: It's not a surprise that the free tools provided by Personal Capital come with a catch, and the catch is being upsold to the financial advisory service that generates revenues for Personal Capital. We found it to be a soft-sell and not unpleasant.
✅ Customer Support: Personal Capital stands above its competitors when it comes to customer experience on account of having human financial advisors who may be contacted via traditional channels, phone and email, as well as video chat.
Clients with $200,000 or more invested are assigned a second financial advisor.
✅ Mobile App & Tools: Personal Capital has a stellar mobile experience for all users, not just clients who have invested capital.
It's easy to track spending, budgets, and net worth easily on your phone and see in seconds what % of your spending is allocated to healthcare, groceries, restaurants, loans, and other categories.
Personal Capital Fees & Minimums
Personal Capital has higher fees than other robo-advisors but lower than the average personal financial advisor.
Category
Fees
Account Management Fees

0.89% up to $1,000,000
0.79% for first $3,000,000
0.69% for next $2,000,000
0.59% for next $5,000,000
0.49% for amounts > $10,000,000

Investment Expense Ratio
0.09%
(weighted average)
Account Minimum
$100,000
Annual, Transfer, Closing Fees
None
Personal Finance Tools
FREE
Mobile App
FREE
Personal Capital Accounts
Personal Capital will manage the following accounts and will advise on accounts that it will not manage, such as 401ks and 529 Plans.
Type
Capability
Individual Non-retirement
YES
Joint Non-retirement
YES
Roth IRA
YES
Traditional IRA
YES
SEP IRA
YES
Rollover IRA
YES
Trusts
YES
529 Plan
No
(but will advise)
401k
No
(but will advise)
Personal Capital Tax Strategy
Personal Capital allocates assets across taxable and tax-advantaged accounts to optimize for tax consequences.
Type
Capability
Tax Loss Harvesting
YES
(on all accounts)
Tax-advantaged
YES
Personal Capital Summary
Personal Capital was designed for the higher net worth, fee-conscious investor capable of meeting the $100,000 account minimum while looking to avoid the higher fees associated with traditional personal financial advisors yet still wishing to have contact on-demand with a human financial advisor.
For those who can't meet the advisory minimum, Personal Capital offers an excellent mobile app complete with great tools to evaluate spending habits, recommend asset allocation improvements, and visualize retirement goals.