E-commerce sales are projected to top $1.18 trillion a year, according to Forrester Research. And BigCommerce has its eyes set on capturing its fair share of this market by getting businesses online easily with ready-made storefronts.
With its turnkey shopping cart and easy setup, it's no wonder BigCommerce already supports around 100,000 businesses, including big names like Toyota and Sony.
Most of its customers however are smaller businesses who earn between $50,000 and $400,000 a year.
So you might be wondering whether BigCommerce is the right solution for your business. Or whether competitors like Shopify would better suit your needs.
In our BigCommerce review, we cover everything you need to know to make the right decision.
BigCommerce Spotlight
BIGCOMMERCE SPOTLIGHT

Investormint Rating

4.5 out of 5 stars

Easy to build online storefront
Pricing starts at $29.95
Trusted by ~100,000 businesses

via BigCommerce secure site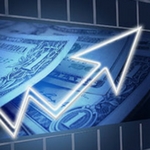 If you're worried "transitory" inflation and "mild" recession will be worse than expected...

Gold and commodities helped during volatile times. BUT one asset 99% of investors miss helps protect your portfolio and has outpaced the S&P by 131% over the past 26 years.

Art.

And while historically you've needed millions to invest, one platform lets you invest in famous paintings for as little as $20.

You can skip the waitlist and become a Masterworks member today with this private link.

See important Reg A disclosures: Masterworks.com/cd
What You Need To Know About BigCommerce
If you have an offline store and want to move online, BigCommerce is your one stop shop.
With BigCommerce, you can start selling products on the internet within minutes without having to know a lick of code.
All you have to do is upload your product list, pick your storefront design, and you're good to go.
But that's not all.
Ongoing tasks like inventory tracking and order management, as well as payments integration fall under the BigCommerce umbrella too.
You'll still make all the important front-end decisions regarding design, sales, and promotion, but you'll be able to outsource back-end functionality to BigCommerce.
You don't need to be a tech whiz either.
Things Google cares about to rank your page like how fast your website pages load are all taken care of by BigCommerce.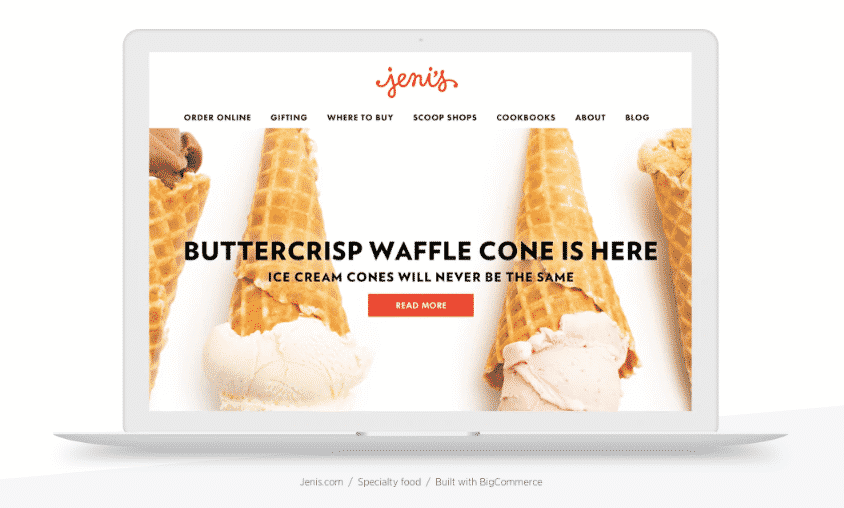 That's good news because you won't lose potential customers who hate waiting for more than a few seconds for a website page to load.
Other concerns of small business owners like the security of customer information is outsourced to BigCommerce who stores credit card information securely.
A further plus is the ability to create cyberstores that are customized for mobile devices.
What is BigCommerce Next?
BigCommerce Next is a 2014 upgrade to the basic BigCommerce platform that allows online merchants to connect with potential customers through third-party apps.
Merchants can add these functionalities to their online stores with a single click.
Using the Next platform, merchants can also connect with mobile management apps to stay informed about performance metrics and inventory updates in real time.
BigCommerce Next is integrated with Google Trusted Stores.
Advertisement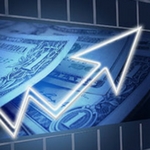 Biden's not holding back... He's warned you that he plans to raise: Income taxes, death taxes, capital gains taxes & corporate taxes. Some or all of which WILL affect you or your family in one way or another... But it's not too late... yet.

Thousands of Americans are getting their FREE IRS LOOPHOLE KIT to discover the secret to protecting your retirement savings from Biden, and inflation...

CLICK HERE to request a FREE Copy of the Guide To IRS Loopholes For Your IRA/401(k)
How BigCommerce Works
Once you create an account with BigCommerce and log in to it, you'll be taken to your control panel and prompted to set up your BigCommerce store.
Simply enter information about your products, shipping options, and tax rates.
That's all the info you need to launch a bare-bones store.
When your store goes live, the "Getting Started" page will be replaced by your BigCommerce dashboard.
A vertical menu on the left side of your dashboard contains links to feature options.
For example, when you click "Store Design," you will be taken to a page that displays templates, themes, and styles.
In addition to viewing your data, many of the dashboard menu options have an option that allows you to edit that data if you wish.
---
➤ Free Guide: 5 Ways To Automate Your Retirement
---
Is BigCommerce Right for You?
E-commerce solutions are not a one-size-fits-all solution.
The right e-commerce platform for your business will depend on your budget and how important features like custom design options, customer care, marketing support, and website loading speed are for you.
Here's the skinny on BigCommerce:
Ease of Use
The user interface is relatively straightforward.
Nevertheless, even the simplest e-commerce technology can seem a bit daunting if you have no previous experience.
Expect a learning curve if you are a first-time user just as you would with any new product or service.
Get Up To Speed Quickly
One of BigCommerce's strengths is that it offers users excellent information to help successfully navigate any difficulties while building and managing their online stores.
How-to guides can be accessed by clicking the "Help" option on the vertical menu to the left on the dashboard.
And a help center is available with dozens of instructional videos, FAQs, and both user and developer guides.
BigCommerce has an active user community where you can find answers to specific issues or join special interest groups like "Ask a Design Partner," "Marketing & SEO Advice," and "Critique My Site."
Customer service support by phone is available 24/7 in nine countries.
Hosting
BigCommerce is a hosted online store management system.
You don't actually buy the software to set up an internet shop; instead, you subscribe to it, which means you'll pay a monthly fee to license its use.
This saves you from having to invest in technology upfront.
Partnering with a hosted service can save you money you might otherwise spend on essential IT services such as server hosting and maintenance, firewall management, mail hosting, and application hosting.
BigCommerce Review: Features
Design Templates
BigCommerce clients have access to 7 free themes and more than 120 premium themes.
Every theme contains several different styles, so the content management system offers lots of choice.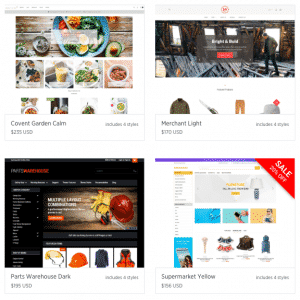 Themes have been selectively designed to optimize search results.
Clients with a working knowledge of HTML, cascading style sheets, and web design can customize Stencil framework themes; this is not an option for clients who elect to use Blueprint framework themes.
Sales Tools
A number of tools are available to track inventory levels efficiently.
Plus, you have complete control over setting your own shipping rates.
Whether products are physical, digital, or service-based products, you have the option to add custom fields to your product descriptions or even import product SKUs from other sites and track returns easily too.
Setting up product categories is a simple task; there's a "Bulk Edit" option that accelerates the process of designating products.
Within each broad category, you'll upload individual products manually.
You can create a number of options to describe products, which comes in very handy if you're dealing with products that come in an assortment of colors, sizes, and shapes.
Plus it's easy to collect custom data from customers, such as inscriptions they might want on a piece of jewelry.
Each inventory item has its own product screen.
Image optimization technology is integrated right into the BigCommerce software; not only does this allow your potential customers to view the products they're interested in purchasing right away, but your shop's webpages will be served more quickly, which has the potential to improve your products' search rankings.
Marketing Tools
At your fingertips is an extensive marketing tool set that can be used to offer customers a customized shopping experience.
Built-in marketing tools include:
Banners
Blogging software
Coupon codes
Google AdWords
Yahoo search marketing
Email marketing through integrated platforms like Constant Contact, MailChimp, and HubSpot
Abandoned shopping cart notifications
Search engine optimization (SEO)
BigCommerce integrates seamlessly with a number of online marketplaces, thereby enabling e-merchants to launch channels on Amazon, eBay, Pinterest, Facebook, Instagram, and even Alibaba.
It is the only e-commerce platform that integrates with Google's Merchant Center, which means products can be sold via Google Shopping.
Analytics
For data lovers, sophisticated metrics are offered with even the most affordably priced plan.
Track where your customers came from, whether they're new or returning customers, what products they're searching for, and the last time that they bought something.
You'll also be able to access abandoned shopping cart reports at the Plus subscription level and higher.
Advertisement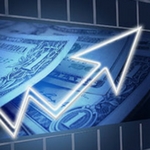 This has been one of the WORST years for stocks. But despite the awful trading conditions of the last eight months, I've delivered profit opportunities to my students like 22% on PBT after a week in the trade…And 31% on PEGA in only 8 days. I've JUST sent out a brand-new alert on a stock that's showing all the right signs of an impending breakout…

Click to Get the Trade and a Full Year of Stealth Trades for just $5 Today
BigCommerce Pricing
Subscription Packages
Prospective customers can try the platform out for free for 15 days.
Four subscription packages are available:
| | | |
| --- | --- | --- |
| Plan | Pricing Per Month | Sales Under |
| Standard | $29.95 | $50,000 |
| Plus | $79.95 | $150,000 |
| Pro | $249.95 | $400,000 |
| Enterprise | Variable | Variable |
If you exceed annual sales limits, you will be compelled to upgrade to the next highest-priced plan.
Plus is the most popular plan.
Users who pay annually for the Plus and Pro plans receive a 10 percent discount.
Core services available with all four plans include:
Unlimited file storage
Full content management functionality
Payment gateway integration
High-quality search engine optimization options
The abandoned shopping cart tool and the ability to store credit card information are only available to Plus customers and above.
Transaction Fees
BigCommerce does not charge transaction fees.
Payment Gateway Fees
You will pay fees to whichever companies process the payments you elect to receive through your online store.
BigCommerce offers full integration with PayPal, Amazon Pay, Stripe, Apple Pay, and other digital wallets as well as more than 60 other pre-integrated payment gateways that serve more than 100 countries.
It also partners with PayPal to offer clients discounted PayPal transaction fees.
BigCommerce Pros and Cons
BigCommerce's biggest plus may also be its biggest minus: It's such a comprehensive platform with so many core features that it's easy to become overwhelmed by everything it offers.
| | |
| --- | --- |
| Pros | Cons |
| ✅ One Stop Online Store: Practically everything you need to create a compelling online store is already integrated into BigCommerce's software. | ❌ Variable Fees: The annual sales limits and forced upgrades amount to a kind of hidden fee that penalizes clients for success. |
| ✅ No Transaction Fees: BigCommerce doesn't charge transaction fees on any of its plans. | ❌ User Experience: The visual template editor can be difficult to use. |
| ✅ Cross Channel Storefront: BigCommerce allows you to maintain a presence on strong shopping channels like Amazon, Google Shopping, and eBay as well as on social media sites such as Facebook and Instagram. | |
| ✅ Free Trial: 15 days free | |
| ✅ Responsive Storefront: Your storefront can be viewed online and mobile devices. | |
| ✅ Single Page Checkout: Customers can easily purchase products on your online store. | |
BigCommerce Alternatives
Alternatives to BigCommerce include:
BigCommerce Review Summary
BigCommerce is an out-of-the-box e-commerce solution that offers great inventory management support, sophisticated marketing tools, and the ability to sell across multiple channels.
It may be the right choice for your online store if:
You don't want to have to worry about IT-related concerns
You want access to a single shopping cart solution that offers optimal functionality
You're interested in selling more products by offering those products across a variety of different shopping channels.
BigCommerce FAQ
Is BigCommerce Legit?
In 2018, a round of funding led by Goldman Sachs raised $64 million; this brings the total amount raised by BigCommerce since it was founded in 2009 to $200 million.
With strategic alliances in place with PayPal and Google, as well as eBay, Google and Alibaba integration, BigCommerce's goal is to help its customers build their brands on multiple platforms across the globe while dramatically cutting the operating expenses associated with a large online presence.
The bottom line is BigCommerce is trusted by tens of thousands of business and top tier investors globally.
Advertisement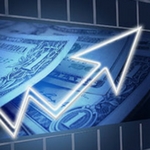 Do you know how to read the candlesticks on your chart? If not don't worry. Chris Pulver created an ebook, Candlestick Cheat Sheet, that can teach you, in layman terms, the 10 most powerful candlestick patterns. It's a great start for those that are new to Forex and may want to trade on the conservative side when starting out.

Click here to download your copy now