In this EquityMultiple review, we check out the pros and cons of one of the leading online real estate crowdfunding platforms.
The first thing to note is EquityMultiple is only available to accredited investors who meet the benchmark eligibility levels: $200,000 of income over two prior consecutive years or $1,000,000+ in net worth excluding a primary residence.
If you are one of the lucky few who falls into the accredited investor category, you may be tempted to purchase commercial property outright. But then you would have to deal with the hassles of managing and maintaining it.
Another option is to choose a passive income investment that could possibly put money in your pocket monthly or quarterly. And that's where EquityMultiple can offer significant value.
But before investing, what else do you need to know?
EquityMultiple Spotlight
EQUITYMULTIPLE SPOTLIGHT

InvestorMint Rating

4 out of 5 stars

Passive Income Opportunity: YES
Access To Commercial Real Estate: YES
Accredited Investors Only: YES
Minimum Investment: $5,000

via EquityMultiple secure site
What Is EquityMultiple?
EquityMultiple is an online real estate crowdfunding platform that connects investors in search of income-generating opportunities in the property sector with pre-vetted investments from experienced sponsors looking to raise capital for deals, and experienced private lenders looking to syndicate existing commercial real estate loans.
As an investor, you can allocate your money to both equity, preferred equity, and senior debt investments.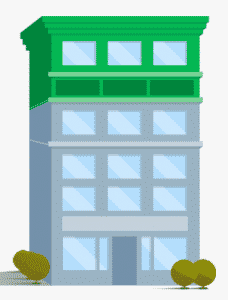 Generally, EquityMultiple targets commercial real estate opportunities but you can still get started for as little as $5,000.
Sponsors who are looking to raise capital for deals are screened by EquityMultiple to ensure they come to the table with a history of transactional experience.
The EquityMultiple team reviews Sponsor proposals and has extensive experience in vetting deals – combined, the EquityMultiple team and its partners have closed over $70 billion in real estate transactions and completed $300+ million in deal value.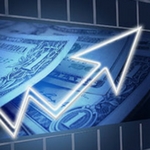 Finally released to the public, trading guru Dave Aquino's guide, "The Options Trading Accelerator Method", reveals how Wall Street's big lie has stopped traders with small accounts from reaching their full potential and how his student favorite trading method could change that!

Click here to keep reading…
Why Choose EquityMultiple?
For both investors looking to earn returns on savings and Sponsors looking to raise money for deals, EquityMultiple has much to offer.
Predictable Income
You have no shortage of online real estate platforms to choose from these days so, as an investor, why choose EquityMultiple?
Almost exclusively, EquityMultiple focuses on commercial properties, such as office, retail with corporate tenants, and multifamily.
For conservative investors who like to be hands-off, the idea of earning income from corporate tenants can be very appealing.
It beats sourcing deals, working with banks, and managing and operating opportunities by investing solo.
Plus, the predictability of a regular income stream is hard to resist.
The targeted returns:
| | | | |
| --- | --- | --- | --- |
| Type of Investment | Targeted APR To Investors | Typical LTV | Typical Term |
| Syndicated Debt | 7 → 12% | 50 → 75% | 6 → 24 months |
Syndicated debt deals create significant downside protection for investors because they are backed by a secured interest in properties, but upside is limited.
| | | | |
| --- | --- | --- | --- |
| Type of Investment | Targeted Current Preferred Return | Targeted Total Preferred Return | Typical Term |
| Preferred Equity | 6 → 12% | 10 → 14% | 1 → 3 years |
Preferred equity holders are senior to equity holders, meaning that if a project goes belly up, they will get paid before equity investors.
As a result, risk is mitigated somewhat while some upside is enjoyed too.
| | | | |
| --- | --- | --- | --- |
| Type of Investment | Targeted Annual Cash Return | Targeted IRR | Typical Term |
| Equity | 6 → 12% | 14%+ | 3 → 7 years |
Equity investors take on the biggest risk but, when things go well, they enjoy the greatest upside too.
What Are The Targeted Risk-Adjusted Returns?
EquityMultiple focuses on primary and secondary markets characterized by strong demand in underlying fundamentals.
Usually, EquityMultiple concentrates on stabilized projects as opposed to ground up entitlement plays.
All prospective deals are subjected to a comprehensive underwriting process before being presented to investors.
The targeted risk-adjusted returns for investors are:
Type of Deal
Targeted Returns
Debt Deal
7 → 12% Net APR
Preferred Equity

6 → 12% Net Current Preferred Return
10 → 14% Net Total Preferred Return
14%+ Net IRR
---
➤ Free Guide: 5 Ways To Automate Your Retirement
---
EquityMultiple Highlights
Low-cost Access To Commercial Property Investments.
Geographic Targets: Primary & Secondary Markets Primarily
Targeted IRR Returns: Double-digit Percentage Returns
How EquityMultiple Works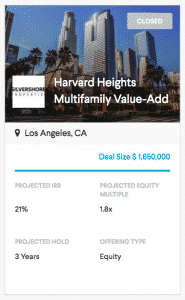 After registering on the platform, you can view live offerings and review investment details that match your financial goals.
Once you've found an investment, you can link your bank account to fund and receive distributions.
You will be invited to e-sign investment documents, verify your accreditation status, and fund your investments.
Subsequent to closing, you can track your investment's progress on the portal at any time.
Advertisement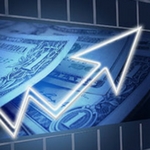 The #1 income play for 2023 is NOT a stock, bond or private company... Rather, it's a little-known alternative investment that could hand you big monthly income from oil and gas.

Find Out What It Is Right Here
What Is Your Money Invested In?
Most deals available through EquityMultiple come from its network of Sponsors and Lenders.
The extensive network of contacts and some of the deal flow EquityMultiple enjoys is driven in part by its partnership with Mission Capital, which has extensive real estate transactional experience that stretches into the tens of billions of dollars.
All the deals presented to investors are pre-vetted from experienced Sponsors and Lenders.
The focus is on commercial real estate, including:
Multifamily
Office
Retail
Industrial
Alternative & emerging asset class (e.g. student housing, manufactured home communities, and co-living spaces)
Mixed-Use
Professional real estate companies manage investments, including all aspects of the properties and business plans.
And unlike traditional, commercial real estate investments with high investment minimums that were mostly accessible in the past only to institutions, the minimum to get started is just $5,000 on the EquityMultiple platform.
EquityMultiple Snapshot
| | |
| --- | --- |
| Fees (Equity) | 0.5%-1.5% annual management fee plus 10% of profits after exit (after all investor principal has been returned) |
| Fees (Preferred Equity & Debt) | 1% |
| Investment Categories | Residential |
| Locations | Primary & Secondary markets primarily |
| Pre-vetted | YES |
| Accredited Investors Only | YES |
| Investment Liquidity | LOW |
| Term Length | 6 → 84 months |
| Open To Non-US Residents | NO |
| Tax Information | K-1 tax forms issued |
| Invest Via IRA | YES |
All return projections presented on the platform are net of all fees.
What Fees Does
EquityMultiple Charge?
EquityMultiple charges an annual management fee to equity investors of 0.50%-1.50% plus 10% of investor profits after exit (after all investor principal has been returned)
EquityMultiple
Pros and Cons
| | |
| --- | --- |
| EquityMultiple Pros | EquityMultiple Cons |
| ✅ Experienced Team: Together with Mission Capital, transactional experience stretches into the tens of billions of dollars. | ❌ High Investment Minimum: A minimum of $5,000 is required to invest – which is a lot lower than investing in commercial real estate solo but higher than some competitors like Rich Uncles. |
| ✅ Pre-Vetted Sponsors: All the deals presented to investors are pre-vetted and originate from experienced sponsors and lenders. | ❌ Accredited Investors Only: You must be an accredited investor to be eligible to invest. |
| ✅ Access to Commercial Real Estate: Compared to investing solo, EquityMultiple simplifies the process of accessing commercial real estate. | ❌ Illiquid Investments: Your capital will be tied up for anywhere from 6 months → 7 years typically and will be illiquid and inaccessible. |
| ✅ Diversified Real Estate Investments: Primary and secondary markets are targeted usually. From time to time, tertiary markets may be featured if they are backed by stabilized demand and strong demographic trends. | ❌ Tax Considerations: Annual K-1 tax forms may increase your filing costs each year with Uncle Sam. |
| ✅ Passive Income: Income opportunities are available on a monthly and quarterly basis depending on the type of investment selected. | |
| ✅ Multiple Investment Types: Equity, preferred equity, and debt investments are available to investors. | |
EquityMultiple Account Types
| | |
| --- | --- |
| Type | Capability |
| Taxable | YES |
| IRA | YES |
EquityMultiple Summary
EquityMultiple is an online real estate crowdfunding platform that connects investors looking for commercial real estate opportunities with sponsors in need of capital.
Its partnership with Mission Capital means EquityMultiple can tap into a vast network of lenders and sponsors to source deal flow.
Generally, the deals target high rates of return and can be in the form of equity, preferred equity, or debt investments.
For hands-off investors looking for passive income, it's definitely worth exploring further.
Conservative investors who are attracted more towards commercial real estate than residential real estate investments will also find EquityMultiple to be a better fit than some other online platforms.
Keep in mind that when you invest in any real estate platform, you will generally be classified as a partner and receive a flow-through of gains or losses, so the extra tax forms may increase your annual filing costs.
For retirement-oriented investors, EquityMultiple earns points for catering to self-directed IRAs.
If you browse the offerings and don't find what you are looking for in terms of location, returns, or a match to your financial goals, other platforms worth checking out include Rich Uncles, Patch of Land, Fundrise, and RealtyMogul.
EquityMultiple FAQ
Who is Mission Capital and how do they relate to EquityMultiple?
EquityMultiple and Mission Capital are closely aligned. Some of Mission Capital's management team funded EquityMultiple in the early stages.
Plus, principals at Mission sit on EquityMultiple's board.
Can I invest through my self-directed IRA?
Yes. EquityMultiple partners with Millennium Trust to provide investments via self-directed IRAs.
If I am a non-US resident, can I invest?
No, you are not eligible to participate in offerings on EquityMultiple as a non-US resident.
What happens to my investment if a deal isn't fully funded?
Every deal has minimum and maximum funding thresholds so when a deal falls short of the minimum level, your capital commitment is refunded.
Advertisement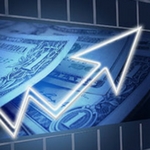 Finally released to the public, trading guru Dave Aquino's guide, "The Options Trading Accelerator Method", reveals how Wall Street's big lie has stopped traders with small accounts from reaching their full potential and how his student favorite trading method could change that!

Click here to keep reading…