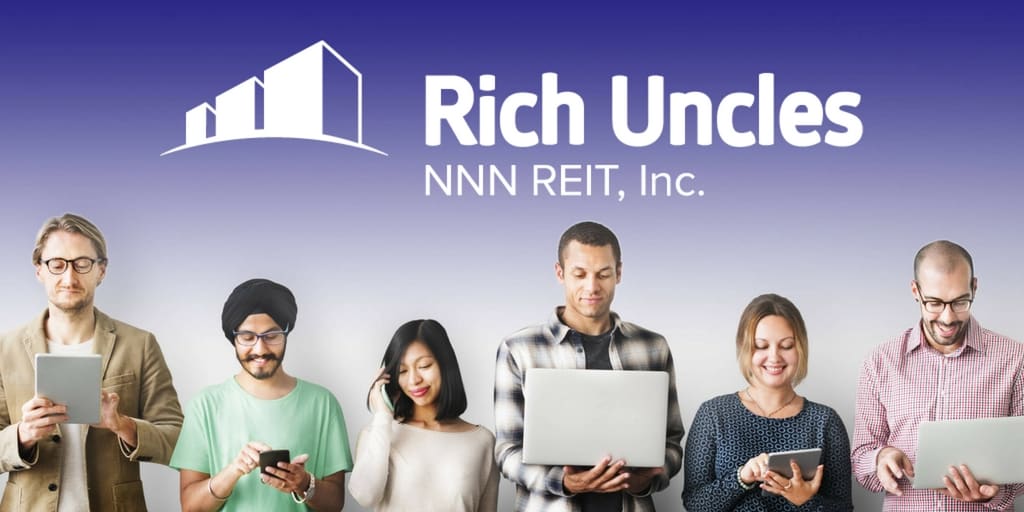 Since 2012 when the JOBS Act was passed, investors have had a chance to pool their monies together and gain exposure to the real estate sector much more easily than was previously possible.
Among the best real estate crowdfunding platforms is Rich Uncles, which makes it affordable to invest in commercial real estate with a lower minimum investment threshold than most similar sites.
In the past, pension funds and high net worth individuals had almost exclusive access to prized commercial real estate deals. But these days, you can take advantage of a Rich Uncles Real Estate Investment Trust, or REIT, without needing to qualify as an accredited investor.
With just $500, you can buy a share of a company that in turn owns real estate that is rented out to brand name tenants that are likely to pay rent in a timely manner and generate predictable cash flow monthly.
Plus, Rich Uncles shines when it comes to its use of debt. Unlike other companies that take on high levels of debt, Rich Uncles keeps its loan-to-value ratio capped at 50%, which is viewed as a conservative figure among property investors.
Rich Uncles Spotlight
RICH UNCLES SPOTLIGHT

InvestorMint Rating

4.5 out of 5 stars

Minimum Investment: $500
Salary Minimum To Invest: $75,000
Commercial Real Estate Exposure: YES
Access To Non-Accredited Investors: YES

via Rich Uncles secure site
Why Choose Rich Uncles?
If you previously invested in the stock market and want an alternative investment avenue, real estate crowdfunding platforms are well worth exploring.
Where Rich Uncles shines is the low minimum investment requirement, conservative use of debt, quality tenants, and the fact that it is open to non-accredited investors.
Rich Uncles is solidly perched among the top real estate crowdfunding sites. But it has its fair share of competition.
Other platforms like Roofstock and Realty Mogul are accessible to non-accredited investors too, but they each have a different twist on the investing game.
Roofstock makes it easy to buy a single-family residential property 100% online while Realty Mogul connects investors to vetted real estate companies in need of capital.
If you prefer the idea of brand name tenants like Chase Bank, Harley Davidson, Wyndham, FujiFilm, and Williams Sonoma (vs residential residents) paying rent then Rich Uncles will probably be a better fit for you than Roofstock.
When you compare Rich Uncles vs Realty Mogul, you will find Rich Uncles has a slightly lower minimum threshold, though both cater to non-accredited investors.
The difference is the Rich Uncles investment team is responsible for the entire investing process from start to finish, including sourcing, purchasing and managing properties.
In contrast, Realty Mogul connects you to real estate companies who in turn invest your monies.
So is Rich Uncles right for you?
It certainly makes it easier for ordinary investors to gain exposure to the commercial real estate sector. And if you lean a little more conservative, you will find it refreshing that the company employs just 50% debt.
Plus, historical real estate returns this century have been pretty good according to Rich Uncles data.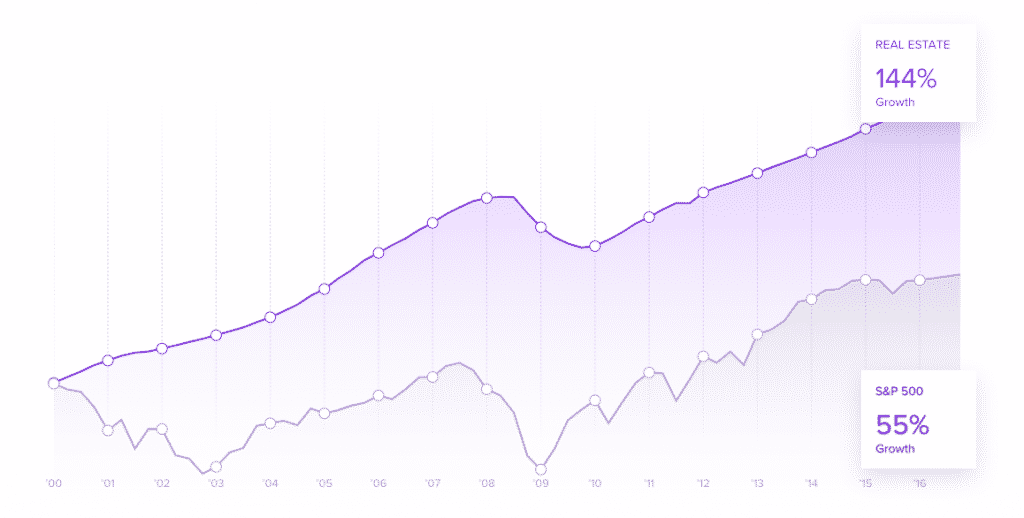 Of course, if you expand the timeline to last century it may be hard to beat stock market returns over the long term.
But the point of choosing one of the top real estate crowdfunding platforms like Rich Uncles is to find an alternative investing avenue to the stock market that has the potential for a stream of predictable income payments with less volatility than might be typical when allocating your money to the next hot technology stock.
So if investing in commercial real estate seems attractive, the next step is to discover how Rich Uncles works.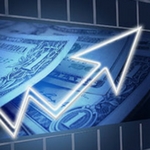 We have the world's leading artificial intelligence forecasting trends in the market. A strategy so precise it achieves a proven accuracy rate up to 87.4%. Check out the next 3 stocks this A.I. has on its radar for you in this free, live training.

Claim your seat now by clicking here.
How Does Rich Uncles Work?
When you invest your money (which can be as little as $500) with Rich Uncles, you own shares of a Real Estate Investment Trust (REIT).
The portfolio of properties under the REIT umbrella is rented out to creditworthy tenants like Chevron, Chase Bank, and Williams Sonoma.
When they make rental payments, you get paid a monthly dividend from the rental income according to your share of ownership in the REIT.
And because the Rich Uncles sells shares directly to investors and not through salespeople who are paid commissions, you don't pay broker/dealer costs that can amount to as much as 10%.

---
➤ Free Guide: 5 Ways To Automate Your Retirement
---
How Much Can You Make Investing With Rich Uncles?
Rich Uncles provides a hypothetical calculation of how much you could possibly make over a 5 year period.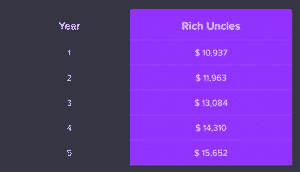 Assuming a 2% annual property value increase and 7% annual reinvested dividend, a $10,000 investment could rise to $15,652 over 5 years according to Rich Uncles.
A $50,000 investment could appreciate to a value of $78,259 using the same assumptions while a $100,000 investment could grow to $156,517.
When you crunch the numbers, it works out to be a compounded annual growth rate of around 9%, which is a lot better than the average bank's savings rate.
However, keep in mind that there are risks associated with any investment and when you commit capital to a real estate crowdfunding site like Rich Uncles, your money is usually tied up for some time.
Unlike investing in Facebook stock or Amazon stock where you can sell shares and convert them to cash quickly, real estate investments are less liquid.
If you suspect that you may need the money for day-to-day expenditures anytime during the investment term then it is generally best to avoid long term capital commitments.
Rich Uncles will screen investors to ensure they meet certain minimum financial thresholds. For example, you must have a minimum net worth of $250,000 or an annual salary of at least $75,000.
And you must be willing to commit to a term length of 4-7 years, though technically the timespan could be longer.
Rich Uncles Highlights
Minimum Net Worth: $250,000 (or $75,000 salary)
Diversification: Mostly nationwide
Term Length: 4-7 years Expected
Advertisement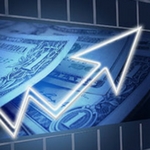 The early bird gets the worm and the options trader who waits until 9:30EST can win big! Hi, I'm Dave Aquino and if you're new to options trading, my e-book "How To Master the Retirement Trade" will show you exactly how to take advantage of this early morning, profitable, but often overlooked window of trading time.

Download your copy today and let's get started!
How To Get Started
With Rich Uncles
We found the onboarding process at Rich Uncles to be fast and easy.
After you provide your email address and create a password, you will gain access to the Rich Uncles website where you can review investment opportunities.
During the sign up process, you can specify how you want to get paid and you will need to provide your social security number for verification purposes too.
You can select how much you wish to invest and even choose which account type best fits your needs, whether Individual, Retirement, Trust, Entity, or Joint.
It's up to you how you want to receive dividends too, whether cash disbursements or reinvested.
Keep in mind the financial projections above are based on reinvesting dividends, but if you like the idea of receiving a monthly dividend payment you can choose the cash disbursement option.
After you sign off on the legal terms and conditions, sign the documents online, and connect to your bank account, you are set to go investing in commercial real estate!
How Does A Rich Uncles REIT Work?
Like other REITs, Rich Uncles pools investors' capital so they gain exposure to a more diversified portfolio of real estate than would be possible by investing solo.
Generally, REITs fall into three primary categories:
Equity
Mortgage
Hybrid
Rich Uncles features private equity REITs.
REIT Type
Description
Equity

Buys property at discounted prices if possible
Holds equity stakes in properties
Leases space to tenants

Mortgage

Invests in mortgages
Earns interest on loans

Hybrid

Combines equity and mortgage REIT aspects
How Does Rich Uncles
Scout Investments?
The main steps followed by Rich Uncles to vet real estate investment opportunities include:
| | |
| --- | --- |
| Due Diligence | Performed By Rich Uncles |
| Preliminary title report | ✅ |
| Interior & exterior inspection reports | ✅ |
| Tenant payment history & lease details | ✅ |
| Detailed financial pro forma & return estimates | ✅ |
| Visualizations of income, appreciation, and total returns | ✅ |
| Property valuation & comparables | ✅ |
| Major repair cost estimates | ✅ |
Rich Uncles Team
Ray Wirta is the founding investor of Rich Uncles.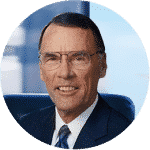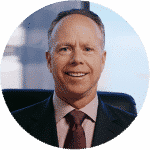 He began the company with philosophy "Real Estate Investing For Everyone" and has honored that idea by keeping investment minimums lower than most rivals and not restricting investments to accredited investors as many other platforms do.
Rich Uncles CEO, Harold Hofer, is a seasoned real estate expert with $2 billion in transactional experience.
He has sponsored numerous real estate funds for individual investors in the form of Limited Partnerships over his 30-year career history.
Rich Uncles
Commercial REIT Portfolio
The Rich Uncles commercial REIT portfolio includes retail locations, office space, and even gas stations.
Creditworthy tenants like Chase Bank and Williams Sonoma are subject to triple-net leases that transfer the obligations of maintenance, taxes, and insurance to tenants.
By targeting high quality commercial real estate tenants, the risks of default on rental payments may be lower compared to the risks associated with residential tenants.

Rich Uncles REITs are spread geographically across the United States, so they naturally provide some portfolio diversification.
Plus, they may act as an inflation hedge and may offer tax benefits.
Where they really shine is that they provide passive income and cash flow from day one.
And stock market investors who don't like the idea of having all their eggs in one basket may find the asset class is largely uncorrelated to the stock market.
Conservative investors can also take comfort investing in a tangible asset that is not heavily leveraged because 50% of each purchase is made with cash.
Rich Uncles Snapshot View
Minimum Investment
$500
Property Type
Commercial Property
Pre-Vetted
YES
Do You Own Property?
NO
Offering
(Preferred) Equity
Term Length
4-7 years
(average, not guaranteed)
Rich Uncles Pros and Cons
| | |
| --- | --- |
| Rich Uncles Pros | Rich Uncles Cons |
| ✅ Passive Income: You can choose to receive dividend payments in cash as passive income or to reinvest them if you prefer. | ❌ Illiquid Investments: The term lengths can span from 4 to 7 years, and may even be longer so you will need to be comfortable tying up your capital. |
| ✅ Frequent Dividends: Unlike some other real estate crowdfunding sites that pay dividends on a quarterly basis, Rich Uncles makes payments monthly. | ❌ Vetting Transparency: Rich Uncles shares the highlights of how it conducts due diligence on properties and invites investors to read its prospectus. |
| ✅ Low Minimum Investment: Compared to many other top real estate crowdfunding platforms, Rich Uncles has a low minimum investment requirement of $500. | ❌ Rich Uncles Fees: Share repurchase fees, operational expenses, and liquidation fees may apply. |
| ✅ Conservative Debt Levels: Half of each property purchase is made with cash so the debt levels used by Rich Uncles tend to be much lower than those employed by rival companies. | |
| ✅ Nationwide Coverage: Rich Uncles targets high potential real estate investments that may be spread across the entire country. | |
| ✅ Non-Accredited Investors: Even if you do not meet the income or net worth thresholds of an accredited investor, you may still be eligible to invest as long as you have a net worth of $250,000 or a salary of $75,000 annually. | |
| ✅ Triple-Net Lease Terms: The obligations to pay taxes, maintenance, and insurance are transferred to creditworthy tenants. | |
| ✅ Brand Name Tenants: Top quality tenants like Chevron, Chase, and Williams Sonoma feature among the renters of Rich Uncles properties. | |
| ✅ No Commissions Sales Brokers: Rich Uncles does not employ sales brokers who would ordinarily earn commissions on selling deals to investors, so savings can amount to as much as 10%. | |
| ✅ Better Business Bureau Rating: The BBB awards Rich Uncles an A+ rating. | |
Rich Uncles Account Types
| | |
| --- | --- |
| Account Type | Permitted |
| Individual | ✅ |
| Retirement | ✅ |
| Trust | ✅ |
| Entity | ✅ |
| Joint | ✅ |
Rich Uncles Summary
Rich Uncles is a real estate crowdfunding platform that connects investors to commercial real estate investment opportunities via private real estate investment trusts.
The REITs are geographically diversified and rented to creditworthy tenants who are subject to triple-net lease terms.
Investors can choose to receive cash dividend payments monthly for passive income or to reinvest them in order to compound returns over time.
Conservative investors will find Rich Uncles hard to beat because 50% of each purchase is made with cash.
The bottom line is if you are looking for a top real estate crowdfunding platform that specializes in commercial real estate with conservative debt levels and brand name tenants, Rich Uncles is well worth checking out.
Advertisement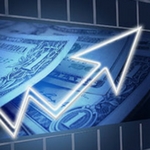 Thanks to forgotten 50-year-old legislation, often ignored by investment advisors, gold bugs, and silver hounds... You can now collect $10,000 or more in free silver.

Millions of Americans know NOTHING about this... Because it exploits a "glitch" in the IRS tax code that helps protect your retirement... While paying ZERO TAXES & PENALTIES to do it. That's why you need to see this NOW.

Click Here to get all of the details in this FREE Kit