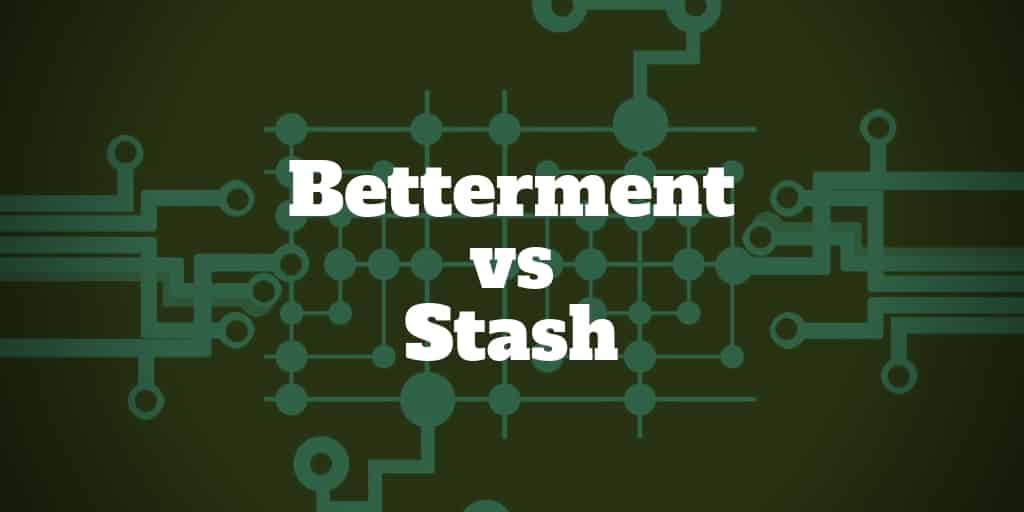 Are you trying to decide between Betterment vs Stash? In this review, we compare fees, account minimums, tax implications, and supported accounts to help you decide.
As a leading robo-advisor with billions of dollars under management, Betterment has all the bells and whistles you might want in a digital advisor. Low fees, low minimums, a tax-optimized investing strategy, and even a way to automatically donate to charity.
How can the Stash app possibly compare well to Betterment? Stash Invest competes on a different playing ground. Beginner investors are ideal customers for its extensive education and intuitive mobile app as are stock pickers who like more control over portfolio selections.
So is Stash or Betterment right for you? Let's take a closer look.
Stash vs Betterment Features
What Is Betterment?
Unlike Stash, Betterment is a robo-advisor, meaning it actually manages money on behalf of clients.
Betterment offers two tiers of service: Digital and Premium.
Betterment Digital is a pure robo-advisor solution that manages client portfolios automatically.
Betterment Premium features all the benefits of Betterment Digital plus access to human financial experts.
What Is Stash?
Stash is aimed at beginners who are getting their feet wet in the stock market for the first time.
It focuses heavily on education and showing users how to invest but it doesn't actually manage portfolios for clients.
Stash bundles portfolios into thematic categories that are intuitive to understand like Clean and Green, Blue Chips, and American Innovators.
---
➤ Free Guide: 5 Ways To Automate Your Retirement
---
Betterment Fees vs Stash Fees
Betterment Fees
Betterment charges management fees on its Digital and Premium accounts that range from 0.25% → 0.40% annually.
The lower tier service, Digital, costs 0.25% of managed assets each year while the Premium service tier costs 0.40% annually.
In addition to management fees, Betterment clients pay expense ratios on funds in which their money is invested. Passing on expense ratio charges to clients is standard practice among financial advisors and robo-advisors.
The average expense ratio fee at Betterment is 0.13%.
Stash Fees
Stash fees vary depending on the size of your account balance.
Account sizes under $5,000 are charged $1 per month or $2 per month if they are retirement accounts.
Account sizes of $5,000 and above are charged the same fees Betterment charges for its lower tier service: 0.25% of managed assets annually.
Fees Comparison:
Stash & Betterment
Investormint Verdict:  For balances of $5,000 and above, Betterment and Stash charge the same amount. For smaller account sizes, Betterment is generally cheaper.
Stash Vs Betterment
Investment Minimums
Betterment Account Minimum
| | |
| --- | --- |
| Service Type | Account Minimum |
| Betterment Digital | $0 |
| Betterment Premium | $100,000 |
Betterment wins points for keeping its zero account minimum for basic service. Its investment minimum of $100,000 for Premium service is a high hurdle for most clients.
Stash Account Minimum
A $5 investment minimum is required to get started with Stash Invest.
Investormint Verdict: Betterment barely beats Stash when it comes to investment minimums for entry-level service offerings but its Premium service is out of reach for many investors.
Stash Vs Betterment
Tax Strategy
Betterment Tax Strategy
The tax implications of investing can add up to more than a pretty penny over time if you are not careful.
To minimize capital gains taxes and keep more money in your pocket, Betterment offers tax-loss harvesting free to all accounts. This tax-optimized service lowers how much you pay the government by selling losing positions and replacing them with similar securities to keep portfolios diversified.
Another tax strategy Betterment uses is called tax-coordinated portfolios. The idea is to place tax-advantaged funds, like municipal bonds, in standard accounts and higher taxed funds in retirement accounts, which enjoy tax deferral treatment.
Stash Tax Strategy
Tax-loss harvesting and tax coordinated portfolios are both part of managed services offered by Betterment. Stash does not actually manage money for clients and so it doesn't offer either tax strategy.
However, clients who wish to place money in tax-advantaged accounts like Roth IRAs or traditional IRAs can do so.
Investormint Verdict: Betterment comes out well ahead of Stash on tax strategy.
Betterment vs Stash
Account Types
| | | |
| --- | --- | --- |
| Account Types | Betterment | Stash Invest |
| Individual | ✅ | ✅ |
| Joint non-retirement | ✅ | ❌ |
| Traditional IRA | ✅ | ✅ |
| SEP IRA | ✅ | ❌ |
| Roth IRA | ✅ | ✅ |
| Rollover IRA | ✅ | ❌ |
| Custodial | ❌ | ✅ |
| Trust | ✅ | ❌ |
| 401(k) | ❌ | ❌ |
Investormint Verdict: Betterment offers more choice than Stash when it comes to the selection of account types.
Betterment vs Stash
Investment Strategy
Betterment portfolios are diversified across up to 12 asset classes. The percentage weighting of holdings can even be modified by Premium service users.
And as mentioned, Betterment has a clear focus on after-tax returns. It claims portfolios on average enjoy a boost of 2.66% annually as a result of its various tax minimization strategies.
Stash also wins high marks when it comes to investment strategy, not so much by diversifying portfolios for clients – who must make the picks themselves – but by simplifying the selection process.
By featuring intuitive names like Conservative Mix and Delicious Dividends, Stash does the hard work of finding and organizing portfolios to match the financial goals of its users. That saves clients time and anguish figuring out how best to invest money.
Investormint Verdict: Although Stash makes it easy to figure out where your money is invested, Betterment gets the victory by building diversified portfolios and providing free automatic rebalancing as part of its core service.
Betterment Vs Stash
Overall Winner
| | |
| --- | --- |
| Stash Wins | Betterment Wins |
| ✅ Beginners: Stock market beginners will fare best at Stash, which has a wealth of education to help beginners get up to speed on financial jargon. | ✅ Fees: For smaller account sizes, Betterment is cheaper. For account balances over $5,000 the two services are tied neck-and-neck on management fees but expense ratios are lower on average at Betterment. |
| ✅ Investment Minimum: It's a close tie between Stash and Betterment for small account sizes, but Betterment has a very high minimum for its higher tier service. | ✅ Tax Strategy: Tax-loss harvesting and tax coordinated portfolios are provided free of charge to all Betterment clients – no equivalent exists at Stash. |
| ✅ Active Investors: For investors who prefer to have control over their portfolio selections, Stash is a better bet. | ✅ Hands-Off Investing: Clients who want to place retirement investing in the hands of a financial advisor will find Betterment to be an ideal match. |
| ✅ Fractional Shares: Both Stash and Betterment offer fractional shares to ensure your cash is fully invested at all times so this is a tie rather than a win! | ✅ Account Types: Betterment offers a broader selection of account types though it must be noted that Stash is a close second. |
Which Robo-Advisor Is Best For You: Stash or Betterment?
Betterment vs Stash boils down mostly to whether you want control over your investments or prefer an automated solution that lets you take your hands off the reins.
For more active investors and beginners, Stash is a better match. You are required to pick investments, which are categorized as themes to enable you make fast and intuitive selections. And Stash has a wealth of educational resources to get you up to speed quickly.
Betterment is ideal for the individual or couple who prefers to place their investing on auto-pilot. It has a wealth of additional tools and resources from retirement calculators to socially responsible portfolios, and from automated charitable giving to tax loss harvesting.
In our view, Betterment is the ideal choice but beginners will learn a lot at Stash.