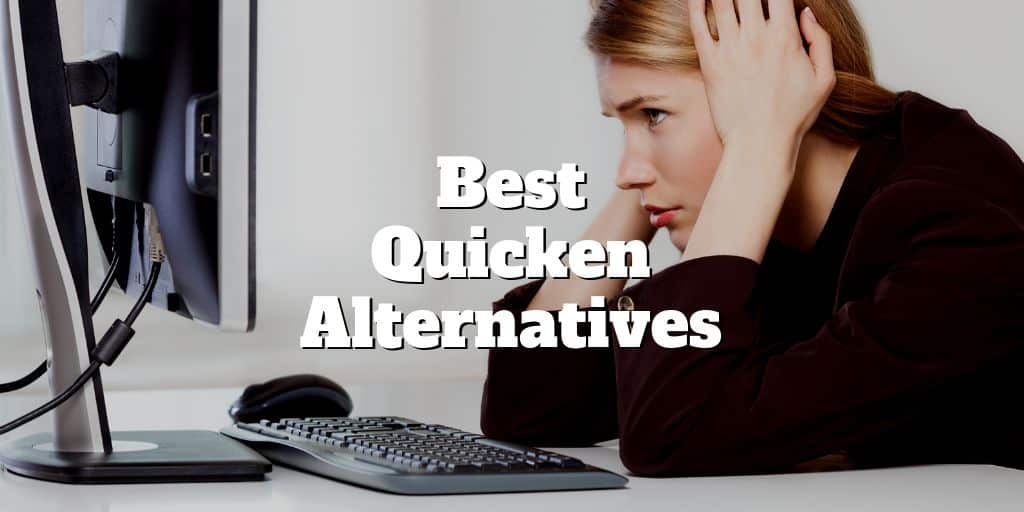 When it comes to personal finance software to use at home for investment tracking, Quicken has earned a top notch reputation. But its reliability and popularity doesn't mean it's a one-stop shop – it does have a few drawbacks.
If the software had kept up with changes in investment rules and procedures, the long history of Quicken would not be a problem. Unfortunately, it has not been modernized over the years and many users have reported synchronization issues with their financial accounts.
When customers have a problem with the software, getting phone support can be a challenge. To get a human on the line, you have to pay for premier service. If you prefer to use an app, you still have to get the desktop software. If you don't own a desktop computer, you can't use Quicken.
If you would prefer to work with a more modern piece of finance software for your investments, there are many alternatives to Quicken worth checking out.
Here we feature the best Quicken alternatives, offering modern features and different methods of customer support if you have a technical problem with your account. Many of these tools work on Apple products, too. Here are several for you will want to check out.
Personal Capital Mobile App
The Personal Capital mobile app focuses on where your money is going. It emphasizes investing and saving for retirement.
Personal Capital vs Quicken
You can use Personal Capital in order to track your expenses and investments.
The app also analyzes investing fees and offers suggestions on how to reduce or even avoid them.
On the app's dashboard, you can view the "forest" of your whole financial picture, and the "tree" of each account is just one tap away.
It's easy to link this app to your checking, savings, credit and investment accounts too. Plus, you can use the information to calculate your retirement income and optimize asset allocation.
Personal Capital supports iOS and Android versions, and both have two-factor authentication. The top drawbacks of the Personal Capital mobile app are that you cannot use it for managing or paying bills or for tax reporting.
Pricing
The Personal Capital mobile app is free. You can also get 24/7 phone and email support for free.
Status Money
Status Money is ideal for the person who already knows their net worth and wants to compare it to their peers. Its functions include tracking debts, income, spending, investments and credit scores.
Status Money vs Quicken
One of the top advantages of Status Money is the way that it breaks down your debts, assets, spending and income into categories.
Forecasts of future spending are easy to spot so that you can make changes to your habits.
When you log in, it tells you how much you have left for spending in each category.
Most recently, Status Money launched a social app, allowing you to ask questions and build your financial knowledge through the support of a community.
The primary drawback of Status Money is that only desktop access is currently available.
Pricing
Status Money is available for free.
You Need a Budget (YNAB)
YNAB uses a four-pronged approach to your personal finance. Those four prongs are:
Stop living paycheck to paycheck
Give each dollar a job
Save for a rainy day
Roll with the punches
It allows you to tell your money where to go. If you like a zero-based budgeting program, then this may be the product for you.
You Need A Budget vs Quicken
YNAB helps you to focus on how you spend your money. If you spend more in a certain category than you allocate, it alerts you through a text on your smartphone.
You have a choice to either connect YNAB to your financial institutions in order to track your spending across different categories or to manually enter your spending. The app also offers investment monitoring.
The two main drawbacks of YNAB are that its investments dashboard does not have as many tools as some of the other apps and that it has fewer options for goal setting or long-term strategies than some of the other products.
Pricing
YNAB charges a low monthly fee. This provides you with access to all features and 24/7 customer support.
If you are a student, you can use YNAB for free. You just need to provide information about your enrollment and wait for verification.
---
➤ Free Guide: 5 Ways To Automate Your Retirement
---
Tiller Money
Tiller Money is a basic spreadsheet tool. It allows you to automatically import your financial data into a Google Sheet and track your monthly income and expenses with standard spreadsheets or sheets that you customize.
One of its features is a debt snowball sheet. It will show you how you can pay off your debts faster and save more money.
Tiller Money vs Quicken
The major pro of Tiller Money is that it automatically updates your custom and standard spreadsheets every day. This means that you get an up-to-date picture of your finances.
The biggest drawback of Tiller Money is that it only works with Google Sheets.
If you prefer a different spreadsheet program, such as Microsoft Excel, there may be a plug-in for it in the future.
Another major drawback is that it is only available on a website. If you use a smartphone, accessing its website could be challenging because of the site's interface.
Pricing
A low monthly subscription fee is charged by Tiller Money.
Countabout
Countabout is an online budgeting service that allows you to automatically download your transactions and track them.
More than 10,000 financial institutions are already linked. If yours is not linked to Countabout, you can email their support service and request that it be added.
Manual entry of income and expenses is also an option.
Countabout vs Quicken
Countabout is accessible through smartphones and desktop computers.
If you have any data in Quicken or Mint, you can import it. The primary drawback of Countabout is that it does not offer investment tracking or management.
Pricing
Countabout charges an annual fee of $9.99 to $39.99 per year.
The premier membership level gives you access to more customer support and tracking features. A free 15-day trial is available for the basic level of Countabout.
Moneydance
Moneydance is an app that provides you with budgeting and investment-monitoring tools.
The software has been modernized in order to keep up with the proliferation of mobile devices. Its app is programmed to be easy to use.
You can use it to create a budget, keep up with your monthly bills and watch your investments over time.
It can also tell you what is going on with individual stocks, like Google, Amazon, or Netflix, that you own. Link your online banking and billing accounts, or enter your information manually.
Moneydance vs Quicken
If you like graphics, Moneydance could be the right choice for you. Its charts and graphs are formatted with visual learners in mind.
Its ledger layout resembles that of Quicken. If you used to use Quicken, you can import all of your old data to Moneydance.
You can use Moneydance on a desktop computer or a smartphone. It comes in Android, iOS and Linux versions.
Pricing
In order to use Moneydance, you pay a one-time app purchase fee of $49.99. This fee includes unending customer support through chat, email or phone.
Moneyspire
Moneyspire is an app for streamlining your monthly income and expenses.
You can use it in order to track your bills and create a monthly, quarterly or annual budget.
The dashboard screen is easy to use, and you can access all of your information there instead of having to switch back and forth between different parts of the app. Moneyspire also tracks your investments.
Moneyspire vs Quicken
This app is easy to use. The user interface is simple and features a lot of charts.
If it is your first time using a personal finance software or an app product, you will quickly advance through the learning curve.
Moneyspire is available on Windows, Mac and Linux for desktop devices. The biggest drawback is that there is only an iOS mobile version. The company offers no Android support.
Pricing
You can try Moneyspire for free for 30 days. If you like it, you can pay a one-time fee of $59 for either the desktop software or the iOS app.
If you get the Mac software, it will link to the app, and you will not have to pay twice.
Pocketsmith
Pocketsmith advertises itself as a time machine for your money. It is configured for young people who are new to budgeting.
Its mobile environment is accessible on mobile devices, and the user interface is intuitive.
Pocketsmith features account tracking for your checking, savings and student loan accounts. You can link it with any bank accounts for automatic updates.
You also have the option to enter your income and expenses manually.
PocketSmith vs Quicken
One of the top pros of Pocketsmith is its calendar function. The calendar allows you to track recurring costs such as your rent or student loan payments. It color-codes them for you so that you know what is due and when you have to pay it.
It will generate income and expense reports. You can use these to track your expenses by category.
Pocketsmith is available on a website for use on your desktop or laptop computer. You can also use the iOS or Android app versions on your smartphone.
The biggest drawback of Pocketsmith is that you cannot use it for investment tracking. If you have investments, you will have to use a different app or piece of software to view them.
Pricing
Pocketsmith is available for a free 30-day trial. If you like it, the monthly cost is $19.95.
Best Quicken Alternatives Summary
Now that you know about the best alternatives to Quicken, you can compare their features, contrast their prices and make an informed decision.
Each piece of personal finance software offers different benefits, and some are more beginner-friendly than others.
When you make your choice, keep in mind your patience for learning new software, the amount of time that you have to spend on it and how much detail you want out of the product.