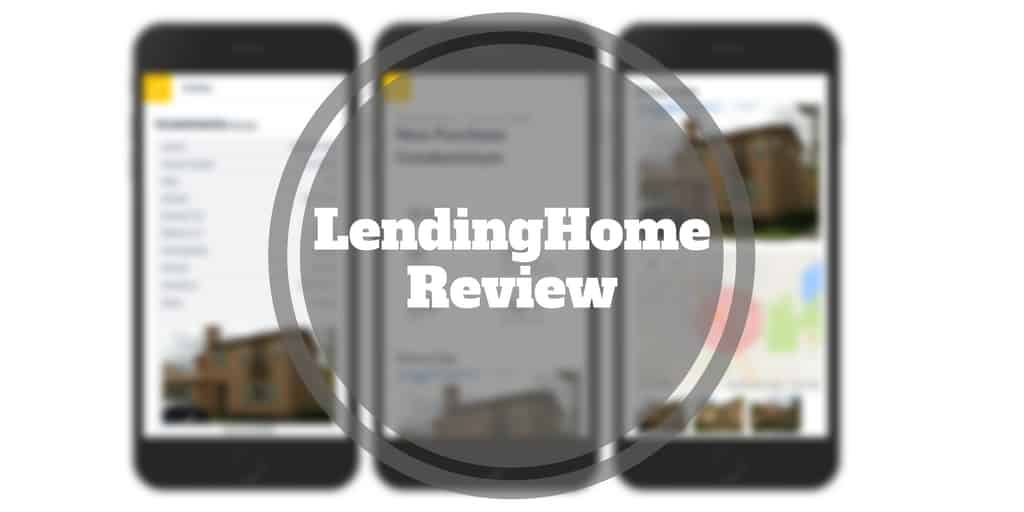 LendingHome began with a lofty ambition to offer borrowers the best way to apply for a mortgage and to provide the best way for investors to get exposure to real estate.
To realize its vision, LendingHome built a technology-enabled marketplace that connects borrowers and investors. For borrowers, the platform makes it easier and faster to get access to financing by going beyond traditional credit and valuation analysis. And investors enjoy a hands-off experience while accessing high quality mortgage products.
When borrowers need bridge loan for a short time period for a fixer-upper or to flip a home, investors can earn yields from 6% to 12% annually. And investors can take some comfort knowing that LendingHome uses its own capital to fund loans which it then re-sells to institutions and individual investors in the form of "platform notes."
How successful has LendingHome been so far? The company has funded approximately $2 billion in loans and returned about $1 billion to investors in interest and repaid principal.
But before taking the plunge to invest with LendingHome, what else do you need to know?
LendingHome Spotlight
LENDINGHOME SPOTLIGHT

InvestorMint Rating

4.5 out of 5 stars

Annual Returns: 6% → 12%
Minimum Investment: $50,000
Passive Income Opportunity: YES
Accredited Investors Only: YES

via LendingHome secure site
Why Choose LendingHome?
LendingHome provides investors with access to real estate opportunities that have short durations of 12 months, high yields, and earn interest on day one.
If you are an accredited investor looking for exposure to the real estate sector yet want to avoid the nitty gritty details ordinarily associated with investing in property, then LendingHome provides a way to benefit without having to roll up your sleeves and do the hard work.
Accredited investors who purchase "platform notes" are entitled to the cash flows from a specific mortgage. If you want to make a one-time investment manually, the minimum investment per loan you select is $5,000 but that threshold is reduced to $2,500 if you choose to put your investing on auto-pilot using the Auto-Invest feature.
These platform notes give investors an attractive mix of high yields, high liquidity, diverse geographic and deal exposure, and high security.
Platform Notes Features
Description
High Yield

Net of servicing fees, the historical weighted average rate is 8.75%.

Liquidity

The average maturity is 7 months while loan terms are for a 12 month duration.

Diversity

Loans are available in 25 states
If you invest manually, the minimum is $5k per note.
If you choose to auto-invest, the minimum is $2,500.

Security

Out of 7,300+ loans issued, 8% were delinquent by 60 or more days while historical losses were under 0.01%.

Risk

LendingHome is prepared to own a portion of any loan or all of it in the event that accredited investors don't fully fund it.
A standout feature of investing with LendingHome is that you earn interest from the very start.
Unlike some other online real estate platforms that require an investment opportunity to become fully funded first, LendingHome funds each loan with its own capital before offering it to investors – so you start earning interest from the first day you invest.
And as an investor you can take some comfort knowing that borrowers stand to lose a significant amount of equity before the loan is negatively impacted because the weighted average loan-to-value is 72%.
Keep in mind however that while LendingHome's underwriting is secured by the underlying residential property, platform notes are not secured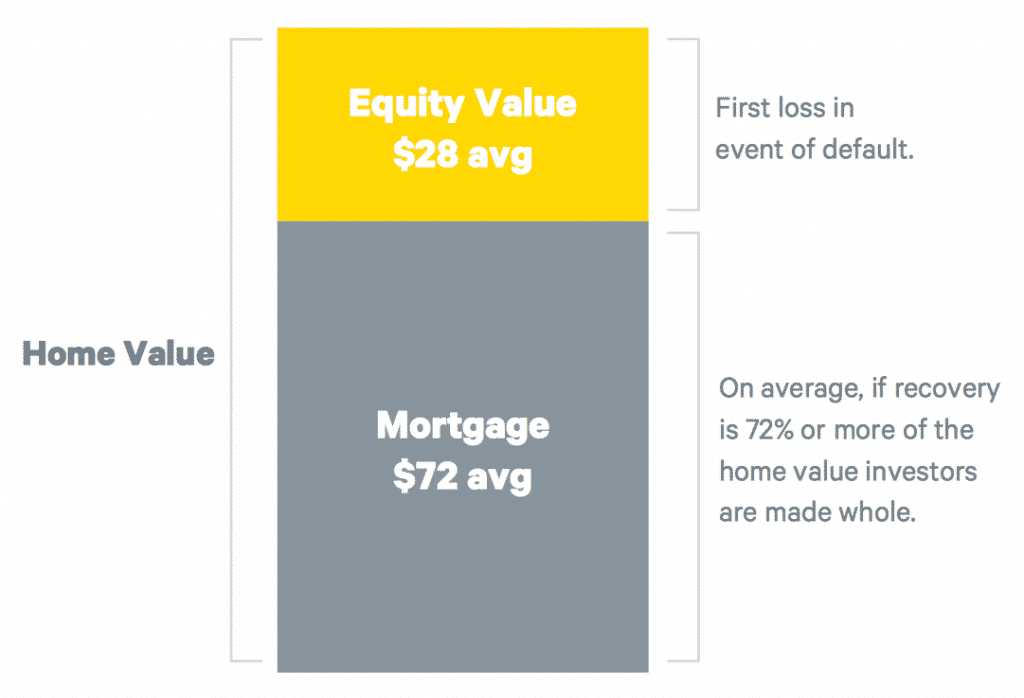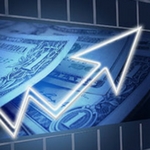 The next 10 minutes could change your life. We've recorded a special sit-down interview with a reclusive millionaire who details how he's closed out winning trade after winning trade throughout the volatility of 2022. In fact, he hasn't closed a single losing trade since 2016. Sounds impossible? It's not - and he'll prove it to you.

Click to see this exclusive sit-down interview
LendingHome Highlights
Interest Earned: From Day 1
Weighted Average Loan-to-value: 72%
Geographic Diversification: Over half of all U.S states
Property Type: Residential
---
➤ Free Guide: 5 Ways To Automate Your Retirement
---
How Does LendingHome
Screen Borrowers?
LendingHome makes it easy for borrowers to apply for financing 100% online yet conducts thorough screening to ensure they can cover down-payment costs, upfront fees and meet required credit standards.
Following the fallout of the housing crash in 2008-9, lenders who screen borrowers more thoroughly do both themselves and their customers a favor by preventing excess leverage.
But historically one of the problems borrowers have had to face is a mountain of paperwork and bank bureaucracy, resulting in higher fees.
LendingHome looks to do away with offline hassles and transfer the process fully online. That means all documents are uploaded to an online dashboard and LendingHome integrates directly with your financial accounts to pull documents for you.
Unlike the phone tag games borrowers typically play with bank personnel, you don't have to speak to anyone if you don't want to at LendingHome because all communication is done via email or chat.
You also don't have to pursue a bank employee to give you a status update of where you sit in the process of securing financing because a customized online dashboard lets you know.
The due diligence LendingHome conducts on borrowers includes:
| | |
| --- | --- |
| Borrower Research | Checked By LendingHome |
| Bank statements for past few months to show you can cover closing costs and down payment. | ✅ |
| Documentation of your assets, such as retirement accounts and investment statements. | ✅ |
| Income documentation such as W-2 or K-1 forms. | ✅ |
| Purchase contract with sales price and terms. | ✅ |
| Borrower specific documentation such as homeowners insurance. | ✅ |
| Evidence that you can cover the cost of a home appraisal. | ✅ |
| Evidence to show you can cover upfront costs like title, insurance, and inspection fees. | ✅ |
LendingHome Review:
How Much Can I Earn?
Investors can earn annual yields between 6% and 12% approximately, with higher yields paid on loans issued to higher risk borrowers.
LendingHome provides short-term financing to borrowers who need a bridge loan to finance a property rehab or flip.
These are some actual refurbishments completed by LendingHome borrowers.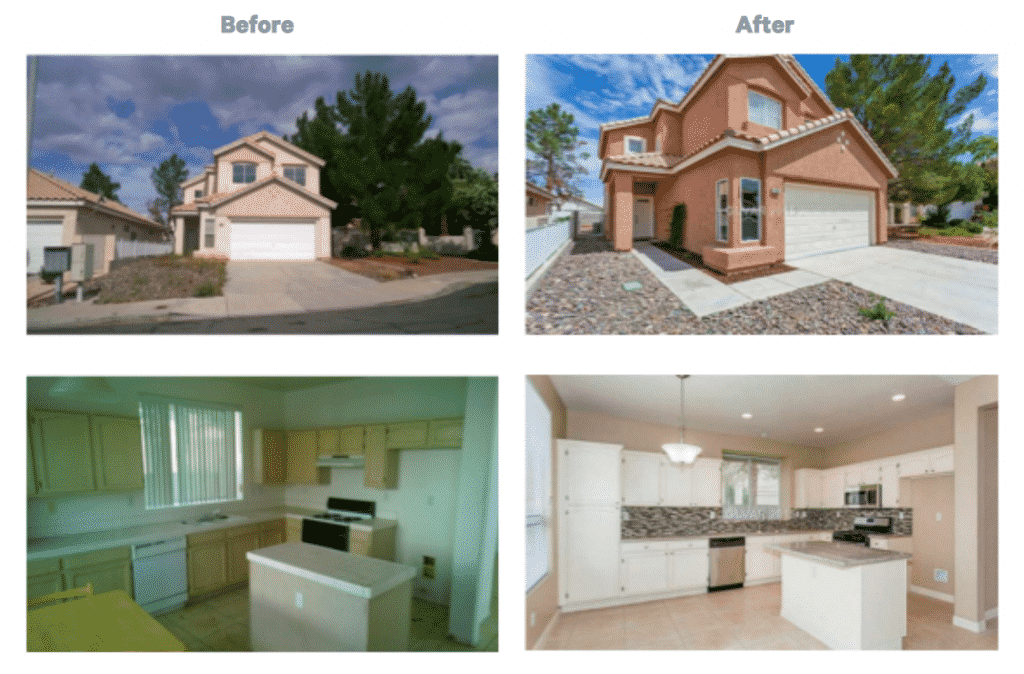 By examining how much transactional experience a borrower has and the loan-to-value ratio, as well as other factors such as local market conditions, property types, foreclosure laws, and personal guarantees, LendingHome assigns borrowers to a risk category.
Each loan originated is assigned a risk grade which influences how much a borrower pays, and in turn correlates with how much an investor earns.
The net rates of return investors can expect to earn based on risk grades are listed below: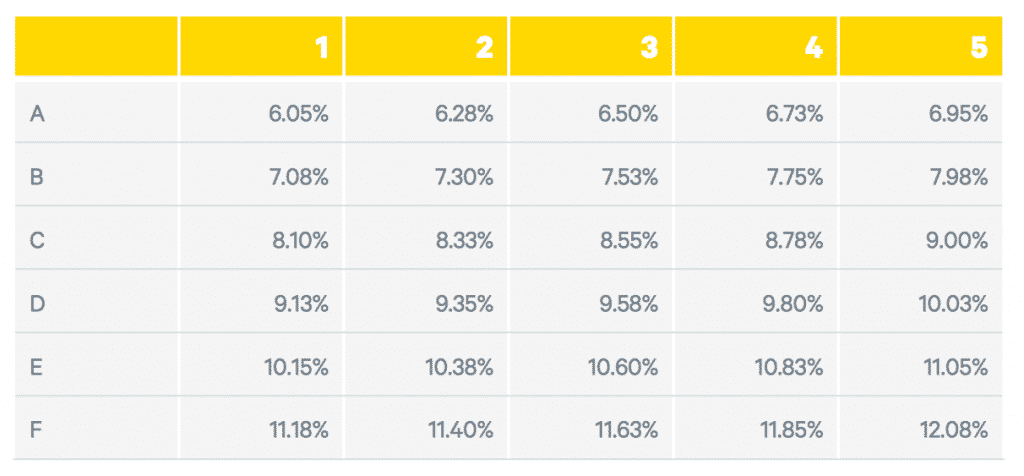 Source: LendingHome
With such attractive investor yields, you might be wondering how LendingHome makes its money?
The company takes a servicing fee which amounts to 10% of the coupon the borrower pays. For example, if a borrower pays 9% then LendingHome will keep a servicing fee of 0.90%.
Advertisement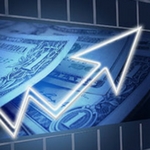 Official tax return reveals how one trader nabbed annual gains of 228%, 309% and 339%. His tax return was released online, exposing this simple trading technique used to pocket nearly half a million in profits.

Click here to see the official tax return before it is deleted...
How Does The
AutoInvest Program Work?
To invest automatically in real estate, a minimum $2,500 commitment is required by LendingHome, which will take on the responsibility to generate income for you as frequently as possible.
If you want to put your investing on auto-pilot, you can do so easily by choosing the LendingHome AutoInvest program.
The minimum amount required to invest in the program is $2,500 and it provides the same diverse exposure and liquidity as investing manually – where the minimum threshold is $5,000.
You have three choices when you choose to auto-invest but regardless of which you select, LendingHome takes on the responsibility of keeping your money invested and generating income for you as often as possible.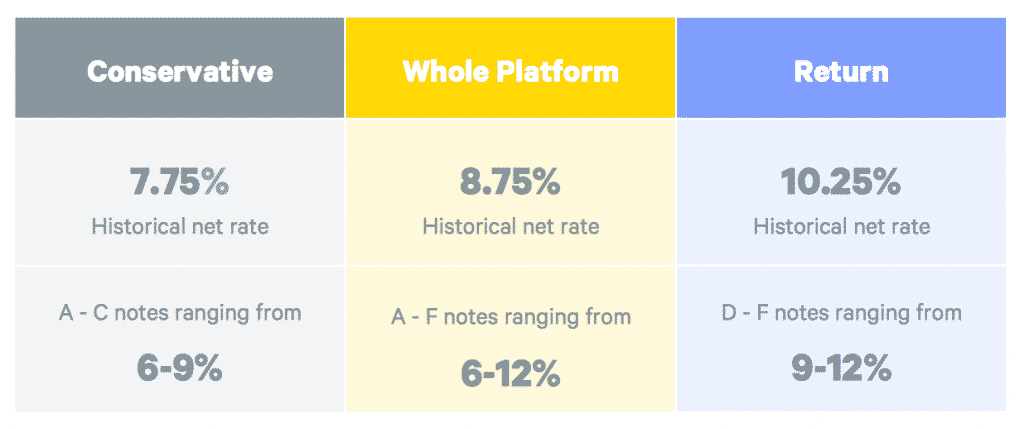 What Are The Benefits of
Real Estate Investing?
When you invest with LendingHome, your risk is more diversified compared to investing by yourself, and your investment is uncorrelated with the stock market.
If you were to invest in property by yourself, you would need a lot more capital than the $50,000 minimum needed to get started with LendingHome.
But worse still, your entire investment would be locked into a single real estate deal whereas you can spread your money across lots of deals when you invest via the LendingHome platform.
By going solo, you also need to roll up your sleeves so to speak and source investment opportunities, trudge through legal paperwork, verify title deeds are in order, and so on. All of those hassles are avoided and you get the added benefit of instant interest earnings with LendingHome.
| | |
| --- | --- |
| Single-Family Home Features | YES/NO |
| Inflation hedge | ✅ |
| Cash flow from day one | ✅ |
| Uncorrelated to stock market | ✅ |
| Investment portfolio diversification | ✅ |
| Passive income | ✅ |
| Buy with leverage | ✅ |
LendingHome Snapshot
Investments are pre-vetted and pre-funded because LendingHome acts as a direct investor in loans, and then re-sells loans to institutions and accredited investors.
Account Fees
1.00% → 2.50%
Property Type
Residential
Pre-Vetted
YES
Pre-Funded
YES
Term Length
Up to 1 Year
1031 Exchange
NO
Do You Own Property?
NO
(you own platform notes)
LendingHome Pros and Cons
LendingHome deals are pre-vetted and pre-funded, offer high yield potential and high liquidity, and earn interest from day one, but the minimums are high and deals are only available to institutions and accredited investors.
| | |
| --- | --- |
| LendingHome Pros | LendingHome Cons |
| ✅ Earn Interest Day One: When you invest with LendingHome, you start earning interest from the very first day. | ❌ High Investment Minimum: A $50,000 minimum is required to invest on the platform though you can spread your money across many deals. |
| ✅ Spread Your Risk: You can diversify your money across a lot of investment opportunities in dozens of states to avoid concentrated risk when investing solo. | ❌ Accredited Investors Only: If you don't meet the income or net worth requirements associated with being an accredited investor, you will be restricted from investing. |
| ✅ High Liquidity: Real estate investments are notoriously illiquid but LendingHome limits terms to no more than 1 year so investments are more liquid than if they were tied up in a solo project. | ❌ Unsecured Notes: As an investor, you will purchase platform notes which are not secured but loss rates below 0.01% should bring some comfort that LendingHome has a solid process to originate high quality loans. |
| ✅ Pre-Vetted & Pre-Funded: LendingHome conducts all due diligence and directly funds and originates all loans. | ❌ Tax Rates: Interest income is generally taxed at ordinary income tax rates so you won't benefit from lower tax rates as you would from long-term stock market investment gains. |
| ✅ Invest On Auto-Pilot: If you want to be 100% hands-off you can select the Auto-Invest program which has a minimum threshold of $2,500 to get started. | |
| ✅ High Yields: Investors can earn high yields between 6% → 12% because loans issued are for shorter durations. | |
| ✅ Risk Customized Investments: If you are a conservative investor, you can select lower yielding investments that are more aligned with your risk tolerance. | |
| ✅ Almost $2 billion in loans funded: LendingHome has issued almost $2 billion in loans and returned approximately $1 billion in interest and repaid principal to investors so you can be confident it has a proven business model. | |
Related: RealtyShares Vs Fundrise Review
LendingHome Account Types
| | |
| --- | --- |
| Type | Capability |
| Taxable | YES |
| IRA | YES |
LendingHome Review Summary
If you are an accredited investor seeking exposure to the real estate sector but don't want to roll up your sleeves to find a deal, source tenants, and go through the legal and financing hassles then LendingHome has much to offer.
By re-imagining the borrowing process from the ground up, LendingHome has created a 100% online process that sidesteps the delays and headaches usually experienced by borrowers.
For property buyers looking to fix or flip real estate, LendingHome provides short-term financing more simply than traditional funding sources, and this translates to attractive yields for investors over a period of one year or less.
Once investors meet the minimum $50,000 required to invest, they can access a diversified range of properties across the U.S. and invest via taxable or self-directed IRA accounts.
Keep in mind that tax treatment of gains is unlikely to be as favorable as those enjoyed in the stock market from long-term buy-and-hold positions but, on the flipside, real estate investments are not correlated with the stock market.
The bottom line is if you want a passive income stream from the real estate asset class with attractive returns earning interest from day one and no-hassle, LendingHome is hard to beat.
Advertisement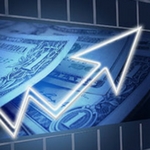 During and after the Great Financial Crisis of 2008, 485 U.S. banks went under. Here at Weiss Ratings, we warned about 484 — an accuracy rate of 99.8%. Now, we have a new warning. But this time, it's not just about a few hundred banks … it's about nearly every single bank in America …

Get all the details here