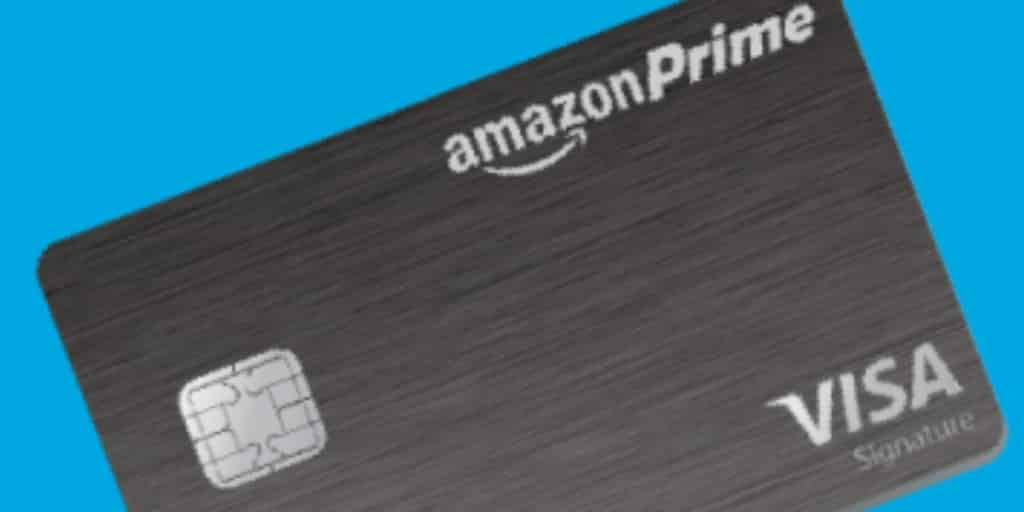 Approximately 80 million Americans count themselves as Amazon Prime members, and spend an average of $1,300 annually according to research estimates.
If you are a Prime member and shop a lot on Amazon, the Amazon Prime Rewards Visa Signature Card is well worth exploring.
As an Amazon Prime member, you already pay a yearly subscription fee to Amazon, so the first perk of the Prime Rewards Visa Signature card is that you pay no annual charge – and if you buy enough during the year, the rewards can even pay you back the cost of your Prime membership.
Other perks you enjoy include a credit limit north of $800, cash back, extended warranties and travel bonuses. Plus, financing options are available on Amazon products worth $149 or more.
The standout feature of this Amazon credit card is you receive a whopping 5% cash back on Amazon purchases!
Amazon Prime Rewards Visa Card Spotlight
AMAZON PRIME REWARDS VISA CARD SPOTLIGHT

InvestorMint Rating

4 out of 5 stars

Amazon Purchases: 5% cash back
Gas stations, restaurants, drug stores: 2% cash back
All other purchases: 1% cash back
Sign-on bonus: $70
Annual Fee: $0
Foreign Transaction Fees: $0
Perks: Extended warranties, Travel, Financing on Amazon items worth $149+

via Amazon secure site
Is The Amazon Prime Rewards Visa Card Right For You?
The Amazon Prime Rewards Visa Card can pay for your Prime membership entirely if you spend almost $2,000 on Amazon.com each year. If you spend less, it will partially offset the cost.
If you shop often at Amazon, the Prime Rewards Visa Card can save you a bunch of money.
Each time you buy items from Amazon, you enjoy a whopping 5% cash back.
That 5% can offset the entire cost of your Amazon Prime membership if you spend enough annually.
The average American Amazon Prime member spends $1,300 annually but if you spend $1,980 per year or more, the Amazon Prime membership fee is offset by the cash back from the card.
And that doesn't factor in all the other benefits you enjoy from a Prime membership.
AMAZON PRIME TOP BENEFITS
| | |
| --- | --- |
| Prime Benefit | Description |
| Free 2-day Shipping | Two day shipping on eligible items in the U.S. |
| Free Same Day Delivery | Free same day delivery to eligible zip codes. |
| Prime Now | Free 2-hour delivery on 10,000+ items. |
| Free Release Date Delivery | Free on eligible pre-order items delivered on their release dates. |
| Prime Video | Unlimited streaming of TV shows and movies. |
| Prime Music | Unlimited ad-free access to hundreds of music playlists. |
| Prime Photos | Secure unlimited photo storage in Amazon Drive. |
| Prime Pantry | Access to Prime Pantry. |
| Prime Early Access | 30-minute early access to lightning deals on Amazon.com. |
| Prime Reading | Borrow books and magazines from the Prime Reading catalog to read on your Fire tablet or Kindle e-reader. |
| Twitch Prime | Exclusive discounts on physical games pre-orders and new releases. |
| Audible Channels for Prime | Get access to Audible channels free, worth $60 per year. |
| Kindle First | Early access for members in the U.S. to download a new book free every month. |
| Membership Sharing | Two adults living in the same household can share an Amazon Prime membership free. |
| Amazon Music Unlimited | Get discounted Amazon music unlimited plans. |
| Video Add-on Subscriptions | Purchase video add-on subscriptions to premium content providers. |
Even without the 5% cash back from the credit card, the benefits from Amazon Prime are worth the annual Prime subscription cost, so the cash back is gravy.
You also get 2% cash back on purchases at gas stations, drug stores, and restaurants as well as 1% on everything else.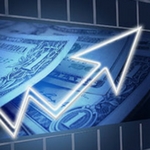 We could be facing one of the harshest economic challenges ever experienced thanks to an incompetent government and severe global unrest. If you aren't proactive, you could see yourself and your family become another financial casualty. But, the Inflation Survival Plan has you covered. Learn insider tips and tricks, IRS loopholes and more that will help your finances soar.

Take 15 Seconds to get the FREE Inflation Survival Plan and ensure your family's financial security.
How Do Points Work On The Amazon Credit Card?
Each time you spend $1 on Amazon.com, you earn 5 points and every 100 points is worth $1.
The Amazon Prime Rewards Visa credit card is issued in partnership with Chase, and so you can redeem your points either on Amazon.com or via Chase.com or the Chase mobile app.
As you start spending money, you start earning points right away:
| | |
| --- | --- |
| Spend $1 | How Many Points Do You Get? |
| Amazon.com | 5 |
| Gas stations, drug stores, restaurants | 2 |
| All other purchases | 1 |
The conversion between points and dollars is: 100 points translates to $1.
If you want to redeem points at Chase for travel, cash back, or gift cards you can do so at any time.
To pay with points on Amazon.com, simply choose how you would like to pay on the order page and how many points you would like to apply.
For peace of mind, you get to see the points applied before you place your order.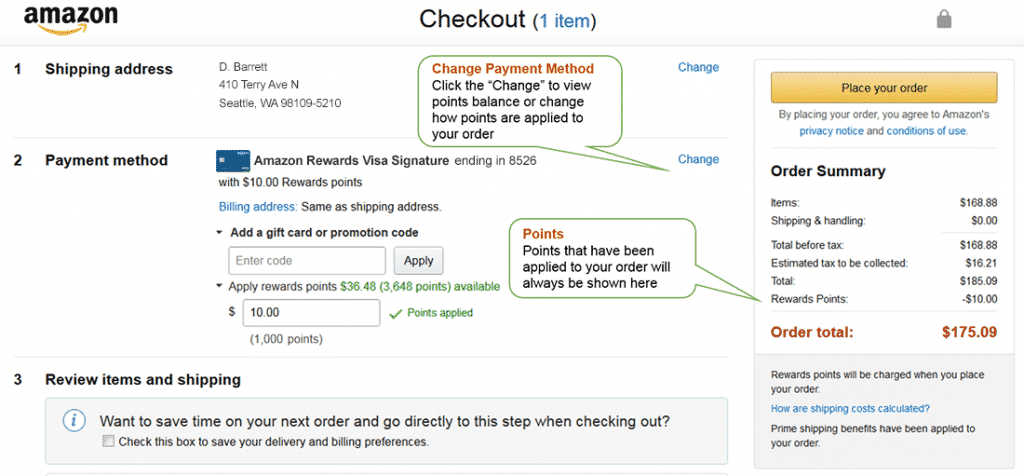 ---
➤ Free Guide: 5 Ways To Automate Your Retirement
---
Amazon Visa Credit Card: What Are The Benefits?
Cash back, extended warranty protection, no foreign transaction fees, and even roadside dispatch are benefits you enjoy as an Amazon Rewards Visa credit card holder.
The Amazon credit card isn't limited to cash back benefits at Amazon, drug stores, restaurants and gas stations. If you travel, you will be especially well supported with lots of hidden benefits.
Cardholder Benefit
Description
Cash Back

5% at Amazon.com
2% at restaurants, drug stores, gas stations
1% on all other purchases

Travel

No foreign transaction fees
Travel and emergency assistance
Baggage delay insurance
Travel accident insurance
Lost luggage reimbursement

Protection from Setbacks

Auto rental collision damage waiver
Purchase protection
Extended warranty protection
Roadside dispatch
Zero fraud liability

Premium Perks

Visa signature luxury hotel collection
Visa signature concierge service

Shop with Points

Redeem for millions of items on Amazon.com or on Chase.com or the Chase mobile app
Beyond cash back, other perks include travel accident insurance where you are eligible for accidental death or dismemberment coverage up to $500,000 when you pay for air, train, bus, or cruise travel on your Amazon Rewards Visa Signature card.

You are also covered up to $3,000 per passenger when luggage is lost or damaged by an air carrier.
And anytime baggage is delayed by 6 hours or more, you are covered up to $100 per day for up to 3 days to buy essentials, such as toiletries and clothing.
When you are traveling you can also decline a rental company's collision and insurance option because theft and collision damage is covered for most rental cars in the U.S. and abroad.
>> Check Out 7 Financial Goals To Live A Better Retirement
BONUS BENEFITS
Where the Amazon credit card shines is in a host of benefits you might not expect from a "retail" credit card.
For example, you can call roadside assistance if you need a tow, tire change, jumpstart, lockout service, gas delivery or winching.
Another hidden gem is protection from theft and damage for up to 120 days on new purchases up to $500 per claim and $50,000 per account.
Goods you purchase with eligible warranties of 3 years or less come with an additional year of extended warranty protection over and above the manufacturer's guarantee.
Lastly, as you might expect from most credit cards, you are not liable for any fraudulent activity.
HOTEL BONUS REWARDS
The Visa Signature Luxury Hotel Collection gives you the best hotel rates and complimentary WiFi on over 900 luxury hotels worldwide.
And the Visa Signature Concierge Service is a 24-hour a day service that you can call to get tickets to sporting and entertainment events, send gifts, and even make dinner reservations.
>> How Does A Fed Interest Rate Hike Affect You?
Amazon Pros and Cons
The standout feature of the Amazon Amazon Prime Rewards Visa Signature Card is 5% cash back on Amazon purchases but you get a laundry list of additional benefits thrown in for good measure. The major drawback of the card is a high APR rate.
| | |
| --- | --- |
| Amazon Pros | Amazon Cons |
| ✅ 5% Amazon Cash Back: Frequent Amazon.com shoppers enjoy a huge cash back bonus for signing up to the Visa Rewards card. | ❌ High APR: Don't miss a payment or you will be hit by a high APR of 23.24% no matter how good your credit rating is. |
| ✅ 2% Cash Back Gas Stations: Purchases at gas stations, restaurants, and drug stores result in 2% cash back rewards. | ❌ Prime Membership Required: To be approved, you must be an existing Amazon Prime member. |
| ✅ 1% Cash Back Other Goods: Get 1% cash back on everything else you buy. | ❌ Exceptions to 5% Rule: Exceptions are few and far between but software downloads are an example, so you can't pay for your tax software on your Amazon credit card and receive a 5% cash back. |
| ✅ $70 Sign-up Bonus: It doesn't hurt to get $70 right away when you sign up! | |
| ✅ Easy Redemption: Buying with points on Amazon or redeeming on Chase.com is easy. It may take up to 2 billing cycles to display on your account. | |
| ✅ No Annual Fee: As a Prime member paying an annual subscription to Amazon.com, you pay no annual credit card fee. | |
| ✅ Wide Variety Of Benefits: From roadside assistance to travel protection and even your own concierge service, this card has an extensive list of benefits beyond the headline cash back attraction. | |
Advertisement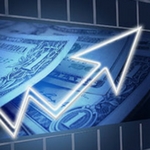 The #1 income play for 2023 is NOT a stock, bond or private company... Rather, it's a little-known alternative investment that could hand you big monthly income from oil and gas.

Find Out What It Is Right Here
Amazon Prime Rewards Visa Signature Card FAQ
As a Prime member, you qualify for the credit card and enjoy no inactivity fees, the potential to grow your credit and the opportunity to earn points and withdraw cash.
| | |
| --- | --- |
| FAQ | YES/NO |
| Is Amazon Prime Membership Needed? | YES |
| Are there any inactivity fees? | NO |
| Can it help me build my credit? | YES |
| Do I start earning points when I start spending? | YES |
| Can I use my card to withdraw cash? | YES |
Amazon Prime Rewards Visa Signature Card Summary
If you are an Amazon Prime member who shops regularly and spends approximately $2,000 per year, the Visa Signature card can effectively pay for your annual Prime membership cost.
With 5% cash back rewards on Amazon purchases (excluding software downloads), the credit card has one of the most generous rebate programs of any card on the market.
Plus, when you pull up at a gas station, dine at a restaurant, or make purchases at drug stores, you enjoy 2% cash back rewards as well as 1% cash back on all other purchases.
Although the APR rate is high, this card has enough going for it to win brownie points among any regular Amazon shopper.
On top of the headline rewards, a host of side benefits, such as travel protection, roadside assistance, hotel and concierge services come along with your card making it a virtual slam-dunk for any Amazon Prime member.
Disclosure: Information related to the Amazon Prime Visa Signature Card has been collected by Investormint and has not been reviewed or provided by the issuer of this card.
Advertisement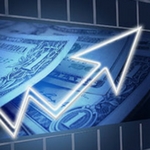 We have the world's leading artificial intelligence forecasting trends in the market. A strategy so precise it achieves a proven accuracy rate up to 87.4%. Check out the next 3 stocks this A.I. has on its radar for you in this free, live training.

Claim your seat now by clicking here.