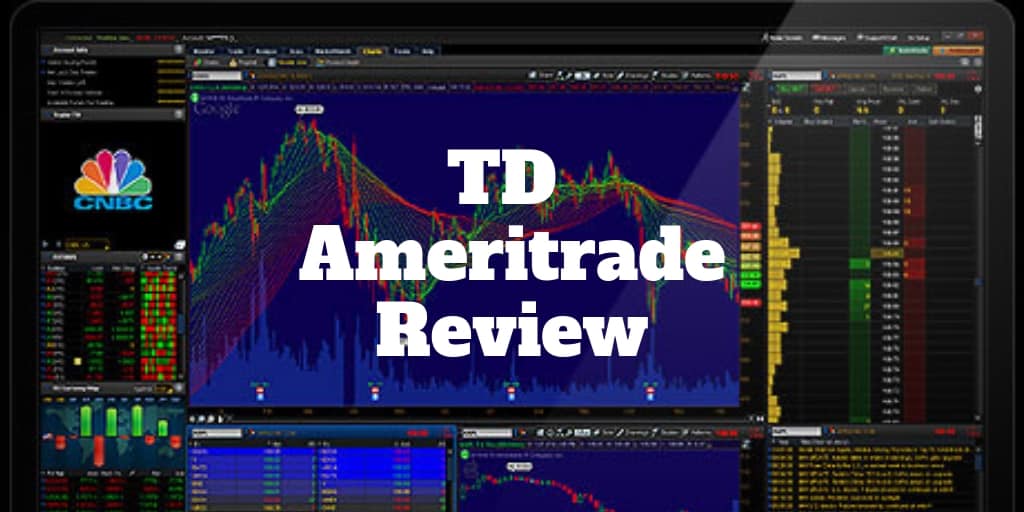 InvestorMint provides personal finance tools and insights to better inform your financial decisions. Our research is comprehensive, independent and well researched so you can have greater confidence in your financial choices.
TD Ameritrade combines excellent research and superb trading platforms, thinkorswim and Trade Architect, with stellar customer support. For an all-round discount broker, TD Ameritrade more than fits the bill.
Superior customer support and research relative to
many peers is accompanied by slightly higher commissions than some discount brokers but for traders seeking support on-demand, an extensive suite of trading tools, and access to cutting-edge research and education, TD Ameritrade offers tremendous value.
TD Ameritrade Spotlight
TD Ameritrade Customers
TD Ameritrade serves a wide breadth of customers from beginners in need of hand-holding who can take advantage of 24/7 phone and email support to advanced traders who will discover a highly powerful trading platform on its flagship thinkorswim platform.
TD Ameritrade has both a simple, easy-to-use pl
atform that will not intimidate beginner traders in Trade Architect and a highly customizable platform targeting experienced traders with thinkorswim.

Experienced investors and options traders will find TD Ameritrade's thinkorswim platform more than meets their needs for screening, chart studies, back-testing and customizable searches.
Whether trading stocks, options, bonds, futures, forex, mutual funds or ETFs, TD Ameritrade has it all, earning top marks as a one-stop discount broker.
For self-directed traders who like to perform their own due diligence, TD Ameritrade competes well on costs with rivals Fidelity, Charles Schwab and ETrade.
TD Ameritrade serves the following traders exceptionally well:
Beginner traders
Experienced traders
Options traders
Futures traders
Forex traders
TD Ameritrade Promo Deal
TD Ameritrade offers tiered cash rewards as high as $600 for deposits.
Trade commission-free for 60 days with a deposit of $3,000
Trade commission-free for 60 days get $100 with a deposit of $25,000 – $99,999
Trade commission-free for 60 days get $300 with a deposit of $100,000 – $249,999
Trade commission-free for 60 days get $600 with a deposit of $250,000+
---
➤ Free Guide: 5 Ways To Automate Your Retirement
---
TD Ameritrade Pros and Cons
TD Ameritrade has many more pros than cons. In fact, as a one-stop discount broker solution, it's hard to beat when comparing to industry rivals.
TD Ameritrade Pros
TD Ameritrade Cons
✅ Customer Support: 24/7 Phone and Email support is available at TD Ameritrade, ensuring customer satisfaction is prioritized.
❌ Commission Costs: 24/7 phone and email Support, powerful trading platforms, and extensive research and educational resources don't come cheap and TD Ameritrade charges commissions that rival the more expensive discount brokers.

Fidelity, ETrade and Charles Schwab are perhaps TD Ameritrade's closest peer group rivals and TD Ameritrade's high margin costs position it among the most expensive in the grouping.

Mutual Fund transaction costs are also high at $49.99 though almost 4,000 no-transaction-fee mutual funds are available.

✅ Real-time Data: TD Ameritrade's quote bar streams real-time quotes across its site, a feature unavailable at major competitors, such as ETrade, Charles Schwab and Fidelity.
On its thinkorswim platform, when run as a desktop application, numerous charts can stream real-time data and over 300 studies are available which stands head and shoulders above peers, other than perhaps TradeStation.
Options data also is available to stream in real-time.
❌ Fees: Beware the temptation of buying and selling a no-commission ETF within 30 days. TD Ameritrade will charge $19.99 if the ETF is not held for at least 30 days.

Broker-assisted trades come at a steep price too of $44.99

✅ thinkorswim: Advanced tools galore are available on the thinkorswim platform including:

Backtesting
Real-time stock scans
Social sentiment charts
Options analysis of Greeks, risk and reward and more
Economic and earnings analysis

✅ Wide Breadth of Tradeable Securities: TD Ameritrade provides a wide breadth of tradeable securities:

Stocks
Options
Bonds
Mutual Funds (almost 4,000 no-transaction-fee mutual funds)
ETFs
Futures
Forex

✅ Extensive Research: Up to eight third-party research reports are available for companies.
TD Ameritrade uses ResearchTeam to provide research, and ResearchTeam combines five reports in one.
LikeFolio supplies TD Ameritrade with its Social Signals real-time streaming feed of filtered tweets.
✅ Easy-to-Use, Powerful Trading Platform: Trade Architect was designed to cater to the regular trader while thinkorswim was designed for options traders, experienced and advanced traders.

Trade Architect doesn't have the extensive tools and functionality of thinkorswim but it's not intended to serve advanced traders as thinkorswim is.
Trade Architect is easy-to-use, functionally straightforward with standard tools that cater to casual traders.thinkorswim by contrast is specifically targeted to experienced investors seeking extensive customizable charts, studies, tools, and back-testing.

SnapTicket allows for easy placement of stock and options trade orders from any website page.
A sidebar called MyDock allows customers display numerous modules.

✅ Mobile Trading: TD Ameritrade Mobile is designed for beginner and less active traders while TD Ameritrade Mobile Trader targets active, experienced traders seeking greater functionality.

In-app chat support and Touch ID login are just two of the attractive features, though two mobile apps is a drawback on the user experience given the friction required to download both.
TD Ameritrade Securities
TD Ameritrade provides a wide range of tradeable securities catering to casual investors and advanced, active traders.
Stocks
Options
Bonds
ETFs
Futures
Forex
TD Ameritrade Fees
TD Ameritrade has an industry-leading fee schedule, particularly as it relates to options and stocks:
Security
Fees
Stocks
$6.95 flat fee
Options
$6.95 + $0.75 per contract (assignment/exercise fee: $19.99)
Mutual Funds
$49.99
Margin rate range
6.50% – 9.00%
Broker-assisted trades
$44.99
Account Balance Minimum
$0
Fees
Inactivity Fees: $0
IRA Closure Fee: $0
TD Ameritrade Platform Features
Type
Capability
Desktop
YES
Web-based
YES
Mobile
YES
Virtual Trading
YES
Back-testing Tools
YES
Screeners
YES
Customer support
Email Support 24/7
Phone Support 24/7
Real-time quotes
YES
Research
YES
(provided by ResearchTeam;
also has Social Signals from LikeFolio)
Chart Tools
YES
Commission-free ETFs
100+ (must be held for 30 days or $19.99 short-term trading fee charged)
No-transaction-fee Mutual Funds
Almost 4,000
TD Ameritrade Summary
As a full-service broker competing with Charles Schwab and Fidelity, TD Ameritrade compares well with extensive educational resources, 24/7 phone and email support, approximately 100 local branches, platforms that cater to beginners and experienced investors, a wide range of tradeable securities, and no account balance minimums.
With so much going for it, TD Ameritrade has higher commissions than some other competitors who have less extensive research, reduced customer support capabilities and fewer tradeable securities. But for those looking for a one-stop, all-round discount broker solution, TD Ameritrade checks most of the boxes.