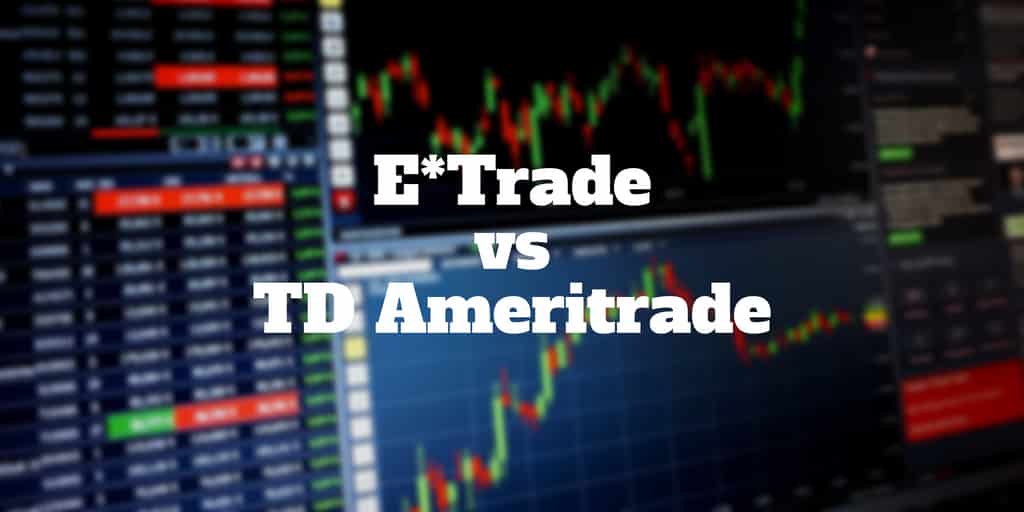 TD Ameritrade vs E-Trade is no David and Goliath contest because neither broker is an underdog. Quite the contrary, both offer so much value that you may be spinning your wheels trying to figure out which online broker is best.
TD Ameritrade earned a 5-star review from Investormint because it excels in just about every area from platform breadth and depth to research and investment selections.
But when you compare E-Trade and TD Ameritrade, it's not a clean sweep. E*Trade competes well in almost every category and stands above most of its competition when it comes to fees and commissions.
So, which broker is best: E-Trade or TD Ameritrade?
E-Trade vs Ameritrade
At first glance, it may not seem too impressive that TD Ameritrade has no account minimum requirements when compared to E-Trade. But upon closer scrutiny, it deserves special mention because TD Ameritrade opens its extraordinary thinkorswim platform to any trader regardless of the size of the initial deposit (a rare all-access, unconditional pass to a top tier platform).
The trading platform is designed for active traders who are fee-conscious and have a preference for options trading. And with the exception of tastyworks, which is hot on its heels, thinkorswim is virtually without compare.
No other platform in our view can match thinkorswim for its breadth and depth.
Whether you are looking to analyze stock charts with any one of 200+ technical indicators or apply a new, creative options trading strategy, thinkorswim has got you covered.
So TD Ameritrade's thinkorswim platform deserves high praise but how does it compare to E-Trade on commissions and fees?
E-Trade vs Ameritrade:
Commissions & Fees
E-Trade competes most vigorously with TD Ameritrade on cost.
Although you can't separate the two brokers when it comes to standard commissions costs of $6.95, E-Trade has an ace in its back pocket for active traders.
Stock & Options Commissions
When you place more than 30 trades per quarter with E-Trade, the cost of commissions drops from $6.95 to $4.95 for stock trading.
Options trading commissions decline also from $6.95 + $0.75 per contract to $4.95 + $0.50 per contract.
The same volume discounts don't apply at TD Ameritrade, but if you are not a frequent trader, it won't matter because the commissions costs are identical to the base rates at E-Trade.
Mutual Funds
While E-Trade has a slight edge on stock and options commissions, it earns a clear victory over TD Ameritrade in the mutual funds category thanks to much lower costs.
| | | |
| --- | --- | --- |
| Broker | E-Trade | TD Ameritrade |
| Pricing (no-load mutual funds) | $19.99 | $49.99 |
Futures
Futures traders will also find E-Trade more competitive on pricing.
| | | |
| --- | --- | --- |
| Broker | E-Trade | TD Ameritrade |
| Futures (per contract, per side) | $1.50 | $2.25 |
Forex
It's not a one way street with E-Trade winning all the pricing battles. In the Forex currency trading category, TD Ameritrade wins hands down by offering 70 different currency pairs, many of which incur no commissions charges.
But this category is a "no-contest" in truth because E-Trade doesn't offer forex trading on its platform, so you only have a single choice as a currency trader.
Overall Winner: E-Trade earns the victory for providing lower commissions on no-load mutual fund transactions and futures trades, as well as volume discounts on stock and options trading. But forex traders only have one option, TD Ameritrade.
TD Ameritrade vs E-Trade:
Options Strategies
As you might expect from two brokers who have earned their stripes over many years, a vast array of options strategies are made available to options traders.
| | |
| --- | --- |
| Type | Description |
| Stock & Options Strategies | |
| Options Strategies | |
While both platforms will almost certainly support the options strategies you wish to trade, TD Ameritrade's thinkorswim platform is the best-in-class options trading platform.
Beyond options strategies, thinkorswim makes it a cinch to find out anything you may ever wish to know about options, including Greeks like delta, theta, gamma, implied volatility, rho, as well as a visualization of the risk associated with virtually every options strategy conceivable.
Overall Winner: For options traders, TD Ameritrade's thinkorswim platform is best-in-class.
---
➤ Free Guide: 5 Ways To Automate Your Retirement
---
Ameritrade vs E-Trade
Tools & Research Comparison
A major difference between the two platforms has to do with how many tools the platforms offer to help you make trading decisions.
TD Ameritrade Tools and Research
TD Ameritrade offers tools for both beginner and advanced traders.
Trade Architect: First-time traders might benefit from its Trade Architect tool, which offers ideas, helps novice traders create a trading strategy, and provides features such as a market/options heat map and news streaming.
Whether you want to screen for new stock ideas, scout for new options trades with Trade Finder, or spot market-movers using heat maps, Trade Architect has you fully covered.
thinkorswim: In addition, TD Ameritrade offers the thinkorswim platform for more advanced traders, which includes tools for technical analysis, a Market Monitor tool that offers visual representations of how stock are doing, and a ton of educational articles to help traders get up to speed with how, when, and why to invest in stocks.
You can even code your own technical studies with an embedded programming language, called thinkScript!
But TD Ameritrade doesn't stop there. The further you look, the more gems you will find, such as Strategy Roller, which automates the process of rolling options. And Fast Beta, a trademarked service that weighs the most recent price action more heavily.
Once you've found a stock or trading idea you like, you can place it in a virtual trading account and practice your trading skills risk-free using paperMoney, a paper trading simulator.
E-Trade Tools and Research
E-trade offers a mobile application that comes with advanced stock screener tools, streaming news and CNBC on Demand, and real-time quotes.
It also offers educational videos via the app. Its web platform offers tools to track investments such as watch lists, real-time tracking of current stocks, and trading capabilities.
For high-volume traders (those who have made over $250,000 through E-trade or complete 30 trades per quarter),
E-trade offers a pro version of its web platform with access to customizable charting and backtesting.
Does E-Trade or TD Ameritrade Have Better Tools and Research?
TD Ameritrade has far more tools available for the average investor.
If you're first getting your feet wet or aren't making a lot from trading yet, this platform is your best bet because of the sheer number of tools plus the amount of educational info it offers.
In addition, while both platforms offer access to third-party research companies such as Morningstar and S&P Capital Review, TD Ameritrade offers access to more such companies than does E-trade.
However, higher-end investors may find E-Trade's PRO platform of better use to them as it is designed to meet advanced trading needs.
Overall Winner: Both TD Ameritrade and E-Trade provide web-based and downloadable desktop platforms but TD Ameritrade wins out with its more powerful thinkorswim platform. Plus, it imposes no minimum deposit or trade volume hurdles as E-Trade does.
Ameritrade vs E-Trade:
Tradable Securities
There's not much sunlight separating TD Ameritrade and E-Trade when it comes to tradable securities.
Both support trading in stocks, options, mutual funds, ETFs, bonds, and futures, but TD Ameritrade goes a step further by catering to currency traders too.
You will find an equivalent number of commission-free ETFs on both platforms. Both make over one hundred available to trade.
Mutual fund investors should take note that TD Ameritrade takes home the prize with over 4,000 funds versus around two thirds that number available at E-Trade.
| | | |
| --- | --- | --- |
| Security | E-Trade | TD Ameritrade |
| Stocks | ✅ | ✅ |
| Options | ✅ | ✅ |
| Futures | ✅ | ✅ |
| Fixed Income / Bonds | ✅ | ✅ |
| Mutual Funds | ✅ | ✅ |
| ETFs | ✅ | ✅ |
| Forex | | ✅ |
Overall Winner: TD Ameritrade earns another check in the winners column over E-Trade thanks to its forex platform that serves currency traders and its more extensive list of mutual funds.
Ameritrade or E-Trade:
Pros & Cons
| | |
| --- | --- |
| Ameritrade Wins | E-Trade Wins |
| ✅ Tools, Simulators, & Research: TD Ameritrade's thinkorswim platform is the industry's best trading platform for tools, screeners, scanners, analyzers, simulators, and research. | ✅ Commissions and Fees: E-Trade charges similar base rates to TD Ameritrade but wins out on commissions charges for active traders and customers with balances over $250,000. |
| ✅ Trading Platforms: Ameritrade and E-Trade both provide desktop and web-based platforms but you need to be an active trader or deposit a significant chunk of money to access E-Trade's advanced platform. | ✅ Mobile App: E-Trade has perhaps the most intuitive mobile trading app of any broker. It's easy to figure out how to place, track, and manage trades when you are on-the-go. |
| ✅ Tradable Securities: Both brokers support trading in stocks, options, ETFs, mutual funds, bonds, and futures but only TD Ameritrade provides forex trading. | ✅ Sign-Up Incentive: E-Trade has a slightly more enticing sign-up bonus but we recommend you make your decision based on more factors than sign-up incentives. |
| ✅ Options Trading Platform: With the exception of tastyworks, TD Ameritrade's thinkorswim platform stands head and shoulders above other options trading platforms. | |
Which Broker Is Best:
E-Trade or TD Ameritrade?
A comparison of E-Trade Vs TD Ameritrade shows up E-Trade as the cheaper brokerage but TD Ameritrade is better overall for tools, research, and more tradable securities.
Active traders will do better on cost at E-Trade thanks to its lower commissions rate on stock and options trades. But if you don't trade frequently, TD Ameritrade's commissions rates are virtually identical.
For investors and traders who prioritize independent, third-party research, simulators, screeners, chart studies, and virtual trading, TD Ameritrade gets the nod due to its more powerful thinkorswim platform.
The bottom line is that, other than the odd exception here or there, TD Ameritrade earns the overall victory.